HOMESTEAD, Florida – A few dozen photographers (including his young daughters) continuously snapped pictures, Hall of Famers offered congratulations, and Dale Earnhardt Jr. stopped by to salute his good friend.
The frenzied and heartfelt prerace scene Sunday at Homestead-Miami Speedway for Matt Kenseth was a stark contrast to what followed what might be the last race of his career.
The 2003 champion exited his No. 20 Toyota, accepted congratulations from a few crew members and hopped up to take a seat on the pit wall while fielding three reporters' questions.
About 50 yards down the frontstretch, a mosh pit was engulfing Earnhardt – who entered NASCAR's premier series in the same 2000 season as Kenseth and soaked up all of the hype and fanfare. They exited in scenes Sunday night that virtually mirrored those beignnings, but of course it didn't bother the Joe Gibbs Racing driver making the 650th Cup start
"You know me," Kenseth said, "I've never been an attention seeker, but it was a really neat couple of weeks."
Indeed, since he revealed Nov. 4 on the NASCAR on NBC podcast that he was stepping away from Cup – quite possibly for good – things have been good for Kenseth. After leading 29 laps in a fifth place finish at Texas, he broke a 51-race winless streak with a victory at Phoenix Raceway the next week.
In Sunday's season finale, Kenseth placed eighth after running in the top five among the championship contenders for much of the race, but his surge caused no second thoughts about his decision.
"Not right now," he said. "In a way the last 20 year has been a blur, but in another way, this has been a really long season. Last week helped a lot, but it's been a long season, and I'm really looking forward to having a little bit of time off.
"We'll see how I feel in July, but right now I'm looking forward to having some time off and looking forward to spending some time with my family here this next week or so and getting the banquet stuff behind me and then just getting to life."
That starts with an annual Thanksgiving trip to Wisconsin.
"I'm looking forward to going up there and being cold and maybe go deer hunting for a couple of days and see some friends and family," he said.
He surely will spend some time reminiscing about the 30 minutes he spent before climbing into his No. 20 Toyota for the green flag Sunday. Kenseth arrived from driver introductions with daughters Kaylin, Grace and Clara Mae and was soon joined by his wife, Katie (who is expecting another child next month) and his son, Ross. Kenseth's sister and father also were in attendance.
During a nonstop parade of photos beside his yellow and black car, a receiving line of well wishers formed that included Jeff Gordon and Leonard Wood.
It was a prime location given that a retiring 14-time most popular driver's No. 88 was drawing a crowd just behind Kenseth's car.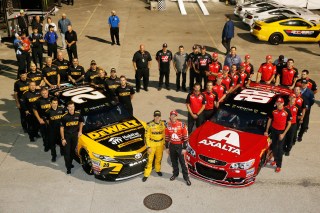 Kenseth said Earnhardt demanded that he park his car beside his at the end of the prerace grid. Both drivers were running throwback paint schemes to their rookie seasons, prompting a dual pose beside their rides in the garage for a Friday group photo that had been set up by a phone call.
"I wanted that photo we did the other day because it's pretty cool, so I kind of talked to him about it, and he kind of took the ball from there and told me what I had to do" about being situated at the end of the grid, Kenseth said with a laugh. I was like, 'Nah, nah, nah, that's your deal. You stay back there,' and he was adamant that we be parked back there.
"Which was actually nice because we had a lot of room. We did about 25 minutes worth of pictures, which was really fun, seen a lot of people I haven't seen in a long time. So it was really cool."
Naturally, he quickly put all the sentimentality aside when the race began.
"The prerace stuff was really fun," he said. "So it was a really cool day, but once you start the engine, really didn't think about anything to be honest with you, except for trying to go out and perform the best you can and trying to win that race."
With no races on the calendar for the first time in more than two decades, Kenseth, 45, plans to focus on his expanding family ("I have three kids under 8, and we're getting ready to have another one, so I'm not sure I've got time for a hobby.") and his dedication to fitness. He has been training for a half-marathon next month and plans to enter some bike races in his age group.
"I got a lot of things I like to do, a lot of places I like to go," he said. "I'm looking fowrad to it. The kids and the age they're at, I'm really blessed to be able to go spend all this time with them. Anyone who has kids understands as they get older, their hobbies are your hobbies, right? So you spend a lot of time at gymnastics meets, basketball games and things like that."