The biggest disappointment of Justin Allgaier's NASCAR career has turned into "the best thing that's ever happened" to it.
It only took "about a week" for the 31-year-old driver to accept that.
The JR Motorsports' driver is one of the four competing for the Xfinity Series title in today's Ford EcoBoost 300 at Homestead-Miami Speedway (3:30 p.m. ET on NBCSN).
It was in this race a year ago that Allgaier was within arm's reach of a possible championship, his first in NASCAR.
But it was snatched away on the final restart.
With three laps to go, Allgaier restarted in the third row on the outside. In front of him was fellow championship driver Erik Jones. In front of Jones was Cole Whitt in a car normally found toward the back of the pack. Whitt had not pit under the caution because his team had used up its tire allotment.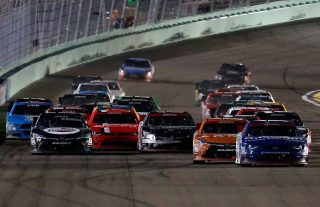 At the green flag, Whitt spun his tires and backed-up the outside lane. That allowed Elliott Sadler and Daniel Suarez to get separation from Allgaier and Jones and race each other for the win and championship, which Suarez claimed.
"We're sitting here and not standing on that (championship) stage over there like I think all of us would have liked to have been," Allgaier said after he finished sixth.
Before Allgaier could come to terms with anything positive from the experience, he spent the following week just wanting to be left alone.
"If I could have locked myself in a dark room and not talk(ed) to anyone, I'd have been perfectly okay with that," Allgaier said Thursday during the NASCAR championship media day in Miami Beach, Florida.
Allgaier got back in touch with those year-old feelings this week when he watched a replay of the race while flying to Florida.
"It still bugs me that we didn't have a shot because of somebody else's decision," Allgaier said.
But Allgaier views the end of the 2016 race through a wiser lens. One where he accepts there's only so much he can do in a 200-lap race against 39 other drivers.
"What if I had broken a transmission or run into the wall a little bit too hard on one of those times that I got (into) the wall like 37 times in the race last year and cut a tire?" Allgaier said. "What if a meteor fell out of the sky? … There's so many things that, when you have 40 competitors on the racetrack every week, there's so many things that can happen that are out of your control."
His attitude has been helped by the best year of his career. Allgaier enters the championship race with a career-best two wins – including at his home track Chicagoland Speedway.
Allgaier also leads all Xfinity regulars with 497 laps led.
 "I look at 2017 as we have done everything we can do up to this point," Allgaier said. "We've had the best race cars I've ever had. We've had great pit stops. We've got guys that work together on the race team that are incredible. I feel like for me personally I'm in the best shape of my life, on and off the track. I'm in the best place mentally.
"And at the end of the day, no matter what happens on Saturday night, I know that we have the best product on the racetrack and we're in the best position we can be. And if it doesn't work, it's not because we weren't in the right spot or because we didn't do things right. It's because circumstances are out of our control. And that's taken so much pressure off of me this year."
MORE: Previewing the Xfinity championship drivers