No matter what happens over the course of Saturday's Ford EcoBoost 300 (3:30 p.m. ET, NBCSN), the Xfinity Series will have a first-time champion.
Four drivers will have 200 laps to determine the winner.
JR Motorsports' Elliott Sadler, Justin Allgaier, and William Byron will face off against Richard Childress Racing's Daniel Hemric.
Here's a look at each of the candidates to become the 28th different Xfinity Series champion.
Justin Allgaier – JR Motorsports' No. 7 Chevrolet
Of the top 10 drivers in laps led this season, Allgaier is one of two Xfinity Series regulars.
Through 32 races, Allgaier has led a career-best 495 laps. His previous high was 222 in 2010. The next highest total belongs to Byron, who has led 262 laps.
The 31-year-old driver is in the Championship 4 for the second year in a row. The big difference this season is that he enters the season finale with two wins after going winless in 2016.
Allgaier qualified for the playoffs early with a win at Phoenix in March. He didn't return to victory lane until the regular-season finale at his home track of Chicagoland Speedway.
He heads to Homestead with 10 top fives and 17 top 10s. Four of those top fives came on 1.5-mile tracks. In seven starts at Homestead-Miami Speedway, Allgaier's best finish was sixth last year. It is his only top-10 finish at the track.
Allgaier will be without his primary crew chief, Jason Burdett, who was suspended for the race after his No. 7 Chevrolet failed post-race inspection at Phoenix.
It's similar to the situation that his teammate, Elliott Sadler, was in last season.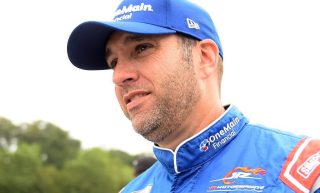 Elliott Sadler – JR Motorsports' No. 1 Chevrolet
Sadler has strapped himself in to compete in NASCAR points races 819 times in his career.
But in none of those races – in the Cup, Xfinity or Camping World Truck Series – has the 42-year-old driver clinched a NASCAR title.
Sadler has finished in the top five in the Xfinity standings six times in his nine full-time seasons on the circuit. That number will rise to seven on Saturday no matter the outcome of the Ford EcoBoost 300.
One stat he doesn't want to add to is the number of times he's finished runner-up to the Xfinity champion.
His second-place finish to Daniel Suarez last year was the third occurrence.
"I'm definitely looking for redemption this year," Sadler told NBC Sports in May. "Believe me, I don't need any extra incentive to want to win a championship."
Elliott is one of two championship drivers who haven't won this season. The other is Hemric.
However, Sadler has been wearing his competition down with consistency, reaching the championship race through 12 top fives and 24 top 10s, both highs among Xfinity regulars.
"We've met our goals," Sadler said after the Phoenix race. "We're back in a one-race shootout at Homestead and we've saved our best car for there. So we're very optimistic for when we get to Homestead. Just ready to get the weekend going. That was our goal when we went to Daytona in the beginning of the season and we've met our goal and that's all we can ask for."
If Sadler prevails with the first NASCAR title of his career, he'd be the third-oldest champion in Xfinity history at 42 years, 6 months and 19 days. He (or Hemric) could also be the second winless champion in Xfinity history  (Austin Dillon, 2013).
Sadler is the father figure of the playoff drivers by an average of 16.6 years. The biggest age gap is 23 years between him and 19-year-old JR Motorsports teammate, William Byron.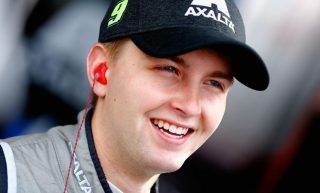 William Byron – JR Motorsports' No. 9 Chevrolet
Like Sadler, Byron is also looking for redemption from last season.
Byron looks to claim his first NASCAR title before departing for the Cup Series and his third consecutive rookie season, this time driving the No. 24 Chevrolet for Hendrick Motorsports.
Byron entered the Xfinity Series after a year in the Camping World Truck Series. He won a rookie-record six races before a blown engine at Phoenix kept him from being among the Championship 4 in a race he won.
"This year we made sure that didn't happen," Byron said after winning last weekend at Phoenix. "We executed well. We had a lot of adversity I feel like through the playoffs. We've just had different things, weird things happen. We've been able to rebound from those. … We've been able to get a good finish and that's what matters (in Miami)."
Byron heads to the 1.5-mile Homestead-Miami Speedway with 11 top fives and 21 top 10s.
Unlike four of his Truck wins, none of Byron's four Xfinity victories have come at a 1.5-mile track. His only finish better than seventh (three times) was fourth two weeks ago at Texas Motor Speedway.
Only five years removed from his beginnings on the online racing simulator iRacing, Byron is one of four full-time Xfinity regulars to have won this year.
Should he win Saturday's race – and the championship – he would enter a four-way tie for most wins by a rookie (Greg Biffle, 2001; Kyle Busch, 2004; Carl Edwards, 2005).
He'd also join his future Hendrick teammate Chase Elliott in being the only rookies to ever win the Xfinity title.
Challenging Byron for that distinction is a driver he competed against in Legends cars and even once called a team owner: Daniel Hemric.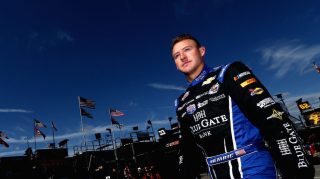 Daniel Hemric – Richard Childress Racing's No. 21 Chevrolet
If Hemric wins the Xfinity title, it'll be for the "hard-nosed short-track racer that will not ever get an opportunity like this."
The 26-year-old rookie – ancient by today's NASCAR standards – made that proclamation prior to the start of the postseason.
Two months later, Hemric is in position to be that symbol due a display of his own hard-nosed talents last week at Phoenix.
The Richard Childress Racing driver took part in a nearly 13-lap battle with fellow rookie Cole Custer for the final Championship slot.
On the final restart, Hemric started on the front row with just two fresh tires. Custer, restarting behind him, had four.
A late charging Christopher Bell passed both of them with two laps to go, ensuring Hemric was safe – narrowly – points wise. But that didn't keep Hemric from aggressively defending against Custer on the final lap before clearing him coming to the checkered flag and finishing fifth.
"Those are the moments you live for and you hope to get that excited about anything as your career goes," Hemric said afterward. "I'm just very fortunate … it's my rookie season, we've been through a lot together."
Hemric clinched his championship spot while capping off a four-race stretch that saw him without his primary crew chief, car chief and an engineer. All had been suspended due a weight that fell off his No. 21 Chevrolet during practice at Dover in the first round.
Randall Burnett, who was Hemric's interim crew chief in those four races, will remain in the position for the season finale.
Before Phoenix, Hemric finished seventh (Charlotte), 18th (Kansas) and 14th (Texas).
The fifth-place finish at Phoenix was his seventh top five of the year, but just his second in the playoffs.
Only one of his top fives, at Chicagoland, came on a 1.5-mile track.
"The heart of this group has done an unbelievable job just rebounding and sticking together and coming through the struggles with out heads held high and making the most of every weekend, and that's why as a rookie group together we've been able to accomplish the things we have."
While he and Sadler both hope to win their first race of the season, Hemric is also looking for his first NASCAR win overall.
Hemric would make history if he were to win the championship without having won a race in any of NASCAR's three national touring series.
Said Hemric: "Hopefully we've saved our best for last."