A 2015 Cup championship trophy sits in crew chief Adam Stevens' office so he can see it every day.
"I kind of like to be reminded every time I come to work what we're racing for and what the hard work we put in day in and day out and night in and night out and through all the grind of the season what it's all for,'' Stevens said.
He seeks another championship trophy with his driver, Kyle Busch, among the four racing for a title in Sunday's season finale in Miami (3 p.m. ET, NBC).
The challenge for Busch and Stevens will be more than Martin Truex Jr., Kevin Harvick and Brad Keselowski for the championship. Stevens and other crew chiefs are concerned about the tire limits this weekend.
Cup teams will be allowed nine sets for the race plus the set they use in qualifying. Last year, teams had 12 sets available plus they could also use a set from practice.
Fewer sets of tires could mean more difficult decisions for crew chiefs, especially if there are a number of cautions.
"I think it changes a lot,'' said Rodney Childers, crew chief for Kevin Harvick.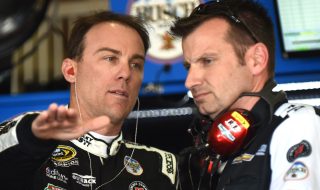 Childers noted that in 2014 when he and Harvick won the title, they used 11 sets of tires in the 400-mile race.
"I don't feel like there's enough tires,'' Childers said of the allotment for Sunday's race. "The last thing you want to do is run out of tires with 40 laps to go and not be able to do anything or race for a championship at the end. I've been trying to push a little bit, see if we can't get an extra set for the race.''
Teams were allowed fewer tires in half of the playoff races this season compared to last year. NASCAR cut allotments for some races after examining tire usage by teams with Goodyear. NASCAR sought to have the number of sets available closer to what had been used in previous races.
The concern among crew chiefs is that tires could be critical because how much they wear at Homestead-Miami  Speedway. Greg Stucker, Goodyear director of racing, notes that the track has become one of the highest wear tracks on the circuit.
That's just one of many concerns crew chiefs have entering the weekend. Paul Wolfe, crew chief for Brad Keselowski, has additional worries. His team has struggled to find speed in the playoffs. Keselowski has finished ahead of Truex twice in the first nine playoff races but neither were at 1.5-mile speedways, the length of Homestead-Miami Speedway.
Keselowski has been slower than Truex and Harvick in green flag speed and on restarts in all four of the playoff races on 1.5-mile tracks this season.
"We've just got to go down there and make speed,'' Wolfe said. "That's kind of as simple as it is. I feel good about what we're bringing down there. I don't know if it'll be enough, but I'm proud of the effort that we've put in.''
Truex and crew chief Cole Pearn arrive as what some will view as the favorite with seven victories this season, including six on 1.5-mile speedways. Pearn is fine with that role. It's much better than in 2015, when the team entered the season finale as an underdog.
"I think at that point we were just thrilled to have made it, and I think we didn't really know what to do,'' he said. "It was like a dog chasing the car, we finally caught the car and we didn't know what to do with it. 
"This past year and the year before we really tried to take more time and get ourselves prepared for Homestead itself. So I think, obviously, we won't see that until this weekend, but it's been in our mind for a long time, and really trying to get ourselves prepared for this race and probably have put more emphasis on it than we would have if we hadn't have gone through what we did in 2015.''