Alex Bowman doesn't remember who gave him the most important advice of his racing career.
It came at some point before he drove Hendrick Motorsports' No. 88 Chevrolet for the first time on July 17, 2016 at New Hampshire Motor Speedway.
"It definitely stuck with me," Bowman told NBC Sports. "It was just to have fun."
That's a tall order. Especially when you're making your first Cup start six months after learning you lost your previous ride via Twitter. Also, you're driving the car normally reserved for Dale Earnhardt Jr.
"I spent so many years racing being miserable if we had a bad day and not enjoying it," Bowman said. "You lose your ride and that's taken away from you and you're like, 'wow, I should have enjoyed the time I had more.' Going into that I just wanted to have fun. I enjoyed all those races I got to run last year the most I possibly could and I think that was the best advice, just to enjoy it. 'Cause you never know when it can be taken away or it could all change."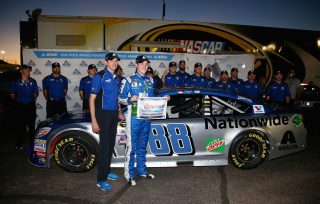 Bowman, 24, will succeed Earnhardt full-time in the No. 88 next season. The native of Tuscon, Arizona, earned the role in part from his performance substituting for Earnhardt in 10 races last season as Earnhardt recovered from a concussion.
In three months, Bowman will arrive at Daytona International Speedway as one of Hendrick Motorsports' four Cup drivers.
But contrary to what some may believe, he won't be a rookie.
The 60th running of the Daytona 500 will be Bowman's 82nd start in the Cup Series.
But that doesn't keep him from playing along.
"It is hilarious," Bowman said. "I love giving people crap on Twitter for that. It's been pretty funny. I get it. You don't get noticed when you run cars like that (with BK Racing and Tommy Baldwin Racing). I think it's funny. Hopefully, everybody on Twitter knows I'm not really trying to be mean. I love running with it. 'Yeah, I'll run for Rookie of the Year.' I think it's really funny."
Bowman will make the last of his three NASCAR starts this year Saturday at his home track, Phoenix Raceway. He'll be driving the No. 42 Chevrolet for Chip Ganassi Racing in the Xfinity Series' Ticket Galaxy 200 (3:30 p.m. ET on NBC).
While spending most of his year as a simulator and testing driver for Hendrick and Chevrolet, Bowman's only Xfinity start came in the Oct. 7 race at Charlotte Motor Speedway for Ganassi. In his 134th NASCAR start, Bowman claimed his first victory.
The following Q&A has been edited and condensed.
NBC Sports: Has it been difficult for you to switch into race week mode once the time comes this year?
Bowman: Not really. Honestly, the weirdest part of Charlotte was going to the race track. Driving there on race day, having a bunch of fans there and stuff. That was the weirdest part for me, just something I haven't experienced it. But I've been in the car so much this year between testing and doing simulator stuff, I feel as far as driving the race car hasn't been weird. Everything that goes along with race day, at least at Charlotte, was kind of different.
NBC Sports: What's been the most surreal part of the last two years for you?
Bowman: I think probably that first time I strapped into the 88 car was pretty surreal. Not knowing if it was going to be my only shot or how we were going to run. Then getting the call from Mr. (Rick) Hendrick that we're going to go full-time in the 88 car next year was also a big moment. There definitely have been a couple. I think right now the whole feeling's kind of surreal. Probably going to feel that way until we unload in Daytona and get on the race track.
NBC Sports: How much was that Charlotte win a vindication for your entire career?
Bowman: I think a lot. A lot of people have said thing, 'well, he hasn't won a NASCAR race,' 'he doesn't deserve the 88 car' and stuff like that. To go out there and not have raced in six months or seventh months, whatever it was and go win right off the bat was kind of like, 'hey, I can do this, I can drive a race car.' It just lets me be a lot more confident going into next year knowing even though I've sat out. I don't feel like I've lost much, and I feel like we can pick up right where we left off at the end of last year.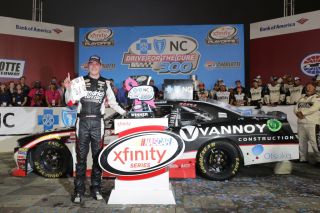 NBC Sports: Last week when you were on NASCAR America, you said when your first opportunity to race in Cup came up, you didn't want to do it. Why was that?
Bowman: I think it's really selfish reasons. I wanted to do it in a situation I knew I could thrive and win races. … I think looking back at it I probably could have had the attitude of, 'look, I can learn so much here.' Instead I was like, 'man, I just want to win and run better.' Selfishly, I just didn't want to go into a situation where 25th was a great day. Looking back at it, without those opportunities I wouldn't have been nearly as ready to fill in for Dale when I did get that opportunity. So I'm very thankful for those opportunities because they helped me mature as a race car driver and learn the Cup cars and learn how those longer races play out with really no expectations. So I think it was a huge bonus for me to be able to do that. It was just a little painful at the time.
NBC Sports: What was your welcome to NASCAR moment?
Bowman: My first Xfinity race getting lapped by Kyle Busch at Chicago. He straight up moved me out-of-the-way. … I was like, 'oh, OK.' 'Cause I had come from winning everything and winning ARCA races. Shoot, I don't think I had ever been lapped before. Then here comes Kyle Busch blowing my doors off, moving me out-of-the-way on a fast mile-and-a-half track. I was like,'wow, OK, these guys get after it.'
NBC Sports: What's your earliest vivid memory of racing?
Bowman: That's a tough one. Probably the first quarter midget race that I won. Cause when I started racing quarter midgets I was pretty terrible. I practiced a lot and my dad really pushed me as far as practicing and trying to get better and then all of a sudden it kind of clicked. Then I went out and I won and didn't stop winning for a long time. That first win was really cool and then to continue to win was fun. Just quarter midget racing in general was really cool and really special to get to share a lot of friends and family. A lot of kids I grew up with are really successful race car drivers now and come from the same background, so it's cool to be able to look back on those memories.
NBC Sports: Who is you best friend in the garage?
Bowman: I would have to say Dale Jr. on that one. I'm not friends with a lot of race car drivers. I don't hang out or go get dinner with other drivers. I kind of do my own thing and keep to myself. Dale is probably, he's got to be my best friend in the garage. He's done so much for my career, he's helped me so much. I'm pretty good friends with all the HMS drivers. Jimmie (Johnson's) been great. Me and William (Byron) have become really good friends. Dale has been there for me for a long time and done a lot for my career and a lot for me on a personal level as well.
NBC Sports: If you could race head-to head with any driver past or present, who would it be and at what track and in what kind of car?
Bowman: That's a really good question. I'd want to run Irwindale (Speedway) in a pavement midget. But I don't know against who. Actually, I do know against who. Irwindale in a pavement midget against Dave Steele … Dave Steele was a sprint car midget guy, really, really talented on pavement. He died in a pavement sprint car earlier this year … He was probably the best there ever was on pavement in those cars. I did not get to race those cars nearly as much as I wanted to. They're by far my favorite cars to drive and Irwindale is my favorite place to run them. It was just so much fun to race there, so I think racing him there would be a heck of a lot of fun.
—
Previous Spotlights