Who will be the fourth driver to advance to the championship round in Cup?
Nate Ryan: Denny Hamlin. Phoenix has haunted him in the past as where his championship bids have gone south, but this time the 1-mile track will stoke a comeback for his team. He will earn major stage points in the first two segments, allowing him to put the pressure on Brad Keselowski with a strong finish. Or, he might just win outright there for the first time in five years.
Dustin Long: Brad Keselowski. He won't lose his advantage on the others.
Jerry Bonkowski: Brad Keselowski punches his ticket to the Championship 4 round at Phoenix. The only real potential threat to Keselowski's bid is if seven-time NASCAR Cup champ Jimmie Johnson reaches back in his bag of tricks to win in the Valley of the Sun. And knowing how Johnson has found ways to do the impossible numerous times in his career to date, don't count him out. Keselowski sure won't.
Daniel McFadin: I see Ryan Blaney finding a way to hop over Brad Keselowski and Denny Hamlin to be the second Ford driver in the championship round.
How significant was it that Martin Truex Jr. lost a race on a 1.5-mile track so close to Miami?
Nate Ryan: As Truex indicated in his postrace media session, it can be downplayed significantly. He got beat on the final run but was in the ballgame before that at a 1.5-mile track where the Toyotas weren't that strong this season. He already is looking forward to Miami, where he had a strong test two weeks ago.
Dustin Long: If nothing else, it gives Kevin Harvick's team confidence and anything positive this late in the season can be a good thing.
Jerry Bonkowski: Much ado about nothing. Sure, he didn't win for a seventh time on a 1.5-miler this season at Texas, but is second place really a sign of a sudden turn of poor performance? Remember, Truex made a mistake with 10 laps left, allowing Kevin Harvick to pass for the win. Had it not been for Truex's mistake, he potentially could have won Sunday.
Daniel McFadin: While it's eyebrow raising that Truex lost, it's not that big of a deal. Texas is one of the two 1.5-mile tracks he didn't win at this year in either race there, along with Atlanta. He also didn't win the Coke 600. Truex still has the most consistent speed, and I would take him in any head-to-head battle with the remaining playoff drivers after Kyle Larson was eliminated.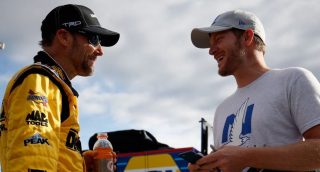 Who has a better chance of winning either of the last two races: Matt Kenseth or Dale Earnhardt Jr.?
Nate Ryan: This is tighter than it might seem. Either could win Phoenix – Kenseth probably should have won there last season, and Earnhardt's No. 88 nearly did … and he won Phoenix in 2015. Kenseth is a better bet at Miami, but in all likelihood, it probably will be a championship-eligible driver who wins there.
Dustin Long: Dale Earnhardt Jr. at Phoenix. The champion – or Kyle Larson – likely will win in Miami.
Jerry Bonkowski: Had it not been for a dumb team mistake at Kansas, Kenseth could potentially still have a chance to reach Miami. But since that is no longer an option, what better way for Kenseth to close out his career than with a final win — especially since he hasn't had a win yet in 2017. As for Junior, he may have a shot to win at Phoenix, given his past success there. But with his struggles this season, as much as I'd like to see him win one last time, I just don't see it happening. But you have to admit: if he were to win at Miami, it would be one of the best storylines ever seen in NASCAR: one driver being crowned season champion and Earnhardt winning in his last career Cup race.
Daniel McFadin: Matt Kenseth. The No. 20 has been more competitive all year. But don't sleep on Earnhardt. The No. 88 team has finished in the top five in two of the last four races at Phoenix, including Earnhardt's 2015 win in a rain-shortened race. Alex Bowman finished sixth in this race last year after leading 194 laps, so the No. 88 team has a good grasp of what works there.