Hendrick Motorsports has revealed special Justice League paint schemes for Dale Earnhardt Jr. and Kasey Kahne in this weekend's Cup race at Texas Motor Speedway. The movie will be released on Nov. 17.
Earnhardt's scheme for the No. 88 Chevrolet includes Batman on the hood and Kahne's No. 5 Chevrolet has Wonder Woman on its hood.
But the schemes the drivers will have this weekend are revisions to initial designs that were announced early Tuesday afternoon that had not been approved by NASCAR.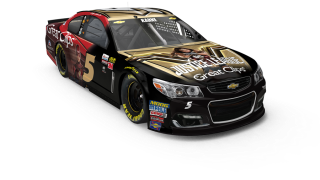 Hendrick's original Justice League cars, shown below, violated a rule that paint schemes must be identical on each side.
The team and NASCAR worked together closely to get approved designs in place before the cars left for Texas.
Kahne's car originally had an all red design for The Flash on the driver side and a blue design for Superman on the left.
Earnhardt's car had a green-and-yellow design for Aquaman on the driver side and a gray-and-red look on the right side for Cyborg.
New images released by Hendrick just show the right sides of the cars.
But both cars are now mostly black on the front half.
Original schemes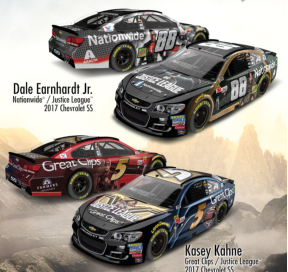 Here's what the rulebook says:
"Both (left-hand side) and (right-hand side) of the vehicle must emulate each other in all colors, markings and graphics. Vehicles with a longitudinal centerline split in appearance extending from front bumper to rear bumper will not be permitted."
The rule got attention in 2014 at Talladega. In his final Cup start, Terry Labonte was meant to have a scheme that paid tribute to two of his old cars. NASCAR forced the team to change it, citing safety issues with potential confusion among drivers and spotters.
Earnhardt made note of the rule in a brief video on Twitter not long after the schemes were initially announced.
"It has two different sides, which is not allowed by NASCAR," Earnhardt said. "I saw the car for the first time Friday and when I saw it I said, 'Hmmm, it has two different sides. I didn't think that was allowed in NASCAR.' So it's going to be fun to see how this plays out."
The change in paint schemes won't impact anyone who pre-ordered diecasts. A representative of Lionel Racing told NBC Sports the diecasts have not been manufactured yet.