Reuben Kauffman had seen his father cry only once.
Then came Feb. 20, 2012, when Kauffman walked into the kitchen of his family's Wisconsin farm home. His father sat at the dining table he helped build, reading a well-used Bible. A kerosene lamp dangled from the ceiling. Kauffman's mother prepared scrambled eggs and homemade granola.
The spartan kitchen was full of wonderful memories for Kauffman, one of nine children. The cinnamon rolls his mother made were treats that remain unmatched. The mashed potatoes and chicken were just as good.
But this would be a day of different memories.
Kauffman, then 17, approached his parents not knowing how to reveal his heartbreaking news.
So he told them that two Black Angus calves had been born in the barn. Then he apologized for socializing with friends the day before that his parents didn't approve him being around.
There was nothing else to say — except what Kauffman had come in from the family's cabinet shop to tell his parents at 6 a.m.
After he spoke, they looked at him slightly confused. Kauffman repeated himself. This time, his parents absorbed each painful word.
His mother began to cry.
So did his father.
FROM HORSE AND BUGGY TO RACE CARS
One of nearly 250 employees at Chip Ganassi Racing, Reuben Kauffman's job as a fabricator is to help build fast cars for Kyle Larson, Jamie McMurray, Brennan Poole and Tyler Reddick.
Kauffman, though, is unlike any of his co-workers.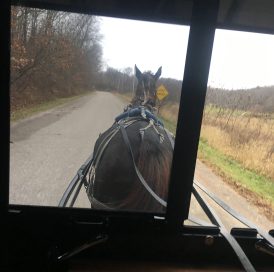 He attended a one-room school through eighth grade, lived 17 years in a home with no electricity and secretly listened to NASCAR races on the radio, breaking his community's code on  such technology.
He grew up in an Amish enclave in Loganville, Wisconsin, located about 60 miles northwest of Madison. A career in NASCAR seemed remote for someone who traveled by bicycle or horse and buggy and had to learn basic life skills — such as ordering food at McDonald's — after leaving.
Kauffman followed the path of a cousin, Marlin Yoder, who left the same Amish community four years earlier and later found work for a race team in North Carolina.
Kauffman, who gained his skills working in his family's cabinet shop, earned his first job with a small race team by offering to work for free during a two-week tryout. Impressed by Kauffman's work ethic, his boss told a friend at Chip Ganassi Racing about six months later that he had an employee the team should consider hiring.
"When I stop and think about it,'' he said, "it's mind-blowing how far you can get if you push yourself.''
A ONE-WAY TRIP
Reuben Kauffman was uncertain of his future when he told his parents that February 2012 morning what he had contemplated for five years.
"I'm leaving,'' he told them in their native Pennsylvania Dutch language.
"Leaving what?''
"I'm leaving the Amish.''
"You can't do that.''
Kauffman watched those outside the Amish community too long to remain. He envied their lifestyle. He saw a world powered by electricity move at a faster pace and enjoy more benefits, such as nearby children playing on four-wheelers and dirt bikes. Speed and machinery intrigued him. The Amish life did not.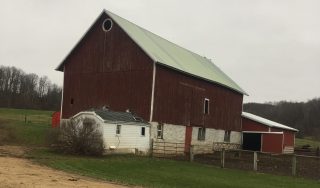 "There's only so much you can do if you're Amish,'' Kauffman said. "I just saw more to life."
He not only was leaving a lifestyle but his family. His older brothers and sisters were married and lived nearby. It was only he, his twin Rachel and younger brother Ferman living with his parents at the time.
Nothing his parents said in the kitchen that morning swayed Kauffman. He grabbed his gloves and walked out of the house.
Kauffman headed down the dirt driveway, past the cabinet shop, crossed the road and stopped at a shack that had a phone. His family and neighbors shared it for emergencies or special situations. Kauffman called Yoder to pick him up but Yoder couldn't. One of Kauffman's older brothers, Ivan, tried to persuade him to stay as Reuben was on the phone with Yoder.
Meanwhile, Kauffman's parents gathered Rachel and Ferman and told them what was happening. For as much as Kauffman had wanted to tell Rachel of his plans beforehand, he couldn't.
"I knew if I would, she would go to my parents and it would make it a lot harder because she wouldn't have wanted me to leave,'' Kauffman said. "That would have made everything more complicated.''
Rachel and Ferman went to Kauffman as much to say goodbye as to urge him to stay. It was one thing to tell his parents he was leaving but to tell his twin sister?
Kauffman remained resolute.
He climbed on a bicycle. With no money and only the clothes he wore, he rode 30 miles in 20-degree weather to his cousin's home and a new life.
EXPERIENCING NASCAR FROM AFAR
Although NASCAR races occurred at tracks they couldn't imagine, with cars they couldn't relate to and piloted by drivers they didn't know, they kept listening.
What could be better?
As teens often do, they rebel. So when the rules include no radios, someone will have a radio.
Amish friends introduced a 15-year-old Reuben Kauffman to NASCAR, letting him listen to the races in their verboten sessions. This was not new. Yoder, who left the community March 9, 2008, also became acquainted with the sport this way and works in it as the car chief at MDM Motorsports for Harrison Burton's K&N Pro Series East championship team.
The speed, drama and breathless calls by the announcers lured Kauffman even though he had no idea of "the difference from Daytona to Martinsville.''
Enticed by those races and the music on other stations, Kauffman biked 10 miles to a Dollar General to buy a pocket radio. He went on a Sunday, knowing he likely would not encounter any other Amish because they would be at community gatherings. Still, Kauffman could feel his heart pound in the store, worried someone would see him and tell his father. Kauffman wasn't hard to spot in his traditional Amish wear of black pants and a white shirt. The clanging of $5 worth of quarters announced his position with each step.
Kauffman hid the radio under his mattress or in the barn, but his parents caught him with it and took it. He later acquired another radio from someone who had left the Amish community.
Kauffman learned to be more cautious. He volunteered before hunting season to go into the woods and scout prime locations. Alone, he could listen to the NASCAR race on the radio without fear of being caught.
A TRYOUT
Unaccustomed to the nuances outside his Amish community, Reuben Kauffman had much to learn.
The first time he rode with his cousin through a McDonald's drive-thru proved confusing. Kauffman was befuddled when his cousin stopped before getting to the building and gave his order.
"There was nobody standing there,'' Kauffman says. "He was just talking to the board. That's how much I knew.''
A week after leaving home, Kauffman watched his first NASCAR race on TV — the Daytona 500.
"It was amazing,'' he said. "I couldn't believe the speeds they carried. Even after listening to it a couple of years (on the radio), it just came to life.''
Spurred by his interest in the sport and his cousin's journey, Kauffman found his way into NASCAR.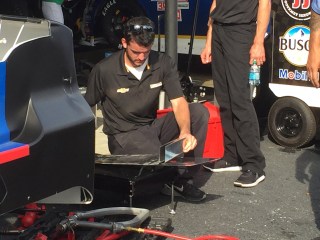 Yoder took two weeks from his work as a roofer to go to North Carolina looking to work for a race team. Kauffman, who also worked with Yoder as a roofer, accompanied him on the 2015 trip.
A few days before they returned to Wisconsin, Yoder got a job with a Super Late Model team.
The next year, Kauffman took a couple of weeks off in January to go to North Carolina to find work with a race team. He got a tryout with a part-time K&N team.
"Don't worry about paying me,'' Kauffman told the team. "I just want to show you what I know and my work ethic.''
When it was time to return to Wisconsin, Kauffman was told to pack his bags at home and come back to North Carolina because he had a job.
Six months later, Kauffman's boss told Matt McCall, crew chief for McMurray, about that work ethic.
A SPECIAL RIDE
The black Camaro sits parked most days outside where Reuben Kauffman lives with  Yoder.
Kauffman occasionally drives it to work but doesn't use it every day to keep the car from running too many miles.
After leaving the Amish community, the Camaro was one thing he wanted the most.
"I've always liked them,'' Kauffman said. "Sweet sports car.''
Finding the right one wasn't easy. He spent three months searching.
"When he finally found the Camaro, it was pretty big for him,'' Yoder said. "It's been many years he's been talking about, 'Man, I'm going to have me a Camaro one of these days. It's going to be a black Camaro.' ''
Where did Kauffman, who grew up in a home with no TV, no cell phones and no computers, find his dream car?
The internet.
WORKING AT THE TRACK
Five years after he shocked his parents and siblings and left his Amish community, Reuben Kauffman walked into a Cup track with the Ganassi team for the first time. It was March 31, 2017, a day that featured above-average temperatures that reached 70 degrees at Martinsville Speedway.
"It was almost too good to be true to be in the garage area with the Cup guys and working on the Cup car,'' Kauffman said. "It's amazing to be at that point in my life that I'm working on something like that.''
Although there was work to do, Kauffman took time to admire a facility that has hosted NASCAR races annually since NASCAR's inaugural strictly stock season in 1949.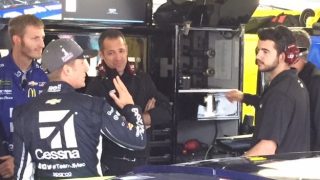 "Just being in the garage,'' Kauffman said was so special. "Just being right there with everything. The smells, the sounds. There's always noise at Martinsville, there's always some cars on the track. Just being in the middle of that whole deal was amazing.''
He later joined the team for the Coca-Cola 600 weekend at Charlotte, the Southern 500 weekend at Darlington and the opening playoff race at Chicagoland Speedway in September.
Then came a surprise. The team told him they wanted him on the road for the season's final five races. He would get a NASCAR license.
Kauffman called Yoder shortly after leaving the shop that day to tell him the news.
"He was excited,'' Yoder said. "He was so excited about it and kept going on and on.''
While most people could call parents and family after such big news, Kauffman could not. No one manned the phone in that shack back near his home. None of his family members had a cell phone, abiding by the community's belief against relying on modern technology. There was no way to reach his family immediately. 
To tell his parents, what he had accomplished, what meant so much to him and how excited he was, Kauffman returned to his former Amish ways.
He wrote them a letter.
Follow @dustinlong and on Facebook