Does NASCAR need to change the policy on damaged vehicles next year so instead of a disqualification for too many crew members servicing the car it's something else? If so, what is a better alternative?
Steve Letarte: I think this is a bigger global question. I don't love the five-minute clock. I love the damaged vehicle policy. I love the fact that we don't have wrecked cars riding around. I'm a big fan of not adding components to the race cars. I wish it wasn't a clock. I wish it was a lap count. The clock is a little cumbersome and a little hard to explain and to understand when everything else on the race track is measured by laps.
I would just like to see a car after a certain amount of laps down, he's done. I think that then you could make the extra crew member, perhaps, be a one-lap penalty. I would make speeding a one-lap penalty and anything else that is currently a timed or another penalty would all be an additional lap. Then it's clear to people that you're allowed x amount of laps, whether it's five or 10 laps, it's up to NASCAR to decide. I just think the damaged vehicle policy is a great addition to the sport, but much like a lot of policies, I think it would be tweaked over the offseason to be a little more straight forward.
Parker Kligerman: Well, this is a tricky one for me. As a driver it's just not something I would pay attention to. That is the crew chief's job. I don't think there is a crew chief out there that would want their driver to even understand the intricacies of these types of rules. Their focus should be on driving the car and avoiding getting into these situations. With that said, as an analyst, I think it's time to look at the litany of new rules that have been imposed on the sport in the last five years and ask what are we accomplishing? Is it safety? Is it fairer? Are the fans benefiting? 
So with those questions asked, in this instance, when you have an infraction that is so small and not much of a gain competitively, yet it precludes you from being able to race, the fans are not benefiting. 
I understand a rule is a rule and the 20 team broke the rule. But when we get into rules that stop a car from continuing in a race in front of fans who paid large sums to be at the track, and fans who have invested a lot of time in the year rooting that driver on from their homes. I think this rule needs a re-think.
Nate Ryan: Parking a car for having an extra man go over the wall to help repair a damaged car seems fairly draconian. It's little confusing why the penalty has to have so much teeth with so many other conditions attached to the Damaged Vehicle Policy (the 5-minute clock, the necessity of making fixes in the pits). It's been a fine addition that has met its primary objectives this season but just needs a few tweaks, which NASCAR assuredly will make.
Dustin Long: It makes sense that the policy be changed from a disqualification to a one-lap penalty. While the rule was applied correctly in the case of Matt Kenseth's team, it does seem overly harsh and could be tweaked before next season.
NASCAR has announced rule changes or enforcement changes in driver meetings from time to time. Is that acceptable or should NASCAR do more to ensure all its competitors know about any changes or updates that are announced in the meeting?
Steve Letarte: I'm going to put my crew chief hat on and ask is it a rules change or an enforcement change? A rule change means there has to be language in the rule book that gets highlighted in red and gets sent out to all the competitors. This is where I struggle.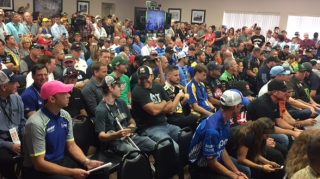 The enforcement of the restarts at Kansas was without a doubt different than we had ever seen. There was no doubt in my mind that NASCAR discussed it in the drivers meeting. Do I think that's enough? Personally I do. I think that's what the drivers meeting is for. I'll follow that up by saying that the drivers meetings could be a little smaller and more concise. Right now there is a bit of a production to it between sponsors and fans that make it difficult, I think, for drivers to consider it a real forum for new information. NASCAR has used that before.
So the argument is it a rule change or not? A rule change absolutely needs to be emailed and bulletined to the teams, but I'm not sure this was a rules change. It sounds like it was more of how they were going to enforce the current rules.
Parker Kligerman: Yes, that is what the drivers meeting is for. I know it seems more of a show, but as a sanctioning body, they have every right to enact a new rule race day morning. As long as it is announced in the drivers meeting. 
Nate Ryan: If a rule is changed during the course of a weekend such as the restart policy at Kansas, officials must be more diligent about making sure drivers fully understand it. It should be announced both before and after the ground rules video in the drivers meeting, and there should be some system of disseminating the information electronically as a backup (as NASCAR began doing with emailed bulletins and putting its rules online a few years ago).
Dustin Long: In this era of instant communications, I see no harm in sending out a note via email, text chain or some other form to teams, crew chiefs and/or drivers on rule changes or emphasis on particular rules that weekend. That being said, these competitors are adults, it's their responsibility to pay attention in drivers meetings.
Which playoff contender will you watch closely in this round?
Steve Letarte: I really have Chase Elliott circled. He's the one that I feel has gone outside of my expectations. I word it like that because there are some that I think have performed to the level we thought, whether that was over-performing like the 78 to a high level, or someone like the 17 who made a nice run but eliminated probably in the round that we all thought, maybe a round deeper than we all thought. But the 24 is one that for him moving forward, he just continues to show up at the front of these races. Can he continue his improved performance? Is that because Alan Gustafson has such a great plan, he has better equipment? Is it just Chase? Is it a combination? I can't honestly tell you the why but he's the driver I'm going to follow over these next three races.
Parker Kligerman: I will be watching the 24 of Chase Elliott. This team has been a major highlight to me in the playoffs. With four top fives in the playoffs, second only to Martin Truex Jr., they have shown incredible speed and excellent race craft at the 1.5-mile tracks. I think if this team can be even average at Martinsville and Phoenix, they have to be one of the favorites to win at Texas and be a major contender at Miami. 
Nate Ryan: Jimmie Johnson. Though he is the most recent winner at Texas Motor Speedway and the defending race winner at Martinsville Speedway, Chad Knaus' postrace comments to Dustin Long conveyed the sense of urgency around the team's quest for an eighth championship. Johnson's best chance to advance likely will be Sunday at Martinsville, but Texas will prove whether the No. 48 Chevrolet is in the ballpark for repeating at Miami.
Dustin Long: Jimmie Johnson. The playoffs are about survive and advance and he's done that, but he has not shown enough in the playoffs to suggest he'll move on to the final round. His record at Martinsville is impressive and he won at Texas in the spring. Is Johnson about to put himself into the final four or will he fade away, not able to overcome his car's lack of speed?
Who is Martinsville a must-win for among playoff contenders and why?
Steve Letarte: Brad Keselowski. I think he did a wonderful job winning Talladega. When I look at Texas and Phoenix, it concerns me. Not Phoenix, maybe he can run well there. When you look at the playoff drivers, they all seem to be running in the top 10 and here is Brad Keselowski running 10th to 12th most of the day. I don't want to make it like 10th to 12th is a bad running position. It's not, unfortunately, it's just not good enough when you have other drivers inside the top 10. So I think Brad Keselowski needs to look at Martinsville as a must-win.
Parker Kligerman: This may be odd considering how good he has been at all three tracks coming up. But to me, Jimmie Johnson and the 48 team could really use a win at Martinsville. He has won there nine times and won this race last year. It just seems the 48 team has not been able to spark the magic that we are used to out of them. A win at Martinsville could allow them to focus squarely on Miami and see if they can't once again do the unthinkable and win a record eighth championship. 
Nate Ryan: The case could be made that it's a must-win for Jimmie Johnson, Denny Hamlin, Kyle Busch and Brad Keselowski – all former Martinsville winners who want to seize an opportunity to become the first in the championship round. Among the other half of the Round of 8, Phoenix remains Kevin Harvick's firewall, Chase Elliott and Ryan Blaney seem more suited for Texas, and Martin Truex Jr. seemingly doesn't need a win anywhere until the finale.
Dustin Long: Denny Hamlin. He was not fast at Texas in the spring compared to how the remaining title contenders fared and was never a factor, finishing 25th. A finish like that would doom him in this round, forcing him to win to advance and his only win at Phoenix came in 2012. Martinsville is a big race for Hamlin.
NASCAR America airs from 5-6 p.m. ET today on NBCSN with Steve Letarte, Parker Kligerman and Nate Ryan joining Carolyn Manno.