NASCAR's sterling safety record – nearly 17 years with no fatalities in its national series – doesn't receive much credit because safety generally is the focus only when it's deficient.
Whether it's the constant addition of SAFER barriers, the improvement of paved runoff areas or the overlooked upgrades to cars and cockpits, the advancements have made drivers less susceptible to injuries than at any point in NASCAR history.
It isn't necessarily important that the world knows the hows and whys about a stretch of four deaths in nine months from May 2000 through February 2001 being followed by NASCAR's longest period of unprecedented safety, but it is important that the teams and the industry fully understand the measures that were taken (as well as give input in implementing them).
Which brings us to the news that NASCAR recently made a subtle safety upgrade without fully informing teams how to take advantage of it.
After making a pit stop Sunday at Charlotte Motor Speedway, Jimmie Johnson stopped again outside his box so his front-tire changer could ensure the lug nuts were tight. The No. 48 Chevrolet received no penalty despite receiving service beyond its pit stall, triggering befuddlement from teams that fully expected Johnson's team to receive a one-lap penalty – the standard penalty for pitting outside the box.
NASCAR officials explained they had been allowing dispensation for teams to fasten lug nuts outside the box if it was discovered they were unsecured upon leaving the box.
Apparently, this change was made after NASCAR returned to enforcing lug nut rules last season (after more than a year of allowing the requirement of five secure lug nuts to lapse). That move ostensibly was made because of safety after a spate of loose wheels raised concerns about putting drivers and fans at risk.
Thus, NASCAR started allowing teams to secure lug nuts outside the box without penalty – in the interest of safety, teams would be encouraged to prevent loose wheels by knowing there would be no punishment from NASCAR for ensuring it.
Curiously, though, hardly anyone seemed to know about this addendum before the incident involving Johnson's team brought it to light Sunday.
If the goal of modifying a policy is to keep teams safer, it's incumbent on NASCAR to inform all competitors to know how to take advantage of that. There are many instances in which teams seeking a competitive advantage will get pre-approved by NASCAR for a new part or process to validate its legality. In these cases, it makes sense to treat such information as proprietary and avoid dissemination unless asked.
But it doesn't apply when the information is germane to reducing hazards.
NASCAR likes to cite safety as a cornerstone of its decision-making and as an explanation for some of its rules and trends, such as the rise in debris cautions.
It also has trumpeted being in a new era of transparency that is driven by greater collaborations with drivers and teams.
Both are noble objectives, and this is one instance in which they clearly intersect.
Safety is sound as the impetus for tweaking a policy, but it's essential to spread the word far and wide when it happens.
XXX
Johnson said crew chief Chad Knaus was aware the team wouldn't be penalized because NASCAR officials informed him after a similar incident at New Hampshire Motor Speedway a few weeks ago.
It also happened to Denny Hamlin's No. 11 team in the playoff opener at Chicagoland Speedway. Hamlin stalled his Toyota while leaving the pits, and the rear-tire changer ensured the lugs were tight with the car's nose over the edge of the box.
Asked about that incident this week, Hamlin couldn't recall it – which reinforces the need for NASCAR to communicate with teams about the changes.
XXX
While Martin Truex Jr.'s win at Charlotte guaranteed the No. 78 Toyota's advancement to the Round of 8, it also meant at least another month of itching for crew chief Cole Pearn.
The Canadian, who grew up a fan of hockey and racing, got his team to buy into the playoff beard, a tradition popular among NHL teams in the postseason.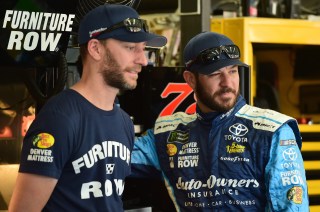 "We all made a deal that we'd grow them this year," Pearn told NBC Sports after the Charlotte victory. "If you shave, you've got to shave your eyebrows at the same time. It's good incentive to keep it on even though I can't stand it.
"When it comes down to playoff time, it's all about growing it as patchy and ugly as it can possibly be and not touching it and letting it ride."
Truex, who is accustomed to having facial hair, said it's been a good morale builder for the team because "it's fun for all the guys to get in something together. 'Hey, we're all going to do playoff beards.' Right on. It shows your commitment.
"It's been fun, but I'm just surprised by how much gray is in Cole's beard."
XXX
A NASCAR delegation (including Chief Racing Development Officer Steve O'Donnell) was in China this week, naturally prompting speculation as to why. The Sports Business Journal reported the group was at the opening of a road course near the port city of Ningbo.
The circuit is part of an initiative to build five tracks in the country by a subsidiary of Chinese automaker Geely Automotive, which owns Volvo. A Geely company also bought the track formerly known as Miller Motorsports Park in Utah two years ago.
Though NASCAR frequently has turned down offers to sanction one-off events for its national series around the world (including as many as 20 groups from China, according to O'Donnell in a 2013 interview), it is interested in establishing series (similar to Europe, Mexico and Canada) that build a pipeline to funnel drivers to the United States. Daniel Suarez is the best example of a success story.
While Brazil and Japan had been higher on NASCAR's radar in establishing a grass-roots stock-car presence, Geely's racetrack expansion in China might provide an avenue for a new series there.
XXX
It's naturally overlooked because he isn't in the playoffs, but the second half of Daniel Suarez's rookie Cup season has been impressive: eight top 10s in 12 races.
The Joe Gibbs Racing driver, who finished sixth at Charlotte, has shown a proclivity for a fast learning curve. In his 2015 rookie campaign in the Xfinity Series, 12 of his 18 top 10s also came in the second half of the season. He followed that with a championship last year.
Given the strength of JGR and Toyota, it isn't unreasonable to expect Suarez to be a playoff contender in 2018.
XXX
NASCAR's rules enforcement has been one of the overarching themes of the 2017 season. Analyst Jeff Burton was the guest on this week's NASCAR on NBC podcast to explain why teams ask for more oversight but often struggle to comply with it.
"Perhaps NASCAR's most important job is keeping the sport honest," Burton said. "Because whether you like it or not, when competition is involved, the competitors' integrity isn't there. It just isn't. It's 'we're going to win at all costs.'
"Remember the football debacle with Tom Brady and the air pressure? They have a ball. We have thousands of parts. … You have to police the car, the people and the race. It's completely different, and it's way more complicated. When you don't police it in really tight way, things get way out of control."
You can listen to the podcast by clicking on the embed below or download and subscribe to the podcast on Apple Podcasts by clicking here.
It also is available on Stitcher by clicking here and also can be found on Google Play, Spotify or wherever you get your podcasts.
The free subscriptions will provide automatic downloads of new episodes to your smartphone.