MARTINSVILLE, Virginia — Kyle Larson relates to what Chase Elliott is going through with so many runner-up finishes while seeking his first career Cup win. Larson also knows what is likely in Elliott's future.
"He will win,'' Larson said after Elliott finished second last weekend at Charlotte Motor Speedway. "When he wins one, he is going to win a lot, similar to kind of what I did this year.''
After scoring four runner-up finishes in his first 99 Cup starts, Larson won at Michigan in August 2016, triggering a run that has seen Larson become one of the sport's dominant drivers. In the 41 starts since, Larson won four times, scored 10 runner-up finishes and had 19 top-five results.
Elliott already has six runner-up finishes in 71 career Cup starts, including three in the opening four playoff races. A win in the next two weeks would advance him to the Round of 8 and move him closer to his first Cup title.
"I certainly appreciate the kind words,'' Elliott said of Larson's comments. "We've been able to start the playoffs strong. It's been refreshing to come to the track and have the kind of runs that we've been having and to come down pit road and have the stops that we're having. We just have to make sure we carry that stuff forward. We have all the ingredients to do so.''
Elliott said there's not been one major change that has led to his team's turnaround — he has not finished worse than 11th in the last six races — but notes that his cars and pit crew have improved and that's played a key role.
"A big thing is coming down pit road and having some really good pit stops,'' Elliott said during a break in testing Tuesday at Martinsville Speedway. "It's hard to put a price tag on that. Our guys are doing their homework, they're doing their jobs.
"When you can have your car balanced well … you're going to get to a point where it is going to be harder and harder to pass guys. When you come down pit road and have solid pit stops, hopefully gain a spot or two here or there throughout a day, we've been able to stay in front of some of those guys that we jumped. That is really the kind of things you have to do to have success.''
Elliott's runner-up finish at Charlotte puts him 16 points ahead of the first car outside of a transfer spot to the next round, but Elliott is not conformable with that advantage heading into the unknown that is Talladega.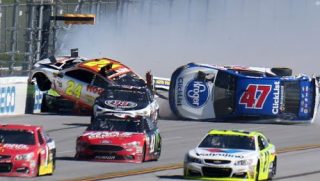 In May's race at Talladega, Elliott was turned by AJ Allmendinger and got on his side down the backstretch while Allmendinger ended up sliding on his roof in a crash that damaged 18 of the 40 cars.
"You go cross your fingers,'' Elliott said of Sunday's race. "The stage points are very valuable, and I think everybody knows that. So everybody is going to want to go and get stage points. There's also a price tag with wrecking that early in the race. Hopefully, we're not in it and we can get out of there and just keep all four on the ground this time, I'd be happy.''
As for Tuesday, Elliott was taking part in an organizational test at Martinsville Speedway. The test continues Wednesday. Other playoff drivers taking part in the test include Brad Keselowski, Kevin Harvick, Ricky Stenhouse Jr., Kyle Busch, Ryan Blaney and Kyle Larson. Also testing were Austin and Ty Dillon and Landon Cassill (Ford), Alex Bowman (Chevrolet) and Drew Herring (Toyota ).
"Just trying to find some consistency and what I'm doing behind the wheel and really some of the things I did here in the spring, I thought was my best race here,'' said Elliott, who finished third in the spring race and had nine-time Martinsville winner Jeff Gordon at the test Tuesday helping him. "Trying to find that rhythm.''
If he advances through this round, the Oct. 29 Cup race at Martinsville could be the one that helps him advance to the championship finale next month in Miami.