No mother or grandmother is safe.
That's the impression left by more than one of the 12 NASCAR Xfinity Series playoff drivers when asked a simple question.
What are you willing to do to advance to the Round of 8?
Thanks to wins by non-playoff divers Tyler Reddick and Ryan Blaney, none of the 12 drivers have officially advanced to next round.
Here's what each driver had to say before the start of the playoffs.
Justin Allgaier, JR Motorsports' No. 7 Chevrolet (+54 points above first driver outside transfer spot)
"You know having teammates involved in this, you know you look at where you stand. I mean I have a lot of respect for my teammates, and you know that makes it very challenging when you get down to that final spot. If you're battling it out with a teammate, what's the limit? How far do you go? And I think that's the area of concern for everybody. You know, none of us want to be the villain in this. None of us want to be the guy that goes out and crashes everybody to try and make it. I know that we all get along. That's the one thing that's pretty cool. Everybody in the top 12 gets along really well at this point. We'd love to keep it that way when this playoffs is over.
William Byron, JR Motorsports No. 9 Chevrolet (+51)
"I think whatever you feel like is the right thing to do. We are going to do whatever it takes as far as our performance, as far as what we can do in our control and then when it comes to racing around guys I feel like we are doing our job if we are ahead of those guys already. So, if we are not, then there is something we are not doing that isn't going right. So, we are going to approach it the same way we have and compete at a really high level and give 110 percent and if that means that we need to win we are going to go out there and win."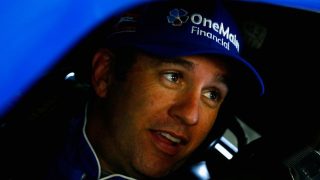 Elliott Sadler, JR Motorsports' No. 1 Chevrolet (+41)
"You've got to be aggressive, you've got to try and get all the points that you can. Now with the stage racing, (that) gives you two more opportunities per race to get more points under your belt than maybe you really could in years past. So there's things you've got to pay attention to, there's a lot of things going on these days during these races that if you don't understand what you're doing, don't ( look) ahead, some other teams could take advantage of them. I think that is what our team has done the best this year is getting those stage points. So that's something that'll be a main focus of ours as we try to head through these playoffs.
Cole Custer, Stewart Haas Racing's No. 00 Chevrolet (+40)
"You don't know until you are in that situation because every situation is different, but you definitely got to be pretty aggressive when it comes down to it. If you are going to have to advance to another round, there is not much that I don't think a lot of us wouldn't do."
Daniel Hemric, Richard Childress Racing's No. 21 Chevrolet (+37)
"How about whatever it takes. The whole season is on the line. These guys bust their tails for it day in and day out at the shop. My entire career has been built for that moment so we find ourselves on the cut line I will do whatever it takes to prevail not only for me but for success of myself moving forward, for my career, for my team."
Brennan Poole, Chip Ganassi Racing's No. 48 Chevrolet (+29)
"I just kinda hang it out there, you know. Anytime I'm in a position to be able to get the lead or win a race you know you just put everything on the line, doesn't really matter, you just do what it takes to get it done regardless, worry about it later."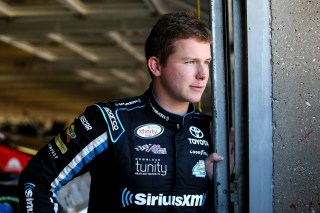 Matt Tifft, Joe Gibbs Racing's No. 19 Toyota (+14)
"I am willing to wreck my grandma in a (cutoff) race. I mean you got to do what you got to do. But at the same time obviously, (the) second round cut race is going to be maybe a bigger move than a first round cut race would be. … But if it's something where you're kind of close, you don't want to go and make somebody mad that's going to come back to haunt you (in the second round), but you know, you got to, sometimes you got to take a chance, if that's what we have to do we'll do it."
Ryan Reed, Roush Fenway Racing's No. 16 Ford (+2)
"Really anything, you know if it's two (laps) to go and the guy in front of you is the difference between advancing and not advancing, you'll move him, you'll wreck him. I think you saw Ryan Newman move Kyle Larson (Phoenix, 2014), that was a really good example of … Ryan Newman doesn't do that, he doesn't make that pass, he doesn't do that move if it wasn't for the playoffs and for that situation and that holds truth. I think almost every single driver, they will do whatever it takes to get to the next round.
Brendan Gaughan, Richard Childress Racing's No. 62 Chevrolet (-2 from final transfer spot)
"Everyone … wants to hear us say we would wreck our mother for a win and a guy goes out and wrecks his mother for a win and people turn on him. Who was it in the (Camping World Truck Series) race? Austin Cindric did that. Everyone loves us to say those words and that when we do they are like, 'oh that is a bad guy.' Here's deal, I will race you hard. If it means I have to win to get in and I can get to your rear bumper, I am not going to wreck you but I am definitely going to take a shot at you to move you. That is just what you have to do. If you are in that position and it is a must-win, you will do what you need to do to get that must-win."
Michael Annett, JR Motorsports' No. 5 Chevrolet (-7)
"You don't want to wreck a teammate but if you've got to move them, I think any one of them would sit here and say the same thing; they're going to do it because you've got to drive that car down pit road and meet your guys and if they think you left anything out there, then I don't think I'll be able to look them in the eye. So that's the mentality you know that I don't think you'll see necessarily come out, you know unless you're racing for a win throughout the year. But when you get to the playoffs if it means moving on to the next round or not, you know that one spot, it's going to feel like a win at least that day."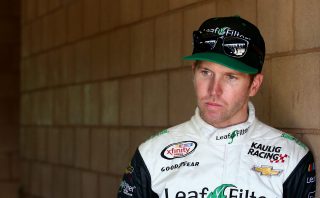 Blake Koch, Kaulig Racing's No. 11 Chevrolet (-12)
"It is a tough question to really have a solid answer for, but I'm going to do everything that I possibly can to pass the guy in front of me, and whether that's a cutoff spot or not, I feel like every point matters so much in the playoffs. It doesn't matter who it is, whether they have a red spoiler (for playoff drivers) or not, you need to get around that car because that one point could be the point that gets you to the next round of the playoffs."
Jeremy Clements, Jeremy Clements Racing's No. 51 Chevrolet (-20)
"I'm willin' to do anything it takes. If we gotta move a guy to get that spot and they say we need that extra spot, that extra point, I'm gonna have to do it. I mean this is – we don't know how many times we'll get this opportunity (to be in the playoffs). So we're gonna do all it takes to make it to the next round and … and if I gotta move my Mom outta the way I'll do it."