DOVER, Delaware — Shortly after the Coca-Cola 600 ran without the Wood Brothers for the only time in the event's history, co-owner Eddie Wood's cell phone rang.
On the other end was Edsel Ford II, great-grandson of Henry Ford, founder of Ford Motor Company, a longtime supporter of the Wood Brothers.
Edsel Ford called for other reasons, but the conversation turned to the team's struggles. Although it was late May, the 2008 season already had been difficult for the team.
The Wood Brothers failed to qualify for the Daytona 500, marking the first time since 1962 the family didn't have a car in NASCAR's most prestigious race.
The team failed to make the races at Las Vegas, Atlanta and Bristol in consecutive weekends. The Woods had the most wins among any team in NASCAR history at Atlanta at that time. They also didn't qualify at Richmond before failing to make the 43-car field at Charlotte.
All that hung over Wood when he answered his phone in the Pocono Raceway garage during a test two days after the 600.
"Why haven't we talked lately?'' Edsel Ford asked Wood.
"Mr. Ford, we've run so bad and I'm so ashamed,'' Wood said. "I'm ashamed to call you.''
"So you're telling me my 21 is broke?''
"Yes sir. It's broken. Really bad.''
"I'm going to fix that.''
SURVIVORS
When Ryan Blaney held off 2014 series champion Kevin Harvick to win at Pocono in June, he gave the Wood Brothers their 99th career Cup victory and qualified them for the playoffs for the first time.
For as storied as Wood Brothers history is — nine NASCAR Hall of Famers have run at least one race for the team — the organization has only one championship. The team won the 1963 car owner's title less than three weeks before President John F. Kennedy's assassination.
Blaney enters Sunday's race at Dover International Speedway in position to advance to the next round. That the Wood Brothers are competing for a championship is remarkable considering what they overcame to remain in a sport that left many contemporaries behind.
More than 30 teams that competed in the Daytona 500 at one time or another between 2006-16 have faded away. They ranged from powerhouses to low-budget endeavors put together on a hope and a prayer.
Those teams relegated to history include Dale Earnhardt Inc., Petty Enterprises, Yates Racing, Evernham Motorsports, Bill Davis Racing, Michael Waltrip Racing and Red Bull Racing. They combined for 10 Cup titles and 16 Daytona 500 victories.
While they are gone, the Wood Brothers remain.
LOYALTY
Edsel Ford II calls the No. 21 Wood Brothers car Ford's "company car.''
He's not exaggerating. The Wood Brothers always have run Fords, starting with Glen Wood. He and a friend paid $50 for a 1938 Ford Coupe to race in 1950.
In Glen Wood's first race, contact in his heat bent the rear-end housing. It didn't seem major until afterward when they towed the car back to Stuart, Virginia. The axle broke. Gas spilled and ignited from the sparks as the car's rear end scraped the ground. Flames shot from the back of the car and spread.
The fire eventually burned out and the damage was minimal to the engine. So a few weeks later, Glen Wood again was racing that car, beginning a legacy with Ford.
For as much loyalty as the Wood Brothers have shown Ford Motor Company, Edsel Ford II felt the same way with the team.
"We were dedicated to them, and they were dedicated to us,'' Ford told NBC Sports.
Loyalty, though, doesn't pay the bills and can't always prop a team back up when it has fallen.
The Wood Brothers' falloff was gradual, more like water dripping from a faucet instead of flowing.
Elliott Sadler led them to a 20th-place finish in the points in 2001, but the team's performance yo-yoed through Sadler and Ricky Rudd before declining with a series of other drivers.
The organization expanded, adding a Truck team, but that didn't prove effective. Decisions didn't work out as hoped, and soon the Wood Brothers fell further behind the leading teams.
While they attempted to run every race in 2007, the Wood Brothers failed to qualify for two races. At Talladega, they were among nine teams that didn't make the field. That included Red Bull Racing (AJ Allmendinger and Brian Vickers), Bill Davis Racing (Dave Blaney) and Michael Waltrip Racing (Michael Waltrip).
Then came the woes of 2008. The team failed to qualify for eight of 36 races.
"As far as racing goes, that's about as bad a spot as you can be in, going to a race track and not being fast enough to qualify and race,'' Eddie Wood said.
He and brother Len stayed at the track for the Daytona 500, Coca-Cola 600 and Brickyard 400 (they also would miss that race that year) without a car competing.
"That's the hardest part,'' Len said. "You have no hauler, nowhere to go, no car to show anybody, nowhere to sit down.''
Said Eddie: "You have nowhere to be.''
FAMILY
The day after Edsel Ford's call to Eddie Wood, another call came. Eddie and Len were told to fly to Detroit that day to meet with a Ford executive. Four hours later, they were in the air, but there was a problem. Neither had proper clothes for an executive meeting since they had been at a race. So after landing, they went to a Dillard's department store for proper clothes.
Their meeting was postponed a day, but when it was held, it began a process for the Wood Brothers to become more competitive.
"They're such an important part of our family, they're an important part of our sport, Ford Motorsports,'' Edsel Ford II said. "To lose them would have been inconceivable to me.''
More engineering help was added. Later, another idea emerged from Edsel Ford II.
Maybe the team should not run a full season beginning in 2009.
"Eddie and Len knew that the future was going to be there, now it was just a question of hanging on and how do we get there,'' Ford said. "I think the three of us spent a lot of time strategizing, what does the long-term look like, so we'll have to make some short-term sacrifices in order to get to the long-term. We all knew that some of these half-seasons were not what they wanted, certainly not what we wanted, but it was going to get us there.''
But what races to skip? Len Wood examined the costs incurred at each track from hotel bills to tire bills and more. Eventually, the team decided it would be best to run the Daytona 500 and focus on tracks from 1.5 to 2.5 miles. That way they didn't have to prepare cars for short tracks or road courses, saving costs there.
After having attempted to run every race from 1985-2008, the team ran 13 races in 2009 and 2010.
VICTORY
They met at a Steak 'n Shake for lunch.
There sat the heirs to one of the most famous teams in NASCAR history and one of the sport's most popular drivers. Eddie and Len Wood sat with Bill Elliott.
The Wood Brothers were aligned with Roush Fenway Racing. Through it, they acquired a couple of cars and a new crew chief when they parted ways with their crew chief late in the 2010 season. Soon after, Roush requested that Trevor Bayne drive for the Wood Brothers in the fall Texas race to be eligible for the 2011 Daytona 500. It was at that lunch the Woods told Elliott, their current driver, about the change of plans. Elliott said he'd help Bayne any way he could.
After the season, there was more talk about Bayne running for the team in 2011. He ended up in the No. 21 car for the Wood Brothers at Daytona.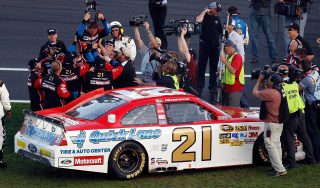 Bayne's Speedweeks did not go smoothly. A rookie, few would run with him in the tandem style of that period. Then his car was damaged in an accident on the last lap of his qualifying race. With help from Roush Fenway Racing, the team repaired the car instead of going to a backup.
The repairs were perfect. The race went beyond the scheduled 200 laps, and Bayne took the lead for the first time on Lap 203. He led the final six laps to win in just his second series start. Bayne's victory provided one of the more memorable scenes that season when Richard Petty escorted Glen Wood to victory lane.
The feel-good moment didn't turn into much more money. The team added a few more races in hopes of enticing sponsors to come on so it could run a full season. It didn't happen. While the team ran 17 of 36 races that season, it would be five more seasons until there was the sponsorship and support to run a full season.
NIRVANA
Eddie and Len Wood won't think about the possibility that in less than two months, the Wood Brothers could be champions. When you spend your life in the sport, it is dangerous to look too far ahead. Instead, focus on the what needs to be done and worry about what's down the road when you come upon it.
Edsel Ford II can't contain himself. For as much as he doesn't want to look too far ahead, he smiles and his eyes widen at the thought of the Wood Brothers and Ryan Blaney winning the championship at Homestead-Miami Speedway.
"What does nirvana look like?'' Ford asks.
Then he answers the question.
"I think to go to Las Vegas and be with them,'' he said of where NASCAR celebrates its champion, "it would be pretty close to nirvana for me.''