In Norman, Oklahoma, the Sooners are king.
Growing up in the city 30 minutes south of Oklahoma City, the Sooners were a regular part of Christopher Bell's life, especially since his father, David, was a high school basketball coach when he was a little.
"As a kid I guess that's what I dreamed of doing, was playing football and basketball," Christopher Bell told NBC Sports. "Obviously that got derailed at a very young age once I got introduced to racing."
Bell was 4 or 5 years old when he was invited by the family of one of his father's players to watch him compete in a micro-sprint car race.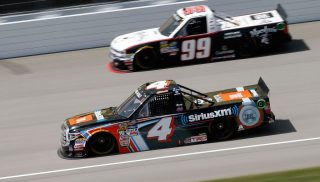 "I was hooked ever since," Bell said. "From then on, I started racing when I was 6. Haven't missed a weekend since."
The most recent race weekend saw Bell, 22, win his seventh Camping World Truck Series race and his fifth of the year. The Kyle Busch Motorsports driver leads the playoff standings after one race. It's been almost a year since he made it to the championship race, the only driver out of four born after 1980.
This year has seen Bell get his feet wet in the Xfinity Series, making four starts for Joe Gibbs Racing. He'll also compete in the final four races of the year.
The following Q&A has been edited and condensed.
NBC Sports: Do you have a favorite basketball team?
Bell: I used to love the Hornets. Whenever the Hornets, they were in New Orleans and then I think Hurricane Katrina got them. Then they moved to Oklahoma City (temporarily). So whenever the Hornets were in Oklahoma City (in 2005-06), I don't think I ever missed a game. I loved the Hornets, so that was really cool. I have a lot of memories of going to Hornets games with my father as a kid.
NBC Sports: What's the most fun race you've ever been part of?
Bell: Homestead last year was a ton of fun. I don't know if that's the most fun I've ever had. But the last 20 laps of the truck race at Homestead last year was really, really intense. Homestead races really well. There's a bunch of different grooves there. Me, Matt Crafton and Timothy Peters were all racing for second place in the championship and it was a heck of a race and that was a ton of fun.
NBC Sports: If you were competing in the Cup Bristol night race, what would you choose as your intro song?
Bell: "Hall of Fame" by The Script. … As a race car driver, your dream is to be the greatest. … I want to be in the Hall of Fame one day.
NBC Sports: Which phone app do you use the most that's not social media related?
Bell: I don't ever really use my phone that much. I use "Sleep Man" a lot, which is a fan that I can use in hotels because I sleep with a fan on. That would be my No. 1. … Basically it just makes noise like a fan would. Because I always sleep with fans, but in hotels you don't have a fan.
NBC Sports: In your career, what's the best advice or criticism you've received?
Bell: Recently, it would have to be from Kyle Busch. Kyle Busch's best piece of advice he gave me was 'to let it happen.' If it's going to happen. It's going to happen. Don't try and force it. So that sank in really hard because Kyle Busch has won so many races and he said 'if you try too hard, it's not going to happen. You can't force it to happen. If it's meant to be, it's meant to be.' That's really sunk in.
NBC Sports: How did you meet Kyle Busch?
Bell: We were actually going to a Snowball Derby test (in 2014) and he went with us.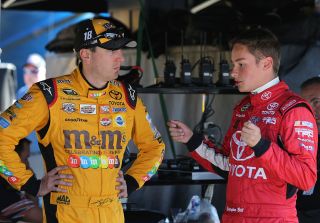 NBC Sports: What were your initial impression of him?
Bell: I was shocked how he was just another, I don't know. We flew on a plane from Concord, (North Carolina), to Pensacola, (Florida). I didn't even know he was on the plane with us`and then all of a sudden we get off the plane and I end up riding in the car with him. We get to the race track and he was just in a T-shirt laying on the ground, working on his late model harder than any of his employees. It was cool to see how involved he was and how he was working on the car. He was on the radio asking what the car needed, then he was the one making changes to the car. I was blown away by how hands-on he was about the whole thing.
NBC Sports: You've got four more Xfinity races at the end of the year. If you could pick a track to race in Xfinity at, what would it be?
Bell: Bristol. Bristol is badass. The way the banking is, the short track. It's a short track that races with speed like a mile-and-a-half. To me that's just a recipe for awesomeness, man. It's just one of the coolest races ever, because of all the stands wrapped around the race track. You're basically racing in a coliseum. It's one of my favorite tracks we go to.
NBC Sports: What's been your highest high and the lowest low of our career?
Bell: The highest high was definitely winning the Chili Bowl. That was my dream race … that's kind of what racing means to me is the Chili Bowl. So to win it was something that was incredible. My lowest low was probably wrecking last year at (Canadian Tire Motorsports Park) while qualifying. I wrecked a lot of trucks last year and then I went to Canada. Me and my crew chief (Jerry Baxter) sat down and we realized we can't wreck. We had a big conversation about not wrecking and then I went out and wrecked in qualifying. So that hurt really bad. That stung.
—
Previous Spotlights