CHARLOTTE, North Carolina — Before Tuesday's NASCAR Xfinity Series playoff media day got into full swing, the 12 competitors gathered for a family photo.
While waiting for the portrait to be taken, Elliott Sadler and Brendan Gaughan couldn't help but laugh.
"We joked and looked and said, 'We got the kid's table on the right and the grownups on the left. We put the above 30 age and the below 30'," Gaughan said. "Not afraid to make fun of it. I'm having a great time. I love racing with the kids."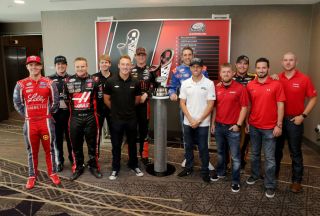 "Kids" is appropriate.
Sadler and Gaughan, born four months apart in 1975, are the oldest drivers in the Xfinity playoffs by 10 years over Jeremy Clements (January 1985).
Five of the playoff drivers – Ryan Reed, Matt Tifft, Cole Custer and William Byron – are young enough to be their children, if they didn't already have two children.
Tifft (1996), Byron (1997) and Custer (1998), were all born after Sadler made his first Xfinity Series start on July 29, 1995 at South Boston Speedway in Virginia.
Custer was born in January 1998, the same year Sadler made his Cup debut in the Coke 600 and Gaughan made his in the final Japan exhibition race in November.
"Isn't that cool?" Sadler said before asking jokingly, "What the hell are you trying to say?"
Tick, tick, tick, tick…
"Hey look, I've been doing this a long time," said Sadler, who has 813 NASCAR points starts across the three national series. "I think a lot of guys would like to be in this sport as long I've been doing it, especially growing up as a fan in southern Virginia. Actually, I'm cherishing this moment."
The moment in question sees the 42-year-old driver pursuing what he views as his "best opportunity" to earn a NASCAR title if he can avoid any mistakes, even though he's "at least going to be running a couple more years."
Driver of JR Motorsports' No. 1 Chevrolet, he enters the postseason as the regular-season champion. That award wasn't given out last year when Sadler led the points after the regular-season finale at Chicagoland and made it all the way to the championship race.
The only difference between this year and last is Sadler hasn't won a race yet. Last weekend at Chicagoland, Sadler finished third for his 11th top five of the season.
"I've never gotten an award like that for a regular-season championship or any kind of trophy in NASCAR and felt as bad as I felt Saturday," Sadler said. "I'm not going to sit here and lie to you. That race hurt Saturday.
"But like I told my crew chief (Kevin Meendering) yesterday morning, that might have been the best thing to happen to me from a mental side because there's somethings I know I need to clean up and get better on heading into the playoffs."
For Gaughan, the playoffs and their elimination format were a needed punch in the arm.
Gaughan, driver of Richard Childress Racing's No. 62 Chevrolet, is in his 15th full-time season and his sixth in Xfinity.
Despite K&N Pro Series West titles in 2000 and 2001, the closest the Las Vegas native has gotten to a national series championship was finishing fourth in the Truck Series in 2003.
"I think this new format is what really breathed life into the guys like me and Elliott," Gaughan said. "Elliott, it probably pisses him off. It really breathed life into what I like because you can have those few mistakes. In the old days … Elliott would have had a X-amount point lead, maybe a couple of guys had a chance to battle him for it. It was few and far between the years like the '03 truck year where you had four guys going into the last race with a legitimate chance at a championship.
"I think this playoff format has really done a lot, not just to invigorate the fans, not just you guys in the media, but even the drivers. Hell, any other year we've just be sitting here saying, 'Oh well, OK what are we doing for next year and what are we going to try and get better at?' Now, we're saying, 'Hey, the playoffs are here. We got a chance to win this thing.'"
THE FINAL COUNTDOWN
Tick, tick, tick, tick…
Gaughan hears it. The word "retirement" is mentioned around him on a regular basis.
He doesn't care.
Even if it is a little bit harder to make those red-eye flights from Las Vegas to Charlotte for a one-day promotional tour.
During his trip east for Tuesday's media obligations, Gaughan made sure to take a moment to appreciate what he was doing.
"I said, 'You know, sometimes you've got to take a breath and remember there's a lot of kids in the world that would kill to do what I get to do,'" Gaughan said. "And I have a lot of fun still doing it. I still appreciate it. Having young teammates I think helps me a ton. Having Brandon (Jones) and Daniel (Hemric) and both the (Austin and Ty) Dillon boys being so much younger. … It's kept me feeling young. It's kept me happy doing that."
Though Gaughan hasn't made a decision on whether he'll continue as a full-time driver next season, he's adamant that he'll be happy either way. Racing won't disappear from his routine.
"I'm going to race forever," Gaughan said. "No matter what, retirement is never a word that's for me. I'm going to go race in the desert again when I get done and I'll go race in sports cars. I'll be racing something somewhere because I love racing. I hope I'm still racing full-time. I'm not really putting a lot of pressure or worry about it. … I've never put a ton of pressure on that. I don't care. If it happens tomorrow, it happens tomorrow."
But what if this is it? What if the next seven races are Gaughan and Sadler's last, best shot at being immortalized as a NASCAR champion?
Unlike other sports, auto racing allows its competitors to start young and stick around late, though the backend of that spectrum has been shrinking in the last decade. The days of drivers like Mark Martin and Terry Labonte racing competitively into their late 40s or early 50s are receding in the rear-view mirror.
For Gaughan and Sadler, even if both of them were to come back full-time, there's no guarantee they'd enjoy a competition level that would see them reach the playoffs or a late playoff round.
"Earlier in my career I don't know if I really appreciated the opportunities I was given," said Sadler, who competed for Wood Brothers Racing, Robert Yates Racing and Evernham Motorsports in the Cup Series before returning full-time to the Xfinity Series in 2011.
Since then, Sadler has finished second in the Xfinity standings three times while competing for Roush Fenway Racing, Kevin Harvick Inc. and Richard Childress Racing.
"I think a little part of me will always be empty if I have to walk away from the sport without a championship," Sadler said last weekend after being awarded his regular-season championship trophy. "I think I would like to have that to fulfill my dreams and my wishes of the hard work I've put into this sport. Yes, you can pretty much say I need to win a championship before I retire to feel like I've accomplished everything I want to accomplish as a person, as a dad, as a father and as a race car driver."
No matter how long they're still competitors on the track, Sadler says he and Gaughan will relish in the fact they're "messing up the bell curve" when it comes to discussions about the age of the average NASCAR driver.
"Brendan and I both want to compete and want to try to win," Sadler said. "We still want to be NASCAR champions. Both of us have been very, very close in our careers at different stages. Both of us, you want to kind of go out on top if you know you're getting close to the end of your racing career."