The city of Houston and its surrounding areas are still in the early stages of the recovery process from Hurricane Harvey, the Category 4 hurricane that impacted the Texas coast last week.
At the same time, the state of Florida is bracing for the impact of Hurricane Irma this weekend.
Multiple drivers and teams in NASCAR are doing their part to help those in need by establishing relief funds, food drives and other means for helping victims of the hurricane.
Here's a look at different ways NASCAR is helping.
Richmond Raceway
The track and Team Penske's Joey Logano have partnered to host a silent auction to support hurricane relief efforts prior to Saturday's Federated Auto Parts 400 . The silent auction will include original pieces of race memorabilia from Team Penske, Richmond Raceway, Hendrick Motorsports, Joe Gibbs Racing, Roush Fenway Racing, Furniture Row Racing and other NASCAR teams with proceeds donated to the American Red Cross. The silent auction will be held from 10 a.m. to 6:30 p.m. in the Commonwealth Mall outside The Classic Amphitheater.
Talladega Superspeedway/Atlanta Motor Speedway/Charlotte Motor Speedway/Bristol Motor Speedway 
Both Atlanta and Talladega have opened their campgrounds free of charge to evacuees from the path of Hurricane Irma.
Charlotte Motor Speedway will open its Rock City Campground beginning at 7 a.m. Friday morning for evacuees heading north or inland from Hurricane Irma.
Accommodations will be available as long as possible prior to potential landfall. Evacuees should access Rock City Campground off Bruton Smith Boulevard through Entrance Z and will have access to bathhouse facilities on speedway property.
Evacuees are asked to check in at the ticket office on the second floor of Smith Tower at the speedway's main entrance, starting as early as Friday morning. After-hour arrivals will be handled by Charlotte Motor Speedway security.
Bristol Motor Speedway's campgrounds also opened Friday.
Brennan Poole/Chip Ganassi Racing
Brennan Poole, driver of Chip Ganassi Racing's No. 48 car in the Xfinity Series, once lived in The Woodlands, Texas, which is about 30 miles from downtown Houston.
Poole and his girlfriend, Lindsey Giannini, have started a drive called "Poole for Texas" which collects food and funds for the Houston Food Bank.
Containers for non-perishable foods were collected at CGR's Concord, North Carolina, shop on Wednesday.
For those wishing to make a cash or check donation, there will be a collection box in the CGR gift shop available until Sept. 13. Checks should be made out to the Houston Food Bank.
Online monetary donations can be made through a youcaring.com page. Just $1 is good for three meals. The highest fund contribution will receive a piece of Brennan's car.
First Data, which sponsors Kyle Larson and the fall race at Martinsville Speedway, is helping business owners in "FEMA defined coverage areas."
Hendrick Motorsports
All four of Hendrick's driver have established a relief fund with a goal of raising $500,00o in the next two weeks.
Jimmie Johnson, Dale Earnhardt Jr, Kasey Kahne and Chase Elliott have contributed a combined $200,000 to establish the fund and are now encouraging the public to join the effort by making a donation before midnight ET on Wednesday, Sept. 20. Tax-deductible contributions can be made by visiting HendrickRelief.org.
Hendrick Automotive has also pledged $100,000 to the fund.
All donations to the campaign will benefit qualified charitable organizations supporting disaster relief efforts, including the Hurricane Harvey Relief Fund, which is housed at the Greater Houston Community Foundation, a 501(c)(3) public charity.
On Thursday, members of Johnson's pit crew volunteered at a Lowe's to help prepare supplies for hurricane victims.
Joey Logano/Shell
Shell, Logano's primary sponsor, has donated $1 million to the America Red Cross' Hurricane Harvey disaster relief fund. Logano has donated $25,000 to the American Red Cross and opened a donation portal through the Joey Logano Foundation to collect funds on behalf of the American Red Cross for Hurricane Harvey disaster relief.
All proceeds donated through JLF this month will go to the American Red Cross Hurricane Harvey disaster relief fund.
Logano will have a Red Cross-inspired red-and-white paint scheme Saturday at Richmond Raceway that will raise awareness for those affected by Hurricane Harvey.
Stewart-Haas Racing
Two sponsors for SHR are involved in relief efforts.
Code 3 Associates, a 501(c)(3) non-profit organization specializing in animal rescue and recovery in disaster areas, is deployed in Southeast Texas and is also preparing to respond to Hurricane Irma.
Anheuser-Busch will deliver five extra truckloads – over 255,000 cans – of emergency drinking water to Houston, Corpus Christi and Austin.
Due to very high levels of demand for emergency drinking water supplies, the Cartersville, Georgia, brewery will pause beer production on Monday to produce more clean, safe emergency drinking water.
Tony Gibson, crew chief for Kurt Busch, and his wife Beth Gibson, donated a pallet of water, diapers and wipes to be delivered to Texas last weekend.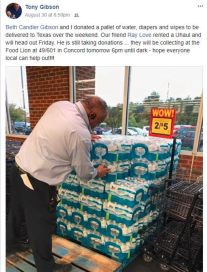 Leavine Family Racing
LFR and driver Michael McDowell have teamed up with Convoy of Hope and donated to Hurricane Harvey relief. Texas is home to the Leavines.
Convoy of Hope will be included on McDowell's No. 95 Chevrolet this weekend at Richmond.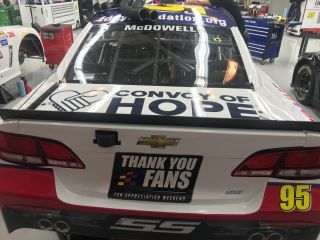 The JR Motorsports driver donated his winnings from Saturday's Xfinity Series race at Darlington to relief efforts.
A native of Houston, Starr has donated "a substantial amount of money" to the American Red Cross and will return to his home city next week to lend a hand.
Furniture Row
The parent company of Furniture Row Racing is donating $1 million in bedding to hurricane victims in Texas and Louisiana to be distributed through their partner World Vision, and in turn their community partners.
The company also had a disaster relief campaign with World Vision so people can donate directly through Furniture Row's site. Here is a direct link: www.worldvision.org/furniturerow.
Matt Kenseth/Toyota
Kenseth will drive the Hurricane Harvey Relief Toyota this weekend at Richmond.
The Toyota Mothers of Invention (MOI) program recognizes women who actively contribute through innovation, entrepreneurship and invention. Select MOIs with ties to disaster response and relief have sprung into action, finding ways to solve steep challenges resulting from the disaster situation in south Texas and Louisiana.
Toyota is partnering with DayOne Response and Well Aware, an Austin-based MOI organization that will assist with training and water distribution, along with LuminAID to bring water purification bags, portable phone chargers and lanterns to those affected by Harvey:
DayOne Response: Invented a water filtration bag that takes 30 minutes to purify water. One bag will provide clean drinking water for a family of four for two months. There are approximately 10,000 people in Houston in need of access to clean water while infrastructure is restored.
LuminAID: Invented lightweight, long-lasting, solar-charged lanterns and portable phone chargers to aid those without electricity during disaster situations.
Richard Childress Racing
The team began collecting bottled water and individual snack packages for Harvey relief on Wednesday. People can bring their donations to the RCR Museum and put them in a tractor-trailer the team has commissioned. RCR is not asking for clothes or non-perishable food – it will not make it to Texas.