DARLINGTON, S.C. – William Byron's No. 9 Chevrolet will sport a special connection to Rick Hendrick's late son in Saturday's Xfinity race at Darlington Raceway.
It's far from the only reminder that Byron has been providing the NASCAR team owner lately.
As Byron, the sandy-haired 19-year-old with a fair complexion, has excelled in the Xfinity Series this season, his resemblance to Ricky Hendrick, the scion who was among 10 killed in the Oct. 24, 2004 crash of a team plane, has become more obvious – most recently when Byron won at Indianapolis Motor Speedway.
"My daughter was watching Indy, and she texted me right after the race and said, 'Dad, that's spooky how much William looks like Ricky,' " Rick Hendrick said. "I'm kind of reliving some of Ricky's early days with watching William now. He's a special young man. Their mannerisms and everything. William's super polite."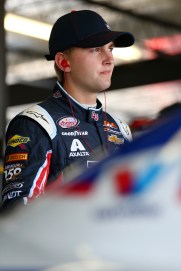 During Saturday's NASCAR America and Countdown to Green before the Xfinity race at Darlington, NBCSN ran a feature (video above) on Byron's throwback tribute (which echoes the scheme that Ricky Hendrick drove to a 2001 win in the Camping World Truck Series) and the origins of the backward hat celebration that Ricky Hendrick inspired after every Hendrick Motorsports victory.
The tradition started through Ricky's friendship with Dale Earnhardt Jr., who might have started the trend by wearing his hats backward during his first few seasons in NASCAR.
Ricky began mimicking Earnhardt, much to chagrin of his father, and continued the practice after retiring from driving and becoming a full-time car owner who won the 2003 title with Brian Vickers.
"I always said, 'Don't turn your hat around, don't wear your hat in the garage like that,' " Hendrick said. "Then he won the championship with Brian Vickers, he turned his hat around on the stage that night. Everybody knew that was his trademark, but I always would tell him not to do it."
It became a postrace victory tradition at Hendrick in the first race since the plane crash that also took the lives of team president John Hendrick, engine builder Randy Dorton, general manager Jeff Turner. After Jimmie Johnson won at Atlanta Motor Speedway, his crew turned their hats backward and pointed skyward in victory lane, which has become a part of every Hendrick Motorsports celebration.
"We were all very aware of Ricky's like and his father's dislike of the hat being worn in that direction," Johnson said. "Ricky literally would design his hats to look good going backward and have Hendrick Motorsports in a certain spot, the car number in a certain spot. It was something that was just his style and what he was about. Of course, his dad being as buttoned up as he is wasn't in love with the idea. But now it's a great tradition, and it makes us all smile when we get to put our hats on backwards."
It's one of the only memories Johnson retains from the tumultuous week after the crash. The seven-time champion considered Ricky Hendrick a close friend who quietly helped lobby his father to get Johnson the No. 48 Chevrolet ride.
When Rick Hendrick called to congratulate him on the Atlanta win, both had trouble forming words.
"The emotions were so deep, I recall not being able to understand what he was saying because he was so emotional, and clearly, I was in a similar space, too," Johnson said. "To lose 10 people, I found my mind would focus on one individual and quickly shift to another. It was almost as if we couldn't get a break in our minds from the loss and the heartache that came with it. It was a really, really tough period of time. I still don't know how we even got to Atlanta. It was so emotional and so tough, it's a wonder we even got to the racetrack. That five-day stretch, there wasn't a dry eye that entire period of time."
Though they weren't on the flight, Johnson's wife, Chandra, and Rick Hendrick were on the original passenger manifest, which was read to team members after the plane went down.
"I knew my wife was with me at the track, but still that reality of hearing the manifest being read and she could have been on that airplane," Johnson said. "Just swirling emotions in so many different directions. Just a really tough moment."
The death of Ricky Hendrick cast doubt on the future at Hendrick Motorsports, which was grooming him to take over the company and allow his father to focus on his automotive empire.
Rick Hendrick had considered leaving NASCAR until a teamwide meeting a few weeks later at its headquarters in Concord.
"We lost so many people that day," he said. "If you didn't have a really unbelievably tight company, we wouldn't have survived. They pulled together and went on to honor those folks.
"Your faith, your family and your friends are really all you've got, and that's what you're going to leave here with. And I felt that way when I saw William's car, and I see this kid that looks like (Ricky Hendrick). It's spiritual. It's emotional. It's special."