Dale Inman led Richard Petty to all seven of his Cup championships, as well as another title with Terry Labonte.
Ray Evernham led Jeff Gordon to three of his four Cup crowns.
That's 11 Cup championships between the two, accounting for roughly one-sixth of all Cup crowns since NASCAR was formed in the late 1940s.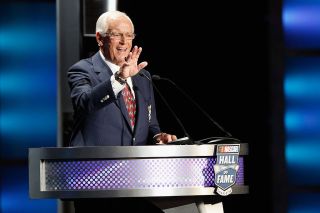 Inman and Evernham stopped by Wednesday's edition of NASCAR America — at the NASCAR Hall of Fame — and regaled viewers for an hour with some great stories about their respective illustrious careers.
Check out the video above as Evernham and Inman regaled NASCAR America viewers with some great stories of their career.
Oh, and one other thing about Evernham and Inman: they're both admittedly old school crew chiefs. While they've tried to embrace technology throughout their careers, they readily admit they're not necessarily fans of some of the latest technology in the sport today.
To get their thoughts on today's technology, check out the video below.