Matt Kenseth will have a unique paint scheme celebrating Circle K's longtime involvement with NASCAR in the Throwback Weekend at Darlington Raceway.
Kenseth had a number of schemes to choose from, including his first career NASCAR Cup win, his first win at Joe Gibbs Racing and his first Daytona 500 win.
But the scheme he chose was from his first NASCAR win in the Xfinity Series, at Rockingham Speedway in February 1998.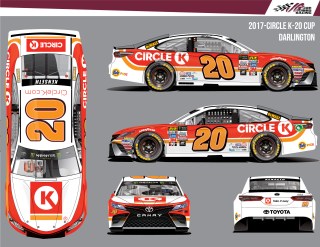 Kenseth grabbed the lead coming out of Turn 4 on the final lap to take the checkered flag. He beat a number of future NASCAR stars, including Tony Stewart, Jeff Burton and NASCAR Hall of Famer Mark Martin.
"We were certainly the underdog," Kenseth said. "We weren't expected to win and probably the most special day of my racing career. We matched up as close as we could, still used the Super K colors but tried to make it look like my ride of February 1998."
Click here to check out this video showing Kenseth unveiling his Darlington scheme.
Kenseth changed his profile picture on Twitter to one of him from 1998:
And here's video of Kenseth's win in 1998, when he bumped Stewart as they exited Turn 4 to take the checkered flag.