Many drivers competing in Darlington Raceway's throwback weekend will be driving cars with paint schemes honoring former NASCAR greats including Bobby Allison, Darrell Waltrip and Rusty Wallace.
But one of the most touching tributes has to be that of Cole Whitt.
Whitt's No. 72 Chevrolet, owned by TriStar Motorsports, will carry a personal paint scheme, honoring his grandfather, Jim Whitt.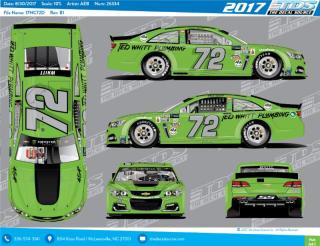 During his years of racing, Jim became known for his brightly colored – and appropriately named – attention-getting No. 60 "Lime Green Machine."
Cole's grandfather – nicknamed "Gentleman Jim Whitt" – housed not only his race shop but also his plumbing company (Ted Whitt Plumbing) under the same roof.
Jim Whitt won the late model championship at Cajon Speedway in 1969, and then Tobin Whitt, Cole's father, won the Cajon Speedway championship 20 years later in 1989.
Cole's throwback scheme honors Jim Whitt's 1972-73 Chevrolet Chevelle that he not only raced at Cajon Speedway, but also in several NASCAR Winston Cup West Series.