Furniture Row Racing has unveiled the Darlington Raceway paint scheme for defending Southern 500 winner Martin Truex Jr.
The No. 78 Toyota will feature a paint scheme that celebrates the 40th anniversary of Bass Pro Shops' TRACKER Boats line.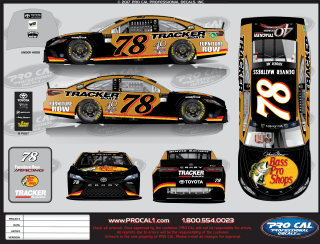 Bass Pro Shops founder Johnny Morris first introduced the Bass TRACKER Fishing Boat in the Bass Pro Shops catalog in 1978. It was a marine industry first ready-to-fish boat with motor and trailer package.
"As an avid fisherman and close friend of Johnny Morris this is a special paint scheme for me personally," said Truex. "TRACKER Boats and Bass Pro Shops have set a high standard and our goal Sunday night in Darlington is to mirror those high standards by bringing our No. 78 Bass Pro Shops/Tracker Boats Toyota to Victory Lane."
Truex will be making his 12th Darlington start in the Cup Series. He has two top-five finishes including his win last year.
Heading into the 25th race of the year Truex leads the series in driver points (971), playoff points (35), stage wins (15) and race wins (four).
MORE: Guide to 2017 Southern 500 paint schemes