Chris Buescher's No. 37 Chevrolet will pay tribute to former Xfinity Series driver Patty Moise for the Sept. 3 Bojangles' Southern 500 at Darlington Raceway (to be televised on NBCSN).
While it won't have the same color scheme, Buescher's car will look like the No. 37 Crisco Butter-Flavored Buick Moise drove in the 1988 Xfinity season.
Moise made 133 starts in the Xfinity Series from 1986 to 1998. Her best finish came at Talladega in 1997 when she placed seventh. She also made four Cup starts from 1987-89.
"I'm really excited to have our No. 37 Cheerios Chevrolet pay tribute to another former No. 37 car," Buescher said in a press release. "When we looked at some of the possibilities for our paint scheme, this one stood out because of the No. 37 number. The throwback weekend is one of the coolest weekends we have on the schedule, and Darlington Raceway is one of my favorite tracks as it is."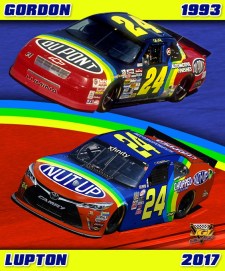 In the Xfinity Series, JGL Racing's Dylan Lupton will show up at Darlington with a paint scheme that won at the track five times, including three races in a row.
For the Sept. 2 race, Lupton's No. 24 Toyota will bear the famous DuPont rainbow scheme driven by his "idol" Jeff Gordon.
"Even though I was born the same year he started in his career in Cup (1993), as I began pursuing my racing career at a young age, I would remember spending my Sunday afternoons in front of the television rooting him on, hoping one day I would have the chance to race against him," Lupton said in a press release. "Next weekend at Darlington, I hope to have his support as I pay tribute to his NASCAR career sporting the famous 'Rainbow Warriors' colors on our No. 24 NutUp Toyota during the Darlington throwback weekend."
The last time the "Rainbow Warriors" scheme was seen in action was in 2015 during Gordon's final full-time season in the Cup Series, when he drove it in the Bristol night race.