Danica Patrick's No. 10 Ford Fusion will honor 2018 NASCAR Hall of Fame Inductee Robert Yates with a special paint scheme for the 68th Bojangles' Southern 500 on Sept. 3 at Darlington Raceway.
Patrick's car will carry a paint scheme similar to the one that was on the car NASCAR Hall of Famer and NASCAR on NBC announcer Dale Jarrett drove to the 1999 NASCAR Cup championship for Robert Yates Racing.
"The throwback race at Darlington is such a cool event," said Patrick, who will be competing in her sixth Southern 500. "I'm excited to run a true throwback scheme (and) that we're able to honor Robert Yates and all he's done for our sport."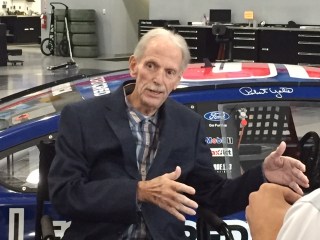 The scheme was revealed Monday during a press conference at Stewart-Haas Racing in Kannapolis, North Carolina. To further honor Yates, his name will appear above the driver's side door in place of Patrick's name.
Yates spent more than two decades in the sport before branching out on his own, forming Robert Yates Racing in the late 1980s.
The team expanded to a two-car operation in 1996 when Jarrett joined up, driving the No. 88 Quality Care/Ford Credit Ford.
In addition to winning the championship, RYR went on to capture 57 NASCAR Cup wins during its tenure. Three of those were victories in the Daytona 500, including 1996, Jarrett's first race with the team.
"Getting to see this scheme run again will bring back many great memories," Yates said. "I can't thank everyone at Stewart-Haas Racing enough for honoring me and everyone that was on the team during those years."
The throwback scheme will also have special significance to Patrick's crew chief, Billy Scott.
"Robert Yates Racing gave me my first job in the NASCAR Cup Series, so to take our No. 10 Ford Fusion to Darlington in tribute of Robert and all that he's accomplished makes me extremely proud," Scott said.