In this short-attention span world, it's easy to see Toyota's dominance the last few weeks and all but concede the Cup championship to Kyle Busch or Watkins Glen winner Martin Truex Jr.
Funny thing, it was only a few months ago when a Toyota car couldn't win a Cup race.
It's easy to forget but Chevrolet and Ford combined to win nine of the first 10 races this season. Admittedly, there were a few races Busch lost (Phoenix, Martinsville and Talladega) during that early stretch, but it hasn't been until lately that Toyotas dominated.
Toyota, led by Truex and Busch, have led 88.2 percent of the 992 laps run in the last five Cup races. Toyota has placed at least three drivers in the top five in four of the last five races. A Toyota driver has won nine of the last 10 stages.
Brad Keselowski, who won two of the first six races this season, lamented Toyota's rise after last weekend's Xfinity Series race at Watkins Glen won by Busch.
"The Toyotas in all three series just have so much (more) power and aero than everybody else that it's like two different races,'' Keselowski said.
So what does it mean for the playoffs?
Expect to see Toyotas advance but that doesn't mean one will win the championship. Anything can happen in a single race for the title.
Truex, who has collected playoff points like a child hoarding candy, has put himself in good position to advance deep in the postseason. He has 34 playoff points after his victory Sunday. Truex is so far ahead in the points that he likely will finish as the regular season champion and collect the 15 playoff points that go with the honor. That would give him 49 playoff points that will carry through the first three rounds, provided he remains in contention for the title. 
"I feel like with the way we run, coupled with the bonus points, we should essentially be a lock for Homestead,'' said Truex, who has led three times as many laps as all Chevrolet and Ford drivers have combined in the last five races. "I really feel that way. But at the same time, this is racing, and anything can happen.''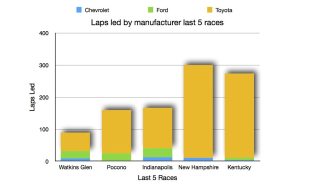 Or change.
While there weren't playoff points last year, one can look at the 2016 season and see that even a poor summer stretch doesn't preclude a driver from winning the crown.
Jimmie Johnson had four finishes of 30th or worse in a nine-race stretch from Daytona to Darlington last year. Yet, he won a race in the second round and another in the third round to advance to the season finale in Miami. He won that race to score his seventh series title.
Could Johnson repeat his run and claim an eighth series title? His finishes have faded in the last six races — he's placed 25th or worse four times — as they did about this time a year ago. 
Johnson was collected in a crash last month at Kentucky while running eighth. He crashed while racing three-wide for the lead late in the race at Indianapolis.
As he's always said, the final 10 tracks align well for him.
As for a Ford driver to watch, Kevin Harvick has shown more speed, while Keselowski and Joey Logano have struggled to find it for Team Penske. Logano, who has made it to the championship race twice in the last three years, is in danger of missing the 16-team playoffs after a penalty prevented his Richmond victory from counting toward playoff eligibility.
For as good as the Toyotas have been, Michigan International Speedway, site of this weekend's Cup race, has not been a good track for the manufacturer lately. In the last three races there, Toyota has had only one car finish in the top five. Denny Hamlin placed fourth in the June race won by Kyle Larson.
With the playoffs still a month away, there's time for the other teams to catch up to Toyota … or fall further behind.
Follow @dustinlong and on Facebook