Dale Earnhardt Jr.'s NASCAR Cup series career will come full circle on Nov. 19 at Homestead-Miami Speedway.
During a program on QVC, Earnhardt revealed his No. 88 Chevrolet will look just like the No. 8 Budweiser car he drove in five Cup starts in 1999 and then full-time in 2000.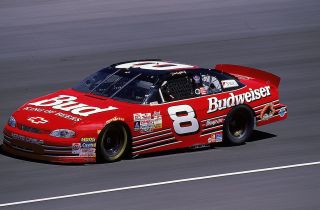 Designed by famed artist Sam Bass, the Axalta-sponsored car has the exact same color codes of the Budweiser car. Wednesday night was the first time Earnhardt had seen the completed car in person.
"This is incredible to see it first hand," Earnhardt said. "I've been involved in the design process going forward, but I haven't seen the car. I've only seen some sheets of metal and choosing the proper paint codes and all that stuff and seeing it on paper. This brings back a lot of memories."
Earnhardt made his first start with the paint scheme in the 1999 Coca-Cola 600, starting eighth and finishing 16th. He would earn his first Cup win the following April at Texas Motor Speedway.
Earnhardt would be sponsored by Budweiser and drive the No. 8 until he left Dale Earnhardt Inc. for Hendrick Motorsports in 2008.
The driver explained the extra effort that went into making sure the paint scheme was faithful to the original.
"We actually talked to some of the guys on the team to get the proper paint codes so that we knew that we were doing the right thing and doing this from the top to the bottom as good as we possibly could," Earnhardt said. "It was important to me that the car replicated the actual race cars as close as possible. Sam was incredibly involved in the design back in the late 90s. He was involved in the designs of a lot of our cars and him and my father were great friends. Sam did do a lot of these designs at DEI … He's designed our Axalta car that we run this year."