INDIANAPOLIS – It's only a matter of time until Kyle Larson and Dale Earnhardt Jr. will be at the Indianapolis 500 – perhaps with the latter watching the former behind the wheel.
Larson said he has approval from team owner Chip Ganassi, who fields cars in IndyCar and NASCAR, to run the Greatest Spectacle in Racing when he's ready.
"They are all waiting on me to say I want to do it," Larson said Saturday between Cup practices at Indianapolis Motor Speedway. "I do, but when I see Scott Dixon's and (Sebastien) Bourdais crash, it makes me think twice about it a little bit. I'll get the courage up to do it someday."
Dixon walked away from a terrifying airborne crash during the Indianapolis 500 while Bourdais was sidelined by a fractured hip and pelvis in a qualifying wreck.
Larson might consult with Dixon ("the best in racing," he said of his Chip Ganassi Racing teammate) but was even more interested with talking to Kurt Busch (who finished sixth in the 2014 Indy 500 as the most recent NASCAR driver to attempt the race and Coca-Cola 600 on the same day).
"Maybe next year or the year after," Larson said of attempting the Indy 500 (which Kyle Busch said Friday he nearly attempted in 2017). "I want to do it at the right time. I feel like the way IndyCar is, and the politics is of it, it seems like one manufacturer is good one year, and then the next one is good the next year, then the next one the next year…so I want to time it so at the right time to where whatever manufacturer Chip is with is the best at that time (Ganassi switched this season from Chevrolet to Honda)."
Whenever Larson tries an Indy car here, Earnhardt might be watching from the luxury suites of Gasoline Alley. The 14-time most popular driver is making his final start Sunday in the Brickyard, but he hopes to return for the first time in May.
"What I'll miss the most is the feeling you get when you come into this racetrack," Earnhardt said of his last start. "The feeling you get when you know what's happened here, who's raced here, who's been here. I was thinking about that in practice going down the back straightaway of all the names that have gone down that straightaway. It's so overwhelming. I don't know how you explain it or put that into words. There's not a lot of tracks that give you that feeling. Daytona, maybe.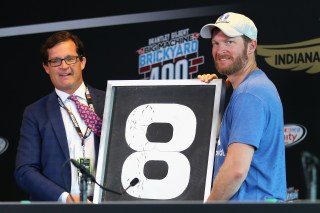 "I'd like to be able to come here after my retirement, especially for the Indy race. I've never been to the Indy 500 obviously, so that would be a great experience. It's an impressive place."
IMS president Doug Boles presented Earnhardt with a farewell gift Saturday, the No. 8 from the track's former scoring pylon. Earnhardt drove either the No. 8 or 88 in every start at Indy, and his late father (who won NASCAR's second race at Indianapolis in 1995) started and finished eighth in his final start here in 2000.
Earnhardt Jr.'s best finish in 16 Indy starts was fourth in 2012, his only top five on the 2.5-mile oval.
"It would be awesome to win one of the big, key races in the season," he said. "It's a race that I think all the drivers feel is very important to our series and a big milestone in your career. Ranks right up there close to the Daytona 500 in importance and pride to be able to come away with a win at this place. Considering how our season has gone, it'd right all the wrongs. We'd forget all the struggles we had to get a big win like that."