The paint scheme Aric Almirola will drive in the Sept. 3 Southern 500 will be very specific.
Almirola's No. 43 Ford will have the paint scheme that Richard Petty had when he won his iconic 200th NASCAR Cup Series race in the 1984 Firecracker 400 at Daytona International Speedway.
Driving a Pontiac, Petty won his 200th and final Cup race with President Ronald Reagan in attendance on July 4, 1984.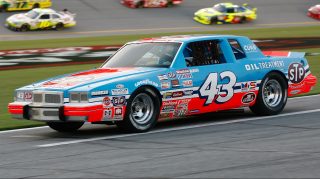 Petty beat Cale Yarborough in a race back to the yellow flag with two laps to go in the race.
"All of the 200 wins were special but the 200th definitely stands out," Petty said in a press release. "We needed every win before to get to 200 but to have the President there was pretty special. It was a story book win on the last lap, in Daytona, on the Fourth of July with the President of the United States there. I enjoy seeing the Throwback deals in Darlington, and this a great one to have on our car this year."
Almirola, who was announced as returning to the No. 43 this weekend after missing eight weeks to recover from a T5 compression fracture, was born just four months before the race in March 1984.
Thirty years later in 2014, Almirola earned his first Cup win in the came race, a rain-shortened Coke Zero 400.
"When you think of Richard Petty, one of the first moments you think of is his 200th win at Daytona International Speedway," Almirola said. "It was like a storybook being on the Fourth of July and with President Reagan there. That race is even more special to me with my first Cup Series win coming 30 years later to the weekend in the same Victory Lane.
"I really enjoy the throwback weekend, and it will be very special to throwback to such a substantial moment in NASCAR history. I always like to have a little fun with it off the track. Although, I'm not sure I'll be able to top the Fu Manchu this year. We'll work on it though (Almirola sported a facial hair design Petty once had in the 1970s) ."
Almirola's paint scheme won't be the only way Petty is recognized at the Southern 500.
Petty, who just turned 80, will pace the field prior to the green flag driving a 1967 Plymouth like the one he drove to victory in the 1967 Southern 500.