During the final 10 laps of last weekend's Xfinity Series race, Ryan Sieg was slightly confused.
"We're not at Daytona and we're running second!" Sieg thought to himself.
While Sieg was "in shock," he was in fact second as the laps wound down on the race at Iowa Speedway.
"It was a surprise to be running second at Iowa where you have to have everything resource-wise and car-wise … you have to have the best of everything," Sieg told NBC Sports.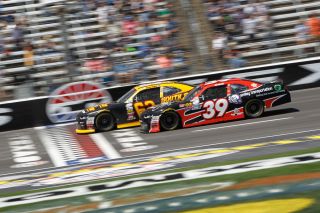 His No. 39 Chevrolet trailed JR Motorsports' No. 9 Chevy driven by 19-year-old Wiliam Byron and was ahead of 21-year-old Tyler Reddick in the No. 42 Chevy owned by Chip Ganassi Racing.
Pit strategy and a late caution had put Sieg and a handful of other smaller teams used to mid-pack racing in contention at the front.
The 30-year-old Sieg – a veteran of 116 Xfinity races – had a chance for one of his best finishes in the series.
"I was kind of out of it," Sieg said. "There was just too many laps left to tussle with (Byron) and I didn't want (Reddick) to get by. Tried to get the best restart I could without getting into (Byron). If there was less laps, it might have been a different story. But with 10 to go, there was probably not much I could do, just try to get a good restart and try to hang with him as long as I could and hopefully something could happen to him."
Byron eventually slipped away, leaving Sieg to duel with Reddick right up to the last turn.
Sieg crossed the line second for his career-best NASCAR finish. He'd never placed better than eighth in a non-restrictor plate Xfinity race. It was only his third top five in his national NASCAR career, which includes 106 Camping World Truck Series races from 2008-2015.
Weeks before his career moment, BK Racing owner Ron Devine was insistent that Sieg drive one of his Cup cars. But the prospect of making his debut in NASCAR's premier series wasn't one Sieg was too hot on.
"He kept asking and we kept saying, 'yeah, nah,' I wasn't sure I really wanted to do it," Sieg said. "I didn't know how tough it was and wasn't too sure about how I would perform. I didn't want to go over there and be multiple laps down. You know what I mean? It just didn't seem very fun. … You've got have everything."
Sieg has been comfortable getting by without everything so far in his NASCAR career. RSS Racing's No. 39 car, owned by Rod Sieg, is worked on by less than six full-time crew members. The team's shop is based in Tucker, Georgia, Sieg's hometown and a community in the metro Atlanta area of roughly 35,000 people that only became an official town two years ago.
It's just over 230 miles away from NASCAR's epicenter in Charlotte, North Carolina, and Sieg is comfortable with the distance.
"The guys I worked with told me there's no point in moving up there," Sieg said. "It's more expensive up there, it's harder to keep people up there because I think people back in the day were switching teams and they'd just leave and go here or there."
The distance has worked out so far. Last season, Sieg and his team qualified for the inaugural Xfinity playoffs and finished ninth in the standings.
Devine's persistence finally worked out. Sieg agreed to drive BK Racing's No. 83 Toyota at Dover International Speedway. Sieg's decision was based on the track, which aligns with what he's had to work with in his career so far.
"You don't have to have all the best things to go to Dover," Sieg said. "You don't need a whole bunch of motor. You can kind of get way with having less motor there and get a decent run. … I finally decided to go over there and do it."
Though he finished six laps down, Sieg started 34th and placed 26th at the "Monster Mile."
"I just didn't want to make a mistake or have anything happen," Sieg said. "Little things … you don't want to mess up your first time out there. That was about it. Once I got used to it, it was pretty fun. I figured out about halfway through the race kind of how it needs to drive."
Sieg got another chance two weeks later at Michigan, where he took BK Racing's No. 23 Toyota to a 33rd-place finish.
Now a week after the biggest night of his career and a few days of celebration on the beach, Sieg will get his third weekend of double duty at Daytona International Speedway (Friday night on NBCSN). It's a track that has been a destination for his family for many years.
"Probably been coming down here each July since I was a baby because my grandpa and his brothers would go down to the July Daytona race," Sieg said. "They would always come down here … since they probably raced on the beach, that's how long they've been coming."
If things work out, his family will get two chances to see Sieg to accomplish what he did in Iowa.