Chevrolet Program Manager Alba Colon likes joking the NASCAR teams she oversees are her kids, and the primary challenge is getting them to play well and share together.
And just as with any sibling rivalry, even when the cooperation is strong, there still is the potential for a family squabble.
"They're all hiding something from each other, right?" Colon asked with a laugh during the NASCAR on NBC podcast. "Because they need to go win Sunday, but it's the whole concept of we have to develop the tools to get better."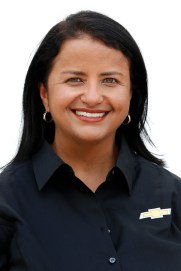 That plan seems to be working this season with Chevy leading the series in manufacturer wins (seven) that are spread across its three key partner teams, Hendrick Motorsports, Chip Ganassi Racing and Richard Childress Racing.
Colon said the departure of Stewart-Haas Racing after the 2016 season engendered a renewed spirit of collaboration between the three organizations. The podcast was taped in a conference room at Ganassi's shop, where Colon had met with executives from all three teams as part of a monthly meeting.
"A lot of things changed for Chevrolet at the end of (2016)," she said. "We always had a key partner concept, and when the changes happened, we got together and said, 'Now there's three of us. We have to get better and improve the way we do things.
"We work together as much as we can during the week, but Sunday, it's one against the other. I've seen how we're getting better and better at working together and that's been fascinating."
The teams have split the work of building and testing a wheel force transducer vehicle that should help optimize aerodynamics, and when they joined forces recently on another top-secret project, "it nearly gave me a heart attack," Colon said.
The trick is General Motors can foster only so much team spirit without infringing upon proprietary information that can't be shared across its teams. Colon sometimes takes copious notes to ensure she is cordoning off data.
"You need to have a conversation with teams to put that data in your brain but as soon as you get out of the building, you need to forget it," she said. "Trust is a big deal. If you lose the trust, it's not going to work. We have to know a lot of things. How do you help to give an answer without giving away (other teams' information), that's the magic that we need to all work together. How do you make things happen without giving away your trust?"
Colon, who has worked in NASCAR for General Motors since 1994, said it depends on the dynamics of those monthly meetings with Ganassi, Hendrick and RCR, finding the right people "to make decisions so that everything seems open but stays in the room."
Another facet of Chevy improvement stems from a driver simulator that opened in Huntersville two years ago. (Chevy hasn't showcased it to the public yet, and when asked if it's in an undetermined location off I-77, Colon joked, "that's very true and as much as we can discuss.")
Ford Performance and Toyota Racing Development were ahead in building their driver simulators, but Colon said Chevy recently has been validated by buy-in from several drivers. Dale Earnhardt Jr. tested on the simulator before Dover International Speedway, and Colon said Jimmie Johnson logged several sessions of making laps in virtual reality.
"You see drivers asking for that, you're doing something right," Colon said. "We are not near where we need to be with it, though. We still are working on it."
Other topics discussed by Colon on the podcast:
–Her joy at seeing the No. 3 win for the first time in nearly 17 years in Cup. At one of her first sessions as a GM engineer in 1994, Colon was told at Talladega Superspeedway by Dale Earnhardt that "I will not give you more than a year" in NASCAR.
"It made me a little bit mad, but he helped me," said Colon, who has a prized photo with Earnhardt after his 1995 Brickyard 400 wins. "When someone says you can't do something, that inspired me more. He helped me to get to where I am. He told me, 'I knew you could do it.' He'd be so amazed with everything his son has accomplished. He'd be proud looking at all of us."
–The impact of engineering in NASCAR and the quest of Colon, who has a mechanical engineering background, to drive more women into the field;
–The battle to recruit more engineers to NASCAR away from Silicon Valley.
–The future of NASCAR in an era of autonomous cars.
You can listen to the podcast by clicking on the AudioBoom embed below or download and subscribe to the podcast on Apple Podcasts by clicking here. The free subscription will provide automatic downloads of new episodes to your smartphone.
It also is available on Stitcher by clicking here and also can be found on Google Play, Spotify and a host of other smartphone apps.