The phrase "hand in glove" has new meaning for NASCAR Cup driver Austin Dillon.
Dillon recently received a letter from U.S. Air Force pilot Lt. Colonel W. Philip Pearsall that included a rather unique gift – the aviator's gloves that he wore on countless flight missions in Iraq and Afghanistan.
"To the outsider, they look like dirty, smelly and meaningless gloves," Pearsall wrote to Dillon. "To me and now to you, they are more than that. I wore these gloves on every single mission I flew over Iraq and Afghanistan from 2003-2006 … across 50-plus sorties.
"The reason I am giving them to you is simple … it represents sacrifice, sweat, dedication and hard work. All of those things are exactly what led you to your inevitable first Cup Series win (last month at Charlotte in the Coca-Cola 600).
"So, I'd like to offer you a trade. My gloves for yours. I'm not asking for your race win gloves but I have a Dow driver's suit of yours that I won during your 3-on-3 auction last year and I'd love to have some gloves or shoes to hang in my office with the suit."
Dillon didn't hesitate. He's sending Pearsall a set of his race gloves in return, as requested.
Here's part of Dillon's response on Instagram:
"One of the coolest things I've ever received came through the mail today. Hope you guys read the letter. It's so awesome knowing that our true heroes that defend our country are the biggest @nascar fans. My gloves are headed your way my friend. #nascarsalutes"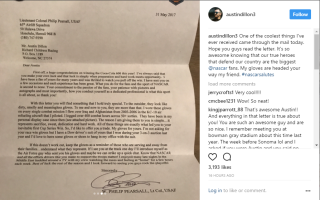 While he may not be in the military, Dillon is obviously a big supporter — and deserves a big salute himself.