The paint scheme Michael Annett will sport in the Xfinity Series' Sept. 2 race at Darlington Raceway has never been run in NASCAR, but it means a lot to Annett.
JR Motorsports announced Wednesday Annett's No. 5 Chevrolet will be based on a paint scheme used by Brad Doty in the World of Outlaws sprint car series in the 1980s.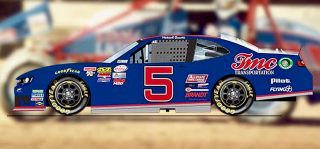 Annett's father, Harrold Annett, is the owner of TMC Transportation and was once a major team sponsor in the World of Outlaws series and is close friends of Doty.
Doty competed against Steve Kinser, Doug Wolfgang and Sammy Swindell, who all drove the No. 1 TMC machine owned by Annett's team.
Doty's racing career ended in 1988 when he was involved in a first-lap crash in an event that fractured a thoracic vertebrae and left him paralyzed from mid-chest down.
The following year, Harrold Annett was a promoter of the inaugural Brad Doty Classic, a benefit race for Doty and his family, at Attica (Ohio) Raceway Park. The event has been held 28 times since.
"I'm very humbled and honored that they would do something like that," Doty said in a press release. "I've never been to Darlington, just seen it on TV, but it looks like they'll be rubbing the TMC off the quarter panel from what I've seen!"
The announcement of Annett's scheme comes the same day Stewart-Haas Racing revealed Cole Custer's tribute scheme to Sam Ard.