Kyle Busch keeps driving strong, but adversity keeps proving to be stronger.
Busch has not won a NASCAR Cup race in 29 starts, his most recent points-paying triumph coming in last summer's Brickyard 400 at Indianapolis Motor Speedway. It's one of the longest winless streaks of Busch's Cup career.
Thus far this season, he's had five top-five finishes, including runner-up showings at Martinsville and Charlotte and third-place showings at Phoenix and Talladega.
But adversity has had the upper hand in several races, as well. There were DNF's at Daytona and Bristol and a 22nd-place performance at his home track in Las Vegas.
And let's not forget the embarrassing situation last week at Dover. Busch started from the pole and had what appeared to be a very strong car.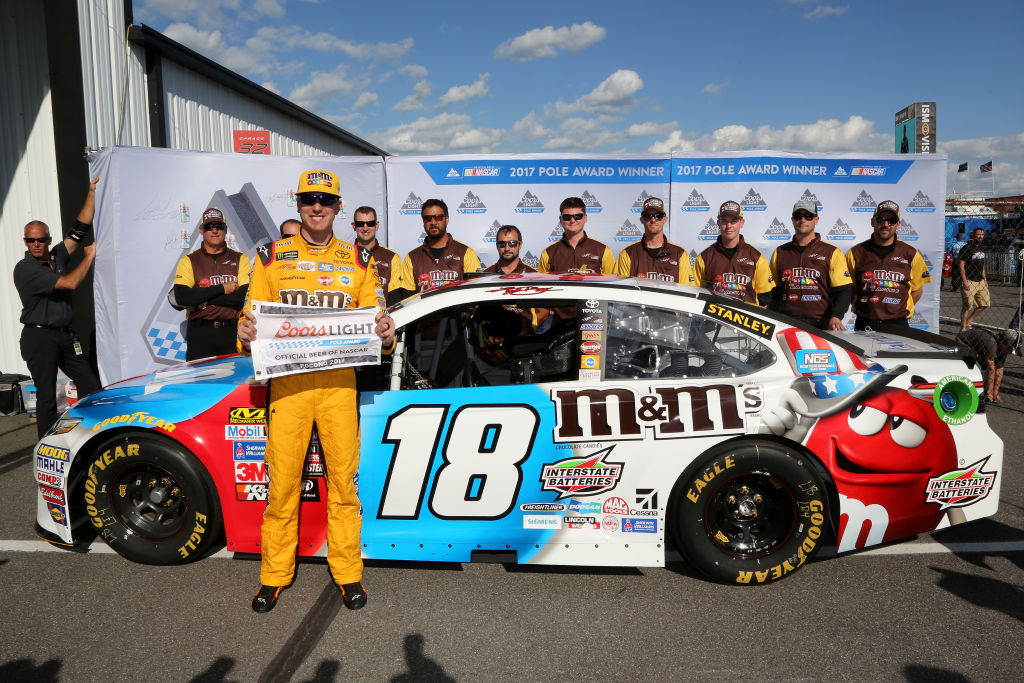 But when an air gun mistake caused a tire not to be attached and fell off as Busch pulled away from pit road, it was arguably the costliest bit of adversity this season.
While Busch managed to rally to finish 16th at Dover, the loose tire episode cost him crew chief Adam Stevens, regular rear tire carrier Kenneth Barber and rear tire changer Jacob Seminara – all three suspended by NASCAR for the next four races for the tire incident.
"It was human error, an accident," Busch said. "The (air) gun didn't get flipped from reverse to forward and it's just part of it.
"Human error, I make mistakes all the time and Adam (Stevens, crew chief) makes mistakes all the time. We just have to live through it.
"That's a big penalty and it's unfortunate that we have to live through it. The way the rule was written, it's intent of the rule wasn't quite what transpired there, but we live and die by the rule book I guess so the consequences are there."
Stevens isn't just Busch's crew chief, he's also become a close confidant and friend since assuming his spot on the No. 18 pit box at the start of the 2015 season.
Their relationship extends well past the racetrack, and it's led not only to a NASCAR Cup championship in 2015, but also nine Cup wins for the No. 18 team.
"Adam is the reason why we are successful," Busch said. "He puts together a game plan and we learn how to be able to go through the weekend without him.
"It's just an unfortunate circumstance with our team. But we're strong and a good group and we'll continue to focus on what we need to. That's all we can do."
In place of Stevens as crew chief for the next four races will be Ben Beshore. He's far from a stranger to Busch: he's the No. 18 team's chief engineer.
In the first day of working together Friday, during the first practice session of the weekend as well later in the afternoon in NASCAR Cup qualifying, Busch and Beshore worked very well together, resulting in Busch earning the pole for the second straight race.
"So far, so good and to come out here gives us the No. 1 pit selection and gives us the track position to start, but we have to keep it," Busch said. "As we saw last week, we definitely missed the eight-ball on that and screwed it up pretty early in the race and knocked ourselves down and out almost."
In a way, there's a kind of juxtaposition with the current circumstances for Busch and Stevens, who had to learn how to succeed for 11 races when Busch was sidelined with a broken right leg and fractured left foot during a crash in the 2015 Xfinity Series season opener.
Now, Busch has to learn how to succeed for four races without Stevens.
"I think it will be hard," Busch said. "We'll do what we need to do. … To work as hard as we do and do what we do without him, it's going to be fun because it is a challenge.
"But it's also sad at the same time because you have to be without one of your main people."