After missing last Friday's race at Dover, Timothy Peters will return to the Camping World Truck Series with a new team this weekend.
Peters has signed to drive for MDM Motorsports. He'll be behind the wheel of the No. 99 Metabo Chevrolet Silverado in Friday's Winstaronlinegaming.com 400 at Texas Motor Speedway.
A 13-year Truck series veteran, Peters has been sidelined since Red Horse Racing suspended operations due to lack of sponsorship after last month's race at Charlotte. He had been with the organization since mid-2009.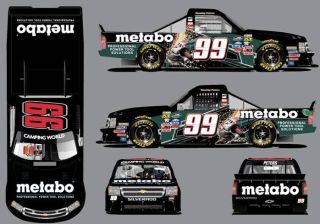 Now, Peters starts a new chapter in his racing career with a new team. The 10-time winner in the Truck series will make his 19th career start at the 1.5-mile track in Fort Worth.
"It's just great to be back behind the wheel of a truck," Peters said in a media release. "I talked with crew chief Shane Huffman last week and this deal came together in a matter of days.
"I can't thank MDM Motorsports enough for giving me this opportunity, and to have an established company like Metabo put their faith in me as a driver is very humbling, to say the least.
"We have a lot at stake this weekend, but I just want to go to Texas, do my job and reward everyone that helped make this happen."
Thus far this season, Austin and Ty Dillon and Brandon Jones have driven for MDM.