Chad Knaus is known for his impeccable attention to detail, his keen sense of preparation and uncanny way of strategizing that has led Jimmie Johnson to seven championships and 83 career NASCAR Cup wins, the most recent being this past Sunday at Dover.
How both Johnson and Knaus prepare – not just physically but also mentally – is featured in a chapter in a new book, "Psyched Up" by Harvard Business Review senior editor Daniel McGinn.
"I'd never met Jimmie or Chad before I did this reporting, but I was drawn to them for two reasons: I'd read enough interviews to know they are both smart and thoughtful, and because of their unmatched record for performance," McGinn said in a media release.
Knaus and Johnson are featured in a chapter titled "Why You Need a Pre-Performance Ritual." Among topics they discuss is how superstitions impact their mindset at the track.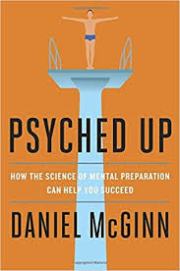 "We like to joke that we're not sure we're superstitious, but we like to cover our bases just in case," Johnson says in the book.
Adds Knaus, "I'm a believer in the saying, 'Luck is what happens when preparation meets opportunity."
McGinn's book features a broad spectrum of subjects, from athletes to Broadway to sales floors and DJ booths.
"Jimmie and Chad work in a job where their performance is judged on 36 afternoons," McGinn said. "They do it on television with millions of people watching.
"Most of us work in jobs that are much different. But if you work in a job where there are particular days when you really need to bring your A-game, where the difference between being good and being really good comes down to how you do during a handful of stressful hours each quarter, odds are the techniques in this book will help you do it better."