Friday night, Texas Motor Speedway will play host to the NASCAR Camping World Truck Series with the winstaronlinegaming.com 400 race.
There will also be a different kind of truck taking part in the four-day IndyCar/NASCAR weekend, one that will do things a Camping World Truck can only dream about doing.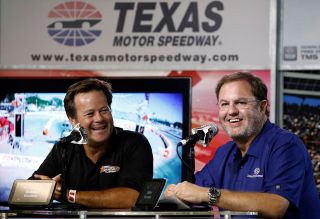 Remember Robby Gordon, former NASCAR and IndyCar driver? He's gone on to create — and races in — one of the fastest growing motorsports series in the world, the Stadium Super Trucks (SST) series. The series will have two races at TMS on Saturday and one race Sunday.
Check out Gordon giving Texas Motor Speedway president Eddie Gossage and several Dallas-Fort Worth area reporters on one kind of wild ride that likely will have some of the Truck Series' drivers envious.