There were two winners in Saturday's OneMain Financial 200 at Dover International Speedway.
The race winner was polesitter Kyle Larson, who dominated by leading 137 of the 200 laps on the Monster Mile. It was Larson's third Xfinity win this season in six starts. The other wins were at Auto Club Speedway and Richmond.
The other winner was rookie William Byron, who finished sixth to claim the fourth and last $100,000 bonus in the Xfinity Dash 4 Cash series. Byron becomes the third winner in the four-race series, the previous winners being Justin Allgaier (two wins) and Daniel Hemric (one).
MORE: Results of today's OneMain Financial 200 Xfinity race at Dover
MORE: Elliott Sadler still No. 1 in Xfinity Series standings after Dover
Larson now prepares for what he hopes will be his second weekend sweep of the season with Sunday's AAA 400 Drive For Autism NASCAR Cup race at Dover. He swept the races at Auto Club Speedway in March.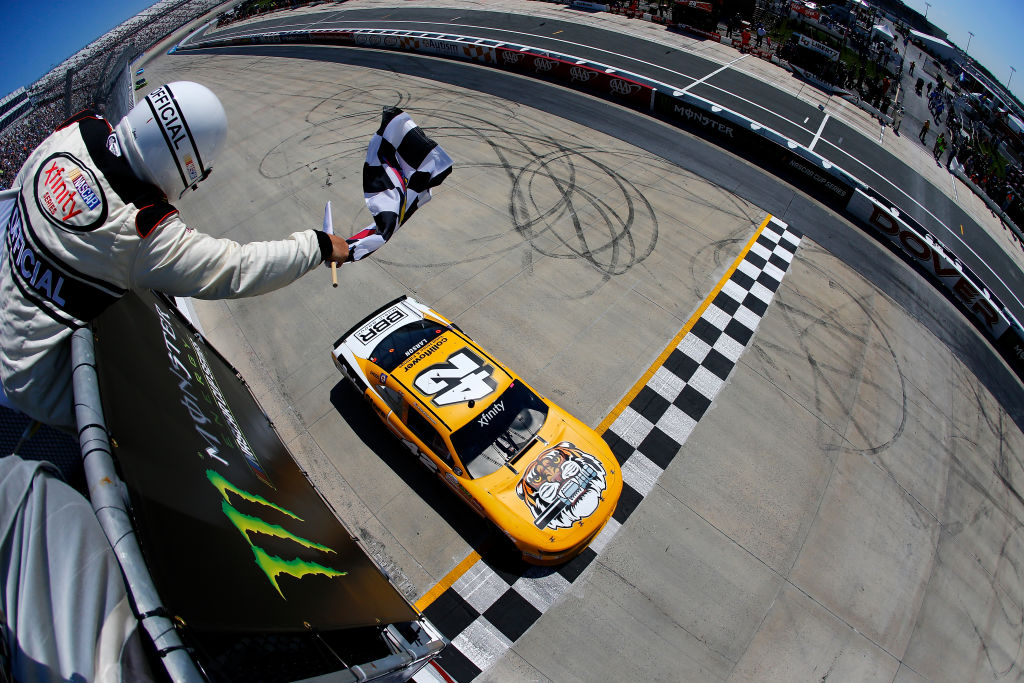 Saturday's race had six leaders and seven lead changes, but was slowed by 10 cautions that put almost one-fourth of the race under yellow flag conditions.
Runner-up Ryan Blaney gave Larson a run for his money in the closing laps, but could not catch him. Daniel Suarez had a strong third-place finish, followed by Cole Custer and Ryan Reed.
Sixth through 10th were Byron, Elliott Sadler, Darrell Wallace Jr., Matt Tifft and Ty Dillon.
A number of drivers were knocked out of the race by wrecks, including Austin Dillon and Timmy Hill. Erik Jones lost his motor midway through the race.
Larson won the first stage. Wallace won the second stage.
HOW LARSON WON: One word describes Larson's win, dominant. He led from the pole, won Stage 1 and then rallied in the final stage for the win. Now he goes for the weekend sweep in Sunday's NASCAR Cup race.
WHO ELSE HAD A GOOD DAY: Ryan Blaney gave it all he could, but just didn't have quite as strong of a car as Larson,. Blaney finished second. William Byron also had a stellar day, earning the final $100,000 Dash 4 Cash bonus by finishing sixth.
WHO HAD A BAD DAY: Austin Dillon wrecked, Erik Jones had a motor let go on him and several other drivers were involved in a number of wrecks that resulted in 10 cautions on the day.
NOTABLE: Ryan Reed's fifth-place finish was his second top-five of the season. It marks the first time in his four years in the series he's had more than one top-five finish in a year. … In post-race inspection, it was found that the No. 19 Toyota of Matt Tifft had one unsecured lug nut, which could result in a penalty. There were no other issues in inspection.
QUOTE OF THE DAY: ""Heartbreak day. We have one more race left and this one was the one we were going to win, for sure. It just didn't happen. We can't get any luck. I got a little sideways on that one restart and it cost us a little bit. It would have been nice to get the $100,000 and bought us our Michigan race that we don't have." – eighth-place finisher Darrell Wallace Jr.
WHAT'S NEXT: Pocono Green 250, at 1 p.m. ET on June 10 at Pocono Raceway.