"Without a doubt" the most fun Brennan Poole has had in the Xfinity Series ended in disappointment.
It was a year ago at Talladega Superspeedway when a chaotic finish ended with Poole and Elliott Sadler waiting five minutes at the start-finish line to find out who won the race. Though Sadler left the track a winner, Poole still cherishes the experience.
"I ran up front the whole race," Poole told NBC Sports. "I was racing with (Joey) Logano and Sadler and (Justin) Allgaier. We're all racing really hard. I got Jeremy Clements pushing me. A strange finish to that. It was a lot of fun to basically win the race, then not win the race.
"A lot of people would think that would be a terrible memory or something bad. It's just how it panned out. It's just racing. So that was a lot of fun."
Ahead of the 10th race this season, Poole is still looking to top that moment. The Chip Ganassi Racing driver is 10th in points and seeking his first top-five finish of the year.
The following Q&A has been edited and condensed.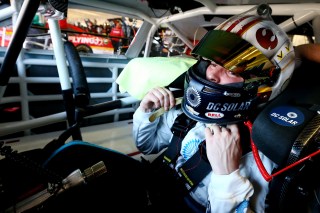 NBC Sports: OK, I've been wanting to ask you about this since February. Your Star Wars helmet. How did that come about?
Poole: As a kid I always liked Star Wars and my dad was a huge Star Wars guy. He took me to see it and I watched all of them when I was really little. I remember going to see Episode I, II and III when all those came out. My dad I would go and watch them together. This winter over the off-season, my family and I, we all went out to see Rogue One. We went to dinner afterward and I was sitting there, 'Man, it would be really cool if I painted my helmet like a Star Wars helmet or something cool.' Really, as a driver, our only thing of creativity that we get to decide on our own (is our helmet). That's where we get to express ourselves a little bit, you know? I just started thinking about it, started looking at helmets. Just sitting down at dinner goofing off and talking about it. That's really where the idea started and I thought it would be sick if I did a Luke Skywalker X-Wing helmet. I thought it would be cool and neat to do it all scratched up and beat up and kind of worn out like his was.
When I got home from doing Christmas and New Year's with my family I called up my helmet painter, Jason Beam, and we just talked about it. He's a huge Star Wars guy too, so he was pumped about it too. He's the creative side of it. I just wanted to do a Star Wars helmet and he was like 'We'll do this, we'll do that.' Started coming up with the idea and he started sending me drawings and things that he had. Finding a way to incorporate DC Solar and stuff on the front and really keep the helmet true to Luke's helmet in the movie. He just did an outstanding job. Just more than special. Every time I put that thing on I feel cool, you know?
NBC Sports: Which Star Wars movie is your favorite?
Poole: People ask me that a lot. I like Episode I. I was like 10 or 11 or something when it came out. I was racing quarter midgets and stuff. The pod races, man. That's like the coolest thing. To me that's like the coolest part. As I've gotten older and I've watched all the movies. I've seen a bunch of them. The new ones, the technology has just grown so much and they're done so beautifully. I would say right now my favorite is Rogue One. They did such an amazing job telling that story.
NBC Sports: If you had a time machine and you had to choose between going to the world premiere of Star Wars in 1977 or attending the 1979 Daytona 500, which would you choose?
Poole: (laughs) Both would be really cool. The '70s are an interesting time. The music and everything that was going on. Racing is what I love. That's what's in my heart, it's all that I've ever wanted to do since I can remember. So I would definitely like to go back and experience the Daytona 500 in the late '70s. Just experience the crowd, the fans and what it was like. The drivers and see those cars and seeing them in person go around the track was probably amazing at the time. It's still amazing today, but it's just a little bit different feel to it and I'd like to experience that feel. … Hands down I would go to the race. Thinking about Star Wars though, going back to see the world premiere, like that's cool, but I would want to go back and be a part of how they actually made the film. See how they're hanging star ships up and filming it. I would like to see how they did that because it changed film and how they shot film forever.
NBC Sports: What was your first car?
Poole: My first car was a 1999 Ford F-350. It was a Legends Series and it used to be A.J. Foyt's truck. A.J. Foyt owned it and he signed the dash. I bought it from the guy that built my dirt modified engines to pull my first modified trailer. I drove that thing to high school. When I turned 16 I got it and drove it all through high school. It was a good truck. … I could do burnouts for crying out loud. It was a lot of fun. I was that guy with the huge truck. People always gave me a hard time. 'Why do you need a truck that big?' 'I pull my race car with it.' Growing up in South Texas in Houston, I grew up in the city. Racing wasn't a big thing. … I couldn't even park it in the school parking lot. I had to take up multiple spots. It was kind of ridiculous. I pulled my race trailer and did all that stuff myself. I set up my own cars and couple of my buddies would help me, all young kids. We didn't have a clue what we were doing. … I had that truck up until, I sold it a few years ago … in 2011. But I still miss it man.
NBC Sports: Have you ever named a car?
Poole: I've had several cars named. Several, several cars. The last car that I had named, I had this all red car. A dirt modified. It's name was 'Ms. Vivian' after the movie Pretty Woman. It was a redhead, the car was all red. The car had a red chassis, a red body. So it was an ol' red head. It said 'Ms. Vivian' right on the bumper.
NBC Sports: What's on your bucket list that's not related to racing?
Poole: I think about this a lot, of things I want to do or things I want to experience. I definitely want to go to a NBA finals game. I'm a huge basketball fan. I've been watching the playoffs. I've been a huge Charlotte Hornets fan for a few years since I live a couple blocks away from the stadium and I've gone to like 20 games each year that last two years. Of course, I'm a Houston Rockets fan, that's where I grew up. They got knocked out of the deal, so I'm kind of bummed. … I want to go to a basketball game at Madison Square Garden in New York. I'm fascinated by New York City for whatever reason, so I'd like to experience that. Most of my bucket list things have to do with sport. I'd love to go to the Stanley Cup finals as well and see a game in person. Hockey is so entertaining and amazing in person, it's not-stop action the whole time. … I can definitely tell you I don't want to go skydiving. I have no desire to experience that whatsoever.
NBC Sports: Do you remember the first time you saw your name or face on merchandise?
Poole: Yeah, it was pretty cool. I think the coolest thing for me, I've had shirts and I've had things like that. I think it's different when it's a real piece. They have those baseball cards of me. I didn't even know they existed and I had a fan ask me to sign some one weekend. I was like 'Man, that's pretty cool. I have my own baseball card.' That's pretty special. I have my rookie card, it says 'RC' on it like 'Rookie Card.' So I have one myself because I think that's pretty neat. I didn't think they did that. … I think I signed 150 yesterday with (PR representative) Ian (Moye) at his desk. That was just kind of special to see for the first time.
NBC Sports: If you were competing in the Cup race at Bristol, what would be your introduction song?
Poole: Let's just say 'Down with the Sickness' by Disturbed. That's hard-core.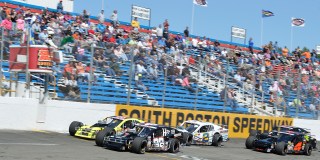 NBC Sports: NASCAR announced the schedules for next year this week. If you could add one track to the Xfinity schedule, what would it be?
Poole: I think we should go somewhere ridiculous, like Hickory (Motor Speedway). It would be insane and there's not even a pit road. People would be pitting all over the place. I'm just kidding, that would be insane. … I think I would like to see them go to South Boston, I never raced there. Just another short track or something. The Motor Mile (Speedway). Motor Mile's pit road isn't too terrible, they'd probably have to make it a little bit bigger or somethings. I would like a nice, tight short track. Maybe you got to do some bumping, some bump and runs, something like that would be a lot of fun.
NBC Sports: If you don't have to be at the track or at the shop, all your family is busy and you have no obligations, how do you spend your day?
Poole: If you want a full day, you got it. Here we go. Probably wake up in the morning, have some coffee, make myself some eggs and bacon. I'd probably go on an hour and a half bike ride, maybe bust out 30 miles or something, 35 miles, something like that. Probably come home, literally would play X-Box for the rest of the afternoon. I'd probably be playing NBA 2K in 'My Career' playing as myself. Then I would order Hibachi. I would not leave the house. I would order Hibachi. There's a great Hibachi place that delivers to where I live. Steak and shrimp. You get fried rice. You got to get noodles as well in the soup, I don't know what the soup is called, the full deal. Just blow it out. Then I would watch some shows on Netflix as I'm falling asleep. That's probably the full day.
—
Previous Xfinity Spotlights