STATESVILLE, N.C. — Where there had been silence, except for the whistling wind, there was laughter, giggles and shouts of glee Friday morning.
With the help of the Earnhardt family and others, Rescue Ranch debuted a state-of-the-art playground to go along with its mission of promoting hands-on learning and caring for animals.
Rescue Ranch, founded by Ryan Newman and wife Krissie, is located about 35 minutes north of Charlotte and provides classroom education on animal care and contact with a variety of animals on the 87-acre facility.
Krissie Newman said they were looking to add a playground to make school field trips there more of a full-day experience. As they looked into such playgrounds, she met Kendra Wood, an autism teacher at Lake Norman High School, and talked to occupational therapists who provided tips on how to make a playground inclusive for all children.
"We always look for field trips to get out in the community in any sort and this is a great place,'' Wood said. "Now that they added the playground to it, we can do an outdoor component as well.''
That's important because many playgrounds are not as accessible for all children.
"Playgrounds usually aren't fun for us,'' Wood said. "We can't do anything. We can do pretty much everything (here). It's such a different thing for us, but a great thing, something that I wish other communities would come and look at and try to emulate.''
The $550,000 playground, which is 10,000 square feet, is named the Earnhardt Family Playground.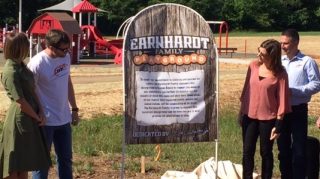 A sign says: "To honor our commitment to children and passion for nature, the Earnhardt Family dedicates this playground to Rescue Ranch to support the needs of our community and further its mission for the benefit of those who come and play here. Generations of our family have supported youth, nature and conservation, and the combination of all three. The Earnhardt Family is proud to support this inclusive playground and the hope and joy it will provide for generations to come.''
Dale Earnhardt Jr. said the family was invited by the Newmans to visit and learn about the ranch. That led to the family supporting the playground. Others who contributed to the playground included Danica Patrick, Denny Hamlin Foundation, Evernham Family Racing for a Reason, Kevin Harvick Foundation, Brennan Poole, Marcus and Cassi Smith, Martin Truex Jr. Foundation and the NASCAR Foundation. 
"It was a real good opportunity for us to get involved in our community,'' Dale Earnhardt Jr. said. "We look for opportunities to get involved in the community and make a difference in the community and this is a really, really incredible place.''
There's more Krissie Newman wants to do from building a pavilion at the playground, an adoption center, a memorial garden and a 24-hour emergency vet clinic.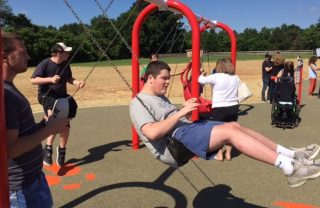 "I've got big plans for this place,'' she said. "I'm just starting.
"We want to teach kids and have them have fun while they're here, have a good experience and hopefully take a little bit of Rescue Ranch away and make it part of their story. A lot of people remember where they went on field trips as a kid. I want Rescue Ranch to be one of those places in the future where they learned how to take care of animals better, respect the environment and just have a different level of compassion and empathy for living things in general.''