CHARLOTTE — Sleep has not come easy for Doug Yates in some time.
It has only gotten worse lately.
He can't stop thinking of his father, Robert, who battles liver cancer. Robert has undergone chemotherapy, but at one point doctors said they weren't sure what how to treat the 74-year-old former NASCAR team owner and engine builder who was selected to the 2018 Hall of Fame Class on Wednesday.
That helpless feeling of not solving a problem counters what Robert and Doug have done all their lives. If there was an issue with an engine, they worked harder and longer until they fixed the matter.
This they can't.
While Robert Yates undergoes experimental treatments, Doug is there to help take care of his father. There are bad days, Doug says, wincing.
"What I see is a man who is broken down and built back up because he is watching his father,'' said Whitney Yates, Doug's wife. "Sometimes (Robert) is so sick he can't do anything and Doug is there.''
They are more than father and son. They share a treasured relationship not every boy and his dad experiences, their bonds woven early and strengthened with each day together.
Doug fondly recalls sleeping on a cot in a race shop when he was about 5 years old while his father worked on an engine through the night. They traveled to races together. Doug reminisces of a trip to Richmond where his father, tired from work, told his son, then 12, to take the wheel while he slept. Yet, when a deer ran across their path, it was Robert who asked his son if he saw that.
They often went to the race shop together. Although family, Robert was still the boss. He would be hard on his son at times, but Doug cherishes even those memories.
Robert was only teaching his son what it took to succeed. Hall of Famer Dale Jarrett won two Daytona 500s and Davey Allison won another for Robert Yates Racing. Jarrett won the 1999 Cup championship with the team. As an owner, Robert Yates won 57 Cup races and 48 poles.
Now, Doug is the boss. He oversees the "vision" his father had of the Roush Yates Engines shop, which powered Kurt Busch to a Daytona 500 win and Ford teams to four other victories in the season's first 11 races.
"He wants to make (his dad) proud,'' Whitney said of Doug. "He's always trying so hard.
"Doug is always moving the bar. I think Robert is so proud of that.''
While Doug does what he can for his father and the family business, he couldn't control what happened at the NASCAR Hall of Fame.
The past three years Robert, Doug and the rest of the family came to the Hall of Fame to see if Robert would be selected. Five are chosen each year. Robert ranked sixth in votes received twice, just missing enshrinement.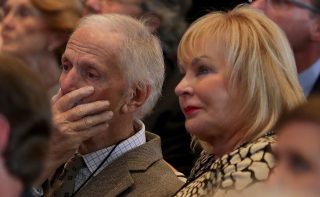 Each time, Robert said the voting panel got it right.
"Selfishly, I didn't think so, but he did,'' Doug said. "That was a lesson for me. Everything happens for a reason.''
As Wednesday approached, Doug Yates' anxiety grew. It was worse Wednesday morning and throughout the day.
As Doug walked into Hall of Fame, ahead of his father, he conceded he was "nervous.''
He also was prepared.
Doug stocked multiple tissues in the pockets of his slacks.
"If he didn't make it, I was going to break down,'' Doug said of his father making the Hall of Fame. "If he did, I was going to break down.''
Robert also felt nervous.
"If I don't get in,'' Robert told himself before the announcement, "that's the reason to work real hard to be here next year to get in.''
The family didn't have to wait long to celebrate.
Robert Yates, who received 94 percent of the vote, was announced first.
"Wow,'' Doug said. "I'm glad that's over.''
His father, sitting a row in front of Doug, reached back. Doug leaned forward. They held hands. 
After that it was a matter of relishing what had happened as four other men — Red Byron, Ray Evernham, Ken Squier and Ron Hornady Jr. — were selected to join Robert Yates in the next Hall of Fame Class.
Doug stay composed throughout. He wiped his eyes once.
When the ceremony ended, Robert Yates reached his arm around wife Carolyn and embraced her.
"My family means so much to me because they allowed me to work night and day,'' Robert Yates said. "Do I love engines? Yes, whether one cylinder, two cylinders, six or 12 or 24. I love engines.''
That passion led him to this moment.
"I feel like I could take a jack,'' said the former jackman.
"I don't know if I'll sleep tonight.''
Doug Yates will.
His father will be in the Hall of Fame.