Retired NASCAR Cup driver and team co-owner Tony Stewart was stopped by an Illinois State Trooper over the weekend near DeKalb, Ill., about 90 minutes west of Chicago.
But before you think Stewart was stopped for speeding by Trooper Damein Cunningham, he wasn't.
Rather, Cunningham pulled Stewart over for improper lane usage, although exactly what the infraction was is unclear.
After getting a verbal warning, Stewart gladly posed with Cunningham for a selfie, which the trooper promptly tweeted out.
"Just pulled over NASCAR LEGEND Tony Stewart on I-88 in DeKalb, IL, what you think I got him for? #NASCAR #ISP"
But according to the Chicago Tribune, Cunningham's bosses apparently didn't have a sense of humor about the incident or realize the good PR it meant for the Illinois State Police.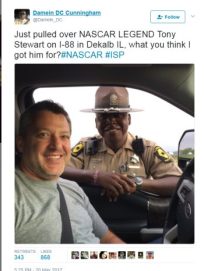 That, or they're not Stewart or NASCAR fans. They ordered Cunningham to delete the tweet, which he did.
It's unclear what Stewart, who was stopped on his 46th birthday, was doing in the Land of Lincoln.
But his luck went from bad to worse a few hours later. According to USA Today, Stewart and others were stuck in an elevator in a Madison, Wisconsin hotel for about 20 minutes before being rescued by firefighters.
We can just imagine what the elevator riders talked about while trapped.
How much do you want to bet Stewart said, "Man, do I have a story about a cop that I have to tell you."
Cunningham then posted another tweet on Sunday after attending church services.