Blake Koch never set eyes on a NASCAR race until the 2007 Daytona 500.
That's when the 21-year-old Florida native watched one of the most dramatic finishes in NASCAR history on TV, as Kevin Harvick edged Mark Martin by .02 seconds to win as Clint Bowyer slid down the frontstretch on his roof.
A year later, the young man who had grown up racing dirt bikes attended his first race, the Daytona 500. It ended far less dramatically.
"I remember sitting on the back straightaway in grandstands, pouring down rain," Koch told NBC Sports. "Sitting there, not knowing if they were going to go green or not because I didn't have a headset. I was just sitting there. We were with friends. They called the race and Matt Kenseth won. Then we sat in the parking lot for two hours. We couldn't get out. … I did tell (my wife) we were going to do something different for parking the next time."
Nine years later, the 31-year-old driver for Kaulig Racing earned his first NASCAR pole for the May 6 Xfinity race at Talladega Superspeedway. It came in his 189th start.
It was the first pole for Kaulig Racing, which competed in its inaugural season last year.
"Going through my mind was doing everything I possible could perfectly," Koch said. "We ended up doing that and qualifying on the pole by a tenth. It was incredible, man. It was a cooler feeling than I thought it would be to get my first pole. Just how excited the team was. Man, at Talladega. That stat sticks with you for life. 'I won the pole at Talladega.' Everybody knows what Talladega is."
The following Q&A has been edited and condensed.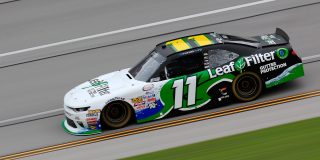 NBC Sports: What track would you have expected to get your first pole?
Koch: A short track, any short track, really. Phoenix, Richmond, Iowa, New Hampshire. I feel like we qualify really well at the short tracks. But you know what, we go to Michigan, we go to Pocono, we're always in the final rounds there. I knew it would come, I just didn't know where it'd come. I absolutely didn't think it would come at Talladega for some reason. We really don't focus that much on single-car speed or single-car runs. We always make my car drive good in the draft. We have good notes from it. The crazy thing, man, is my car drove even better in the pack then it ever had. I had the fastest car there by itself and in the pack, it's the best car I've ever had. We just had a really good car and it's a shame that thing got torn up. But it'll be ready for 2018 Daytona.
NBC Sports: A few days ago on Twitter you posted a picture, which you said was from six years ago or so, of you on a rooftop watering it down. What's the context of that picture?
Koch: It was the beginning of 2011. My mom sent that to me because it popped up on her Facebook, '6 years ago today.' In 2011 I was racing in the Xfinity Series, but I still had to work four days a week because I wasn't getting paid to race at that point. I still had to make my living off the track. Those are sacrifices you have to make to get into the sport. There's not very many seats available in NASCAR. When an opportunity comes, you take it and make the most of it. Even if you don't get paid for a little while. I owned a pressure washer business with my stepdad and it was called Eco Clean Pressure Washing.
What I did Monday through Thursday, we went to different houses and I climbed on the roofs and we pressure washed the roofs in Florida. Then hopped on a plane Thursday afternoon and fly to the racetrack. My mom basically posted it because she was proud of how far I've come in the last six years or so. It's just a cool reminder. And I wanted to post it because I'm always impassioned no matter what I do and I gave it 100 percent, no matter if I'm in NASCAR or on top of roofs cleaning it. I take passion and pride in everything I do.
NBC Sports: When did you finally step away from power washing full-time?
Koch: When me and my wife decided to move up to North Carolina and really pursue NASCAR all in. You can't just try a little bit to make it. You won't make it. If we hadn't of moved to North Carolina and fully committed, I wouldn't have made it, man. If I had a plan B, I probably would have taken it a long time ago. So when we moved up here and my wife quit her job and we moved up here without our family I had no option than to work harder than everybody else try to take advantage of every opportunity I had, and I was able to start making money driving race cars, whether it was racing or start-and-parking or spotting, I used to drive my buddies' motor home to the track. So whatever I had to do to make ends meet is basically what I did and that led me to just staying in the sport over the years to be in a position to meet Matt Kaulig, who really took my career to a whole new level to start Kaulig Racing and sponsor me with Leaf Gutter Protection.
NBC Sports: What was your first car?
Koch: My first car was a 1998 Ford F150. … My mom bought the truck because I grew up racing dirt bikes, so we needed a pickup truck to put the dirt bike in the back of it and go practice and go race. By the time I was 16, she didn't want to drive a pickup truck anymore, so she wanted to buy a car and I … basically took over the truck payments and I drove that F-150 for a couple of years.
NBC Sports: If you had a day where you didn't have to be at the track or shop, your family was busy and you had no other obligations, how would you spend your day?
Koch: Oh man, it depends where I live. If I lived in Florida, I would go out on a boat and go deep-sea fishing from sunrise to sunset, all day long. That is what I love to do if I have any free time, is to go fishing out in the ocean. If I lived in North Carolina, my family was out-of-town, I had nothing to do. I would probably go golf right now. I'd go work on getting better at golf. I'd probably spend half the day at GoPro Motorplex and the other half of the day on the gold course.
NBC Sports: If you were competing in the Cup race at Bristol, what would be your introduction song?
Koch: It would definitely be "Welcome to my House" by Flo Rida. I feel like that fits in the intro song at Bristol perfectly.
NBC Sports: What's your attachment to that song?
Koch: I got to meet Flo Rida a couple of years ago through one of our mutual sponsors and that is just a catchy song, it's fun. My son loves that song. It's all about confidence. He's all 'welcome to my house. You guys are all in my house.' I feel if you're running a Cup race at Bristol and you wanted to win, that's the attitude you've got to take.
NBC Sports: What's the most fun race you've ever been a part of?
Koch: You know what was fun? When we could tandem draft at the super speedways. I know we're never going to do it again and it was dangerous. It was at Talladega and we had other drivers' radio frequencies in the car. I think this was 2011 or 2012. That was really fun when you could team up with your buddy or somebody you liked or somebody you chose to and have them push you through the field and talk to them at the same time. That was really, really cool and I was glad I was able to experience that because I might never be able to experience that again.
NBC Sports: What's on your bucket list that's not related to racing?
Koch: Me and my wife have talked about going to Hawaii for our 10-year anniversary. So I'd have to say going to Hawaii is a bucket list item that I can see happening in the near future. We're going to work towards making it happen. Hawaii on the movies and everything you see looks like the coolest place ever. And I'm not one that really likes to sight see or go different places and experience different things, but for some reason I really want to go to Hawaii and check it out.
—
Previous Xfinity Spotlights