Bruce Hill, 1975 Winston Cup Rookie of the Year, passed away this past Sunday after a battle with esophageal cancer, according to a report in the Topeka Capital-Journal newspaper.
Hill was 67.
Hill had been in declining health and had been hospitalized since last month, according to the Capital-Journal.
A native of Tecumseh, Kansas (near Topeka), made 100 starts in the Cup series. He did not win a race, but had three top-5 and 21 top-10 finishes.
His highest finish in the standings was in 1975, when he finished 16th in the same year he took the series' top rookie honors.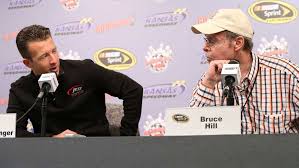 Current NASCAR driver A.J. Allmendinger and the JTG Daugherty Racing team honored Hill by driving a paint scheme similar to the scheme on Hill's No. 47 in last year's throwback weekend in the Southern 500 at Darlington Raceway.
Hill attended the race along with several former crew members, according to the Capital-Journal.
"Bruce was texting me and calling me from Darlington telling me how cool it was and that everything was going great," Hill's friend, Mark Toelkes, told the CJ. "He had the time of his life."