CONCORD, N.C. –  Roughly 40 minutes after the 1992 Winston ended in smoke, sparks and battered sheet metal, at least 1,000 fans still occupied the stands.
They were still trying to wrap their minds around it all.
TNN pit reporter Glenn Jarrett was tasked with talking to Richard Petty after his final start in the All-Star Race.
When Jarrett found him, Petty was looking out at the fans, still drenched in the brand-new lights surrounding Charlotte Motor Speedway.
Petty turned to Jarrett and pointed.
"These people think we're going to go back out there and do this again?" The King asked in disbelief.
In those stands was Kyle Petty. The SABCO Racing driver, along with unofficial bodyguard Eddie Gossage, was walking through enemy territory.
Without an elevator available, they had to walk all the way to the press box. They ascended the steps through verbal and physical projectiles, all so Petty could tell his side of the story that was the last lap.
Petty appeared to touch Dale Earnhardt in Turn 3 (he didn't), turning him sideways. Then his contact with Davey Allison at the finish line caused the first night race on a 1.5-mile speedway to end in a "shower of sparks" and with Allison in the hospital.
"Every freaking fan in the grandstands is teed off," Kyle Petty says. "According to every fan, I wrecked Earnhardt going into Turn 3 and I wrecked Davey (at the start-finish line). That's a fact. … I'm telling you, they were going to kill my butt. It was ugly. "
In the garage, Larry McReynolds sat on a cooler next to the hauler for Allison's No. 28 Ford.
The 33-year-old crew chief had just left the infield care center. Allison, after being taken there by ambulance, had left the track via helicopter to a hospital.
McReynolds just sat there, "trying to figure out what the hell just all happened."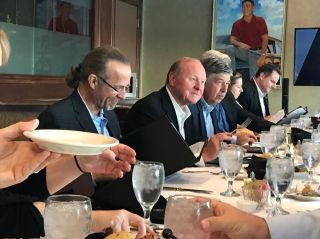 THE FORCES OF DARKNESS
When McReynolds watched the leaders of The Winston enter Turn 1 for the final time on May 16, 1992, he thought his car was going to finish third behind Earnhardt and Kyle Petty.
Had he been right, those gathered around a long table in Charlotte's Speedway Club on a Tuesday night 25 years later might have had other plans.
Among the attendees are Petty, McReynolds, Michael Waltrip, announcer Mike Joy and former crew chief Robin Pemberton.
On a plasma TV at the far end of the table, the broadcast of the 1992 Winston, also known as "One Hot Night," silently runs in all its standard definition glory.
The sounds of a Camping World Truck Series test session dominate the air outside the club's windows.
Over the course of the evening, the familiar images shown every May play out in their natural context. At one point or another, everyone's past peers out from the TV.
Joy, the lead announcer for TNN's broadcast, doesn't speak too much this night. But when he does, he makes it count.
"Being a full moon Saturday night, this race was completely unkind to white cars," Joy says. "This is going to come down to three black cars in the end. The forces of darkness, whatever you want to call it."
After an hour of conversation and jokes, everyone's attention turns to the TV for the last segment and then the final lap. The final lap by which all final laps have been judged since.
For half of it, McReynolds lived vicariously through a crew member named Roman. The crew member had flipped a 55-gallon barrel over and stood atop it to watch the race's conclusion.
"All of a sudden the crowd is going crazy," says McReynolds, wearing a vintage Texaco/Havoline blazer. "Then I saw Roman, his eyes were as big as saucers. I was like, 'What the f— are they doing back there?'"
When the leaders reappeared exiting Turn 4, Allison and Petty were door-to-door with Earnhardt nowhere in sight.
"When they came off (Turn) 4 like that, I said 'I know who's going to win that drag race, Robert Yates,' " McReynolds says proudly of his former car owner and engine builder.
What happened next was depicted on a painting sitting near the other end of the table. Allison's car pointing backwards, about to impact the outside wall after taking the checkered flag and making contact with Petty. A spinning Earnhardt is shown in the background.
"It's like two runners running for the (finish) line and you didn't think about what was beyond that line," McReynolds says.
"You just saw the line," Petty says. "It's like when you break that tape, you fall."
The crash put Allison in the hospital until Monday, sent fans into frenzy and resulted in a rival's car sitting in Allison's hauler.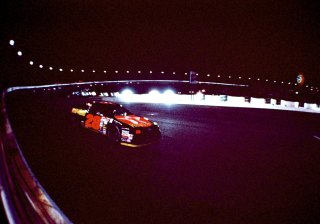 FRENEMIES
As McReynolds sat on his cooler processing the night's events, he thought about the near future.
"Our team had been through so much," McReynolds says. "We had an unbelievable start. We won the Daytona 500 … we won North Wilkesboro (and Talladega). But were kind of going through a pattern. Winning one week and wrecking one week. … Here we figured out how to do both in the same night. But we were out of cars."
From the garage appeared Tim Brewer, crew chief for Bill Elliott's Junior Johnson-owned car.
"I don't even know what to say to you, I guess I want to say I'm sorry, but then I also need to say congratulations," Brewer said.
"This is not good, Tim," McReynolds responded. "We're out of frickin' race cars."
McReynolds told Brewer he had a brand new intermediate car for the Coke 600, a road course car and two speedway cars. He needed a backup car.
"I'll give you guys a car," Brewer said. "You keep it as long as you want, use it if you want to."
The whole month of June, Robert Yates Racing hauled a Budweiser car with Texaco/Havoline decals stuck in the window, just in case.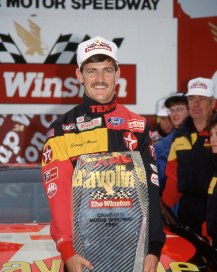 NO HARSH WORDS
Even as Petty walked through the angry grandstands, he was concerned for his friend, Allison. Petty would call Allison two days later.
"I talked to Davey on Monday, I think he was still at the hospital when I talked to him," Petty says. "He had a Busch (Xfinity) car and I was going to drive it over here the next week just to shut everybody up. But we couldn't work it out with Ford and Pontiac."
While fans may have wanted or expected there to be bad feelings between Allison and Petty, they were disappointed.
"I can say by the time I got to the hospital, there was never a negative word toward Kyle, between the 42 and the 28, it never even crossed our minds," McReynolds says. "Two months later at Pocono with (Darrell Waltrip), that's a whole 'nother story."
Anyone wanting bad blood between the drivers wasn't aware of the nature of the relationship between the men who came of age in NASCAR's garages.
"Davey and I were competitors, but there was never a rivalry," Petty says. "We grew up together. We grew up in the garage area when we were 10 years old and (NASCAR official) Bill Gazaway trying to throw us out and running him through the garage area.
"We grew up at the swimming pool at the Sea Dip in Daytona Beach, Florida, swimming together and playing together. … Then he started racing and I was working with my dad, we didn't see each other in those years. Then all of a sudden you're back at the race track racing against each other. We never had harsh words. I never in my whole life, in my whole career racing against Davey in any way shape or form ever remember having anything but respect and a good relationship. There was no base for that, even after that wreck, there was nothing there."
What about Earnhardt?
"Earnhardt's OK, he's not mad," Petty says. "He's mad, but not mad at anybody."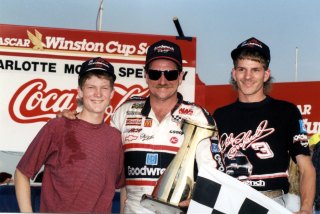 'TIME HAS REALLY GOTTEN MESSED UP'
The passage of time has a weird way of reminding you it's relative.
Just ask NASCAR drivers.
"You know what's crazy to me? '92 seems like a thousand years ago," Michael Waltrip says. "And nine years later was '01 when Dale died and that seems like yesterday."
"I know, it does," Petty agrees.
"Time had really gotten messed up for me," says Waltrip, who won the Winston Open that preceded "One Hot Night" and later won the 1996 All-Star Race.
"I know … the same thing with Adam," says Petty of his son who was killed in an accident during Busch Series practice in 2000 at New Hampshire Motor Speedway. "Everything before Adam's accident sounds like it was history. A million years ago."
"It's a blur?" someone asks.
"No, it's just a long time ago," Petty answers. 'You know what I mean? … It feels like it was yesterday. It really does. Everything's happened, like we were talking about how this years' gone so fast, it's like everything's just sped up."
Whether they've sped along or crept by, the 25 years since "One Hot Night" are punctuated by those who are not cutting it up with everyone in the Speedway Club.
Fourteen months after winning the race the helped define the sport for a generation, Allison died at 32 from injuries sustained in a helicopter accident at Talladega Superspeedway. He would have turned 56 in February.
A week after "One Hot Night," Earnhardt won the Coke 600 for the third time. Earnhardt raced eight more seasons and won two more championships before being killed on the last lap of the 2001 Daytona 500 at 49.
"By Davey not being here and Dale not being here now, that adds to it," Petty says, now 56 and a NBC Sports analyst nine years after leaving the cockpit. "That's a moment for (them). That changes how you perceive this race as you look back at it. If we were all three sitting here laughing about it and complaining about it, you may view it different. You wouldn't view it in that nostalgic tone as much as you do now."
The weight of the race and its impact on the trajectory of NASCAR didn't hit McReynolds until the race's 20th anniversary. In 2012, he, Pemberton and Joy sat on an infield stage at Charlotte to discuss the race with fans. Instead of his blazer, McReynolds wore his old team uniform.
"Honestly, that's when it really sunk in me that was something pretty big and special," McReynolds says.
"One Hot Night" was an exhibition. The eighth of 31 times the All-Star Race has been run.
Petty admits in its immediate wake, he considered it "just another race."
"It lived up to every bit of the hype, like few things in sports do," Petty says. "Rarely do things ever live up to the hype that you throw at them. The funny part in this sport … We've witnessed … some really great races. Some incredible races. Everywhere. But they don't stick with you the way this race sticks with you. For some reason this race sticks with fans different than other races stick with you."