A simple blister cost renowned NASCAR artist Sam Bass almost everything.
It took his lower left leg, put him through three episodes of near-fatal sepsis poisoning, led to bankruptcy, and now has him in dire need of a kidney and pancreas transplant.
Yet, Bass won't let it stop him.
In the last two weeks, Bass watched as a Chapter 7 total liquidation auction forced the sale of more than 500 items he either created or were sentimental artifacts given to him by NASCAR luminaries such as Dale Earnhardt, Dale Earnhardt Jr., Jeff Gordon, Jimmie Johnson and others.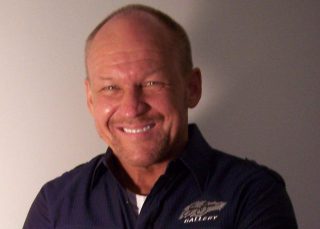 Everything is gone, sold to the highest bidder as mandated by a North Carolina bankruptcy court in an attempt to satisfy creditors for more than $500,000 in medical bills that his insurance didn't cover, as well as over $70,000 in federal and state taxes and penalties.
"That's a lot of $10 dollar poster sales," Bass said, reverting to humor, which has helped get him through all of the challenges he's faced.
And it's all because of that damn blister.
In 2005, while at Daytona for Speedweeks, Bass discovered a small blister on his left foot following a jog along the beach. But as he's done for nearly all of his 55 years, his work ethic overruled his common sense.
"In hindsight, I should have taken a week to 10 days off and laid in bed or sat around and let that blister heal," Bass said. "But I didn't, I kept going after my deadlines and keep all my commitments and travel.
"That blister became infected, which led to having four bones in my foot removed over the next three years. Then in 2008, that infection in my foot cost me my lower left leg, a below-knee amputation on Thanksgiving in 2008.
"I went to Homestead, made it home, went into the hospital on Wednesday, had the amputation, spent Thursday in the hospital recovering – my mom made Thanksgiving dinner for the nurses – and I was discharged Friday and did Dave Moody's (SiriusXM Radio) show that afternoon, talking about my amputation."
Although doctors told him he'd need at least two months to heal from the amputation, he was back on the road and at a presentation in Nashville, Tennessee, five weeks later, wearing a prosthetic lower leg.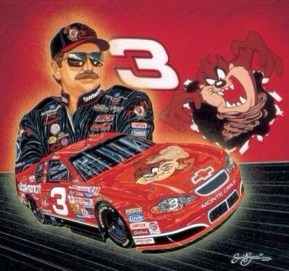 But the damage that began with the blister came back with a vengeance four years later when he went through his first bout of sepsis. Bass was preparing to leave for Speedweeks when he didn't feel right and took himself to the hospital.
"Four hours later, they were operating on me," he said. "I was told if I would have waited 24 more hours, I would never have made it out of surgery."
The sepsis had occurred because of an irritation and rub from where the prosthetic leg attached to behind his knee. Bacteria had seeped into his bloodstream and doctors had to remove one-third of the tissue from his upper left leg.
"One out of four people that get sepsis dies," Bass said. "And then I got it two more times where I had it three times in 2 ½ years. I also had it in my upper right arm and again in my chest, right above my heart."
That Bass defied the odds is virtually unheard of. But the greatest battle of his life still lay ahead.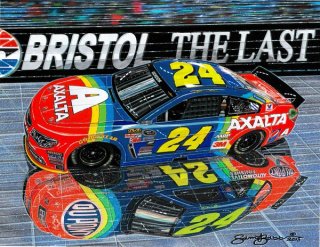 Bass also has been a Type 1 diabetic for nearly half his life, being diagnosed with the disease when he was 29. Which led him to remark rather firmly:
"People always want to say I lost my lower left leg to diabetes. But I didn't lose my lower left leg to diabetes, I lost it to stupidity. If I had been smarter about taking care of myself and gotten some antibiotics when that infection started with that blister, I probably would have my lower left leg today.
"Sam just didn't take time for Sam and it cost me dearly."
A CHILDHOOD DREAM COME TRUE
While many young kids grew up dreaming about becoming NASCAR drivers like Dale Earnhardt and Richard Petty, Bass didn't want to drive race cars, he wanted to draw them. Following his first NASCAR race at Southside Speedway in suburban Richmond, Virginia at 7 years old, Bass quickly realized his calling.
"I remember leaving that racetrack that night and telling my uncles that I wanted to be a NASCAR artist," Bass said. "I was so amazed that night not only by the excitement and watching those cars run around and beat and bang on each other, but also the color – how all the cars were painted so many different colors. I was like, how cool is this? I couldn't wait to get home to pull out my markers."
His mother was his biggest supporter growing up – but she also wondered about her son at times.
"My mom used to bring home brand new Hot Wheels or Matchbox cars from the store," Bass said. "The first thing I did was whip out my spray paint cans and model paints and paint over them on the table.
"She'd always say, 'They're brand new cars, why are you painting them?' And I'd tell her that I wanted them to look the way I envisioned them looking. Then I'd build model car kits, but I never put the kits together the way they were supposed to be. My mom still has all the Hot Wheels cars and model cars that I painted over growing up. That's where the designer in me came about."
The more Bass drew over the years, the better he got, leading to a chance meeting with a driver that would forever change his life.
"When Bobby Allison would come into Richmond to race at the Richmond Fairgrounds Raceway, he would always visit Southside Speedway and race the Late Model show there," Bass said. "I got to meet him at a very early age and he just became my hero."
A few years after meeting Allison for the first time, Bass – then a college freshman at Virginia Commonwealth University – presented a framed portrait of his favorite driver in the infamous "Tuf-Lon Pontiac" at a fan gathering that drew over 300 people.
"The look on his face and the way the crowd stood up and applauded the presentation, I knew at that moment that was what I wanted to do with the rest of my career," Bass said.
Allison still has that drawing, more than 35 years later.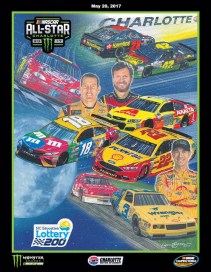 Seven years later, Allison unexpectedly called Bass one day, commissioning him to design Allison's Miller High Life car for the 1988 Winston Cup season, as well as design Allison's Piper Aircraft-sponsored Busch Series car.
A few weeks later at Daytona, Allison would win the season-opening Busch race and go on to earn his third Daytona 500 the following day — in the same cars Bass designed for him.
"To this day, I don't know if I've ever been more excited about anything I've ever done," Bass said. "It was a great way to begin a career."
Soon after, Bass – seven years into a federal government career as a graphics designer and contract specialist – quit his job and went into business for himself.
Bass also designed the program cover for the 1985 World 600 at Charlotte Motor Speedway and has designed every race program for the track since. This week's program, encapsulating the All-Star Race, the All-Star Open and the Coca-Cola 600, will be the 65th consecutive program cover he's drawn.
Bass has gone on to design hundreds of cars in NASCAR, IndyCar, NHRA for more than 150 drivers, including the first Cup car designs for Jeff Gordon, Jimmie Johnson, Tony Stewart and Dale Earnhardt Jr.
"That's a pretty solid foundation right there," Bass said with a laugh.
But two of his designs will forever be the highlights of Bass's career:
* He came up with the original "Rainbow Warriors" design for Gordon's car in 1992 and continued to design it through several updates until Gordon retired.
* After designing Dale Earnhardt Jr.'s Busch Series championship-winning cars in 1998 and 1999, he created the design for Junior's first Budweiser-sponsored No. 8 Winston Cup car. Bass also designed the Axalta-sponsored car Earnhardt will drive in his final NASCAR Cup race at the end of this season at Homestead-Miami Speedway. "I've gotten to bookend Junior's career," Bass said. "That's amazing and special to me."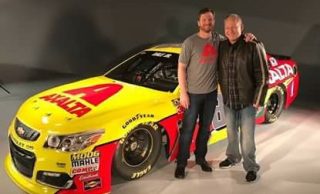 Bass's artwork currently breaks down to about 50 percent paintings, 30 percent car designs, and 20 percent guitars, race programs and other things.
The creative process varies from as little as a few hours to as much as nine months. His longest project was the redesign of Jeff Gordon's car for the 2001 season. It featured flames on the side and went through 78 iterations before the finished project appeared.
"You can only imagine the amount of pressure on me because we were replacing such an iconic looking race car," Bass said. "I was a nervous wreck because I didn't want to be known as the guy who killed the rainbow."
IN THE BIGGEST FIGHT OF HIS LIFE
Over time, the sepsis battles deteriorated Bass's kidney to where he says he is "in dire need of a kidney and pancreas transplant."
He is in Stage 5 kidney failure – the worst there is – and has just seven percent of kidney function left. He recently started dialysis and is on a number of donor transplant lists.
Yet, Bass once again leans on his humor to help him cope.
"There is so much information to absorb to be a good dialysis and diabetes patient," he said. "There's classes, books, studying and learning to be informed about all this stuff."
Then he quips: "Hopefully, at the end of this whole thing, not only will I be healthy but I'll also have my doctor's degree so I can make a little more money."
And then there's the bankruptcy that saw virtually everything he ever created (and still retained) in his career auctioned, many for pennies on the dollar of their worth.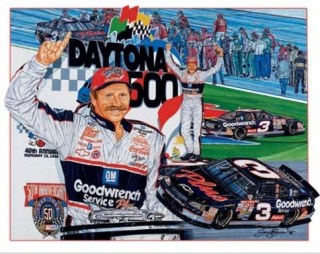 For example, some auctioned artwork that retailed for up to $10,000 sold for as little as a few hundred bucks.
"It's heartbreaking," Bass said. "People are coming to my gallery every day to pick up what they bought in the auction."
Bass hopes to emerge from bankruptcy in about two months, but will never forget the agony he's gone through.
"I keep asking myself, 'How did I get here?' " he said.
REBOUNDING AND REBUILDING
The toll of physical and financial calamity has been hard on Bass, wife Denise and their children, daughter Kendyl and son Mark. But his family has also been the rock that Bass has leaned upon to get through everything.
He's also grateful for the support he's received from the NASCAR community and fans as he begins to rebuild.
"I've made a lot of mistakes, I've learned a lot of lessons," Bass said. "But I firmly believe the reason I've been left here is for a purpose — to hopefully continue being a good NASCAR artist, for sure, but the real purpose is to help and educate and be a positive inspiration for other diabetics and people going through hardships I've gone through and pass on the knowledge I've learned to help make their life easier."
Bass could have given up at any point, but he didn't. When he came into his gallery, about a mile north of Charlotte Motor Speedway, last Monday, 36 years of his life may have been gone, but he believes there's another 36 more years of success to come.
"I sent out a tweet the other day that this is Day 1 of the rebuilding," Bass said. "I'm committed to restore everything back to bigger and better than it's ever been.
"I've always operated under two principles: treat people the absolute best way I could and do the best work I could possibly do. At the end of the day, I'm extremely blessed that I'm still here because it very easily could have gone the other way. I'm not going to give up."
* * * * * * * * * * * * * * * * * * * * * * * * * * 
Three drivers who have played significant parts of Bass's career talked about their relationship with Sam to NBC Sports:
Dale Earnhardt Jr.: "My father and Sam were great friends. They both worked together to enhance each other's careers. On top of that, Sam is just one of the nicest guys you will meet in the industry. He always has a smile on his face. I felt like helping Sam would certainly be my father's first reaction. So I wanted to honor my own father's friendship with Sam and also let Sam know that he has a lot of people that care about him."
Jeff Gordon: "Sam is such a great guy, and I hate that he is going through these health issues right now. He puts his heart into his work and takes a lot of pride in it. He was instrumental in helping design the original iconic No. 24 paint scheme and had a hand in the design of many No. 24 paint schemes through the years – including the one we ran at Atlanta a few years back that (Gordon's daughter) Ella 'designed.'"
Jimmie Johnson: "It's hard to see Sam going through so much right now as he has done so much for so many throughout his career. His friendship over the years has meant a lot to me. He designed my Lowe's car for my rookie season in 2002 and we had a lot of great memories with that car. As one of the original artists in the sport, he is so talented and we are all praying for him."