Aric Almirola is in stable condition and will be held overnight at hospital after he was involved in a three-car crash in Saturday night's NASCAR Cup race at Kansas Speedway, Richard Petty Motorsports said in a statement issued early Sunday morning.
Almirola's car slammed into Joey Logano's car and the rear end lifted a few feet off the ground. Safety workers cut the car's roof to extricate Almirola.
Richard Petty Motorsports stated it will provide further updates when appropriate.
The caution came out on Lap 201 of the 267-lap race after Logano and Danica Patrick crashed in Turn 1. Almirola was behind the incident but couldn't avoid it.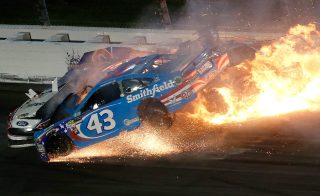 "You can see the right-front popped (right there) and it popped," Logano said after the incident. "I just hope everyone is okay. I hope Aric is alright. That's the last thing you want to see, a big hit like that for anyone. It's unfortunate for everyone. Let's hope that Aric is alright."
Logano said a part failure was what triggered the incident.
Almirola was airlifted after the incident. Fox Sports 1 reported he was sent to the University of Kansas Medical Center in Kansas City, Kansas.
Saturday night was Almirola's 226th career Cup start. He has made 191 consecutive starts. He has one victory, which came in July 2014 at Daytona International Speedway. He is in his sixth full-time season with the organization.
Follow @dustinlong and on Facebook