Ryan Blaney scored his first career NASCAR Cup pole Friday at Kansas Speedway and gave the Wood Brothers their first pole since 2004 with Ricky Rudd.
Blaney earned the top spot for Saturday night's race after a lap of 189.600 mph. Joey Logano (189.540 mph) will start second, giving Ford the front row.
The pole earns Blaney a spot in next year's Clash at Daytona International Speedway.
"We got better and better each round," Blaney told Fox Sports 1. "Honestly, I didn't think I got through that lap that great."
Martin Truex Jr. (189.201) qualified third. He's followed by Talladega winner Ricky Stenhouse Jr. (188.851) and Kyle Busch (188.495).
Twenty-one cars were in inspection when qualifying started. Among those were: Martin Truex Jr., Erik Jones, Clint Bowyer, Kurt Busch, Daniel Suarez, Matt Kenseth, Jamie McMurray, Kasey Kahne, Jimmie Johnson and Dale Earnhardt Jr.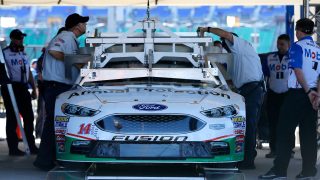 Eleven cars hat did not make it through inspection before the first round ended, including those of Earnhardt, Kahne, Johnson, Bowyer and Jones.
"Super disappointing," Bowyer said. "You are off 10-thousandths of an inch. It is ridiculous. Most people can't even understand how little that is. I get it. If you are off, you are off, but I watched my guys move the car and adjust the car accordingly for it and then actually overcompensate on it because we were worried about not making it. Then they wheel it back in and fail the exact same amount? Twice? That makes no sense. None."
Scott Miller, NASCAR senior vice president of competition, told Fox Sports 1 that a majority of the issues for teams were with the Laser Inspection Station.
"Competitors are pushing the limit and they're not making it," Miller told Fox Sports 1. "It's disappointing I'm sure, to a lot of the competitors that they weren't able to qualify, but it's disappointing to us that they aren't presenting their cars in a way that they make it through inspection. Kind of the worst of both worlds actually."
In the most recent race at a 1.5-mile track — Texas in April — nine cars failed to make it through inspection before the first round of qualifying ended. Among those were Earnhardt and Kahne.
Michael McDowell's team did not make an attempt. He blew an engine at the end of the final Cup practice session. With McDowell guaranteed a starting spot, the team elected to focus on the engine change.
Click here for qualifying results