STATESVILLE, N.C. — It is 8:15 p.m. Monday, 14 hours after George Church and Ken Kotlowski arrived at the tiny warehouse where race cars, pit carts, tool boxes, fuel cans and old tires are scattered along with hopes and dreams.
There is a problem.
Less than three days before they will load what will be a green-and-yellow No. 66 Cup car for a trip to Kansas Speedway, Church stands in the doorway of Carl Long's cramped office, cluttered with a rear axle housing on the floor, and gives Long the news.
"There is no way those headers are going to work,'' Church said.
The car's oil pan is not clear of the headers. If left unchecked, the headers will "boil the oil'' Long says.
They need new headers.
Compared to what Long has experienced in his racing career, it is a minor inconvenience, another sign of the roadblocks the 49-year-old endures to compete in NASCAR.
For nearly eight years, Long was barred from the Cup garage, prohibited to own a car in that series and forbidden to race there because of an unpaid $200,000 fine for an oversized engine.
Long lost both appeals and was stuck with the burdensome fine he could not afford. In one appeal, the panel noted his "strong love of racing'' and that his testimony "came across as genuine and heartfelt'' but that the penalty, although extreme for the low-budget team, was warranted.
Exiled to the Xfintiy and Truck Series, Long toiled until his sentence was commuted by NASCAR before this season. Long only says that he and the sanctioning body reached an "agreement" on the matter.
Friday morning at Kansas Speedway, Long will walk into the Cup garage for the first time since 2009.
TRYING TO DO A LOT WITH A LITTLE 
Although he also oversees the operation, Carl Long isn't noted as the team owner. He lists his 72-year-old father, Horace, in that role.
"I told him, now it's going to be Roger Penske and Rick Hendrick and you're going to be right in the middle of them,'' Long says with a laugh.
Long laughs a lot. It's therapeutic.
Without self-deprecating humor, he would be miserable over the challenges he's stomached to race. He once climbed into a trash bin at another team's shop to take scrap pieces for his car years ago. He's accepted used tires from teams, watched his savings account wither and winced at how human error before Xfinity qualifying at Daytona this year cost his team nearly $100,000 all told.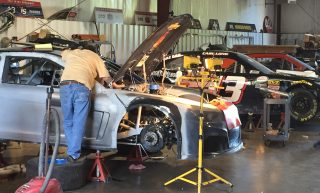 Yet, here he is in a 4,750-square foot structure — 50 times smaller than the space occupied by Team Penske's NASCAR teams in its shop — to compete against the sport's elites. There is no engineering department, no fab shop, no set-up plates, no engine shop, no R&D department and no training room. The most sophisticated piece of equipment in the shop might be each person's cell phone.
There's also not enough room.
Some cars are kept in storage containers nearby, others are kept in the haulers until it is time to switch them out and head to the next race. Another car is pushed outside the warehouse and placed on a grass patch by the street corner, as if it is a sign telling people where the race shop is located but fans don't flock here.
If this was the 1960s, this might be one of the best shops in the sport. Instead, it's a place for Long to work and try to survive in a sport he's invested nearly 35 years of his life.
"Racing is an addiction,'' Long says, leaning back in a black office chair, arms crossed. "There's some people that get over an addiction real quick when they're broke. But when you start off broke and somehow seem to manage it and it gets in your blood, it's hard to just walk away.''
He'll do whatever it takes to race.
That includes driving the team's hauler to Kansas Speedway. 
BACK IN TIME
Carl Long and wife Dee Dee looked over paint schemes for the car that will mark his return to NASCAR's premier series. He showed the options to his eight full-time employees who help him field a two-car Xfinity operation and now a Cup entry.
They all told him to go with the green-and-yellow scheme that his car had at the 2009 Sprint Showdown — the last time he competed in a Cup race.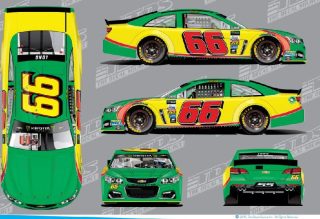 "There's no better way to go back then the way you left,'' said Jason Houghtaling, who joined Long's operation in January.
The only difference will be that the number on the green roof will be yellow instead of red as it was in 2009. Long thinks the number will stand out more that way. Instead of No. 46, it will be No. 66, a tribute to Mark Thompson, a friend who has raced Long's Xfinity cars in the past, including last weekend at Talladega. The 65-year-old Thompson finished 25th after an engine failure in that race.
Maybe a new number can provide Long with better fortune. His Cup career is best remembered by long-time NASCAR fans more for bad times than good.
He qualified for the 2000 Coca-Cola 600 only to see his car owner sell the ride so Darrell Waltrip, who had failed to qualify, could compete in that race in his final season. Long has never again qualified for the 600.
He tumbled down the backstretch at Rockingham in 2004, rolling four times after getting hit from behind.
His $200,000 fine in 2009 remained the largest NASCAR had issued until fining Michael Waltrip Racing $300,000 in 2013 for its team's actions at Richmond.
While Long reached his dream of racing in the Cup series, he was tormented by lack of success. He's competed in 23 Cup races but failed to qualify for 75 from 1999-2009. He never finished better than 29th in a Cup race.
It is one thing to dream but what happens when those dreams don't pan out as hoped? Does one feel fortunate to have climbed so far or cursed at never getting the chance to excel?
"I won't consider it a curse,'' Long says. "I think I figured out early how to survive without cashflow. Because I built my cars and set up my cars and drove the haulers and did all that other stuff, it made it easier for me for someone who had a limited budget to work with.
"The issue with cars, everybody has their own opinion on what they could do if they had Kyle Busch's car. I don't think I would beat Kyle Busch, but I would be way better than I am now.''
CUP HOPES RETURN
As they prepared the primer grey car for this weekend, the team had wiring issues and sent the car to the engine provider for help.
The car returned to the shop shortly before 10 p.m. Wednesday, 10 hours before the hauler had to leave for Kansas.
Long purchased the car in December from HScott Motorsports and intended to convert it to the Xfinity Series, but he remained hopeful that NASCAR would permit a return to Cup.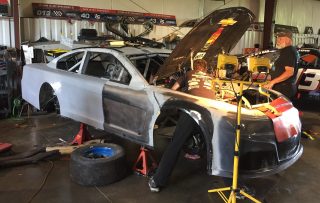 It wasn't until shortly before the Daytona 500 that he found out NASCAR would do so. It was too late to get the car ready for the 500. With the Xfinity Series off until May 27, this break gave Long and his team time to work on the car for this weekend. He also plans to race it in the Monster Energy Open at Charlotte next weekend provided the car isn't damaged at Kansas. 
Should he return for the Open, it will complete the circle from when his Car career stalled in 2009.
NASCAR discovered that his engine for what was called the Sprint Showdown measured 358.197 cubic inches. The maximum allowed was 358.0 cubic inches. NASCAR fined Long's crew chief, Charles Swing $200,000, suspended Long and his wife, who was listed as the car owner, 12 races each and docked both 200 driver and car owner points.
Long appealed. He didn't contest that the engine was oversized but argued that the engine came from a third-party vendor, Ernie Elliott, and that the discrepancy may have been due to an error on the supplier's behalf or expansion due to overheating or to general wear and tear. The National Stock Car Racing Commission didn't agree.
"The Commission reaffirms that the race team is ultimately responsible for all components on the race car, including any supplied by third-party vendors.
"While it is tempting to consider penalties that this driver and team can more-readily bear, the sport would not be well served by having a sliding scale of penalties calibrated to a given team or member's resources. Penalties of this magnitude for this type of infraction are warranted in the NASCAR Sprint Cup Series.''
While a final appeal reduced the suspensions to eight races, the fine remained, effectively barring Long from the Cup series for nearly a decade.
NEXT CHAPTER
When Carl Long was 25, he set a goal of becoming a full-time Cup driver by the time he was 35 years old.
Four months shy of his 50th birthday Long, the 1990 street stock champion at Orange County Speedway, is still trying to meet that goal.
He admits that "the best talent today in racing is the ability to write a check. If you can write a check and keep writing them, you can get the best equipment there is.''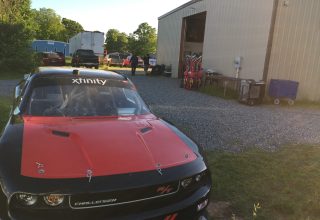 Long knows his driving days are nearing an end. That doesn't mean he'll leave the sport. With a savings account that has about $1,500, his retirement plan is to keep working. His goal is to build his team to where more drivers are willing to pay to drive his cars.
"I'm very, very jealous of the people that I started racing with who can retire,'' Long says with a laugh. "I remember when Dale (Earnhardt) Jr. come asked me for advice when we were running some Late Model races. I grew up racing with Scott Riggs, Hermie and Elliott Sadler.
"I never figured I was any better than any of the rest of those guys, but I had beat them and they had beat me, so I figured if they could do it, I could do it. I think the biggest problem I had was I never capitalized on good opportunities. I would follow them up and not be prepared. I'd prepare for a month or two months to go to Charlotte, go test, do what we needed to do, make the race, look good, everybody goes, 'OK, this is good.'
"Next week, I'd go to Dover and didn't have a clue where I was going, didn't have the car set up, just took that same car and turned it around and go up there and wind up in the fence somewhere or another because I wasn't prepared. I'd go from a hero to a zero.''
Starting this weekend, he has another chance. It just took eight years to arrive.