What do you do when you win a Cup Series race for the first time in 101 events?
If you're Roush Fenway Racing, you have a really big lunch.
On Tuesday, the team held a luncheon at its headquarters to celebrate Ricky Stenhouse Jr.'s victory at Talladega Superspeedway. It was Roush's first Cup win since Carl Edwards won at Sonoma Raceway in 2014.
The celebration had a special attendee in the form of the first NASCAR trophy Roush Fenway Racing ever won in 1989.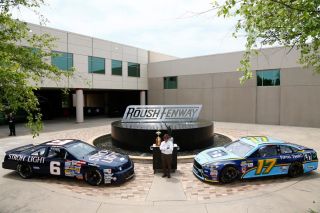 The trophy, won by Mark Martin at Rockingham Motor Speedway, had actually been missing. But it was found just days before the Talladega race by the curator of the Roush Museum.
"It's ironic really, but the first win trophy from Rockingham had been missing for a number of years and we found it in an unmarked box up in Michigan," Roush said at the luncheon according to a press release. "I brought it with me, and it's nice to be able to tie in our first win and our most recent win in one setting. It's been a long road and it has never been easy, but it's as rewarding today as it was back then."
The No. 6 Ford Thunderbird Martin drove to that win was also on hand. Roush and team members were able to pose with the car and the first and 324th NASCAR trophies won by the team.
"I can remember when we started this thing 30 years ago, there was a period when I wasn't sure that we were going to win," Roush said. "We had speed from the start, but we finished second on a number of occasions that first and second season, and finally broke through late in the season at Rockingham."
"It felt like a validation," added Roush, who is now a 2018 NASCAR Fall of Fame nominee. "I figured they would let me stay around for a while. All these years later, we've been fortunate to get a lot of wins and Ricky is the ninth driver that we have had win for us in a Cup car; with eight of those guys getting their first win for us. I think that says a lot about the organization and the opportunity that we have given young drivers over the years."