Sometimes, even Ricky Stenhouse Jr.'s girlfriend seems more miffed than he is about the frequent overshadowing for the permanently less renowned half of racing's most highly publicized couple.
Leaving a restaurant in New Hampshire after a rare joint interview in July 2013, a worker wished Patrick good luck for the weekend.
"You know Ricky's racing Sunday, too," she bristled with a steely glare. "You can root for him, too!"
Stenhouse just smiled and clutched Patrick a little more closely as they walked away.
It always has been how he nonchalantly and non-combatively handles the dynamics of a relationship fraught with the stress of disproportionate celebrity.
"I don't mind being known as her boyfriend," Stenhouse said Sunday after the first win of his Cup career. "She doesn't mind being known as my girlfriend. It goes either way, and we couldn't be in a better place right now."
Though Patrick's incomparable media savvy automatically receives credit as she is the unrelenting focus of the pair, Stenhouse's win at Talladega reinforced the overlooked reasons his demeanor is as important to the bedrock of their bond.
He is the archetype of the strong, silent type from the not-quite Deep South (yes, he hails from Mississippi but his hometown is a half-day's drive from the Gulf Shores).
He comes off as self-assured, uncomplicated and completely secure in his ability and his lot in life – which would seem to be necessary attributes for dating the most famous woman in the history of auto racing.
Patrick is equally strong-willed but naturally much more visible than her boyfriend.
Besides the inherent attention from being the first woman to lead either the Indianapolis 500 or Daytona 500, Patrick also thrusts herself into the limelight by hawking "athleisure" (via her Warrior clothing line), healthy food (a cooking show seems a given for the former winner of a Chopped celebrity edition) and life coaching (her how-to book "Pretty Intense" is coming in January).
It would seem understandable (perhaps even expected by many) for some measure of resentment to manifest itself for Stenhouse.
Yet the 29-year-old with the perennial smile and spate of facial hair (sometimes a goatee, sometimes a Jeff Gordon-esque pencil moustache) always seems nonplussed by questions about the incessant attention foisted upon his girlfriend and whether it defines him.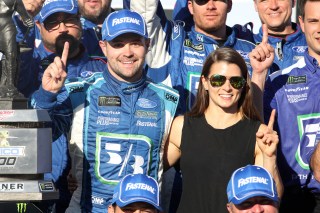 It might be impossible to explain in full how they make such a high-profile relationship work, but Patrick and Stenhouse deserve immense respect for deftly navigating (at least outwardly) the logistics, politics and pressures of mixing business with pleasure on a national stage.
There is a certain yin and yang to the relationship with Stenhouse's affinity for dirt bikes and down-home sensibility balancing Patrick's taste for Michigan Avenue sophistication and societal transcendence.
"I'm just so, so proud of him," Patrick told reporters in victory lane. "He works his butt off. He works harder than any driver I know. He works tirelessly."
This is what often gets missed in the glamour shots of a tuxedo-clad Stenhouse (avec mullet) accompanying Patrick to various red-carpet events.
There rarely is visual evidence of the crack-of-dawn wakeup calls necessary for Stenhouse to build unity within the No. 17 Ford team.
"Ricky has had ample opportunity to mail it in, yet he's at the shop at 6:30 a.m. working with the guys on occasion," Roush Fenway Racing president Steve Newmark said. "He has really taken that leadership mantle."
It's a vestige of the 2010 season when Stenhouse was demoted to grunt work by team owner Jack Roush for several weeks after too many Xfinity Series crashes.
He responded by winning the next two series championships and earning a ticket to Cup at the time the relationship with Patrick became public.
"She supports me through anything I need to do, whether it's spend more time at the shop, whether it's we need to fly somewhere a little bit later because I need to spend a little bit more time with the guys at the shop or want to go to dirt races or anything like that," he said. "She knows how hard that I've worked. She understands that I'm going to go to the shop a lot, and to have that support and her knowing where I'm coming from is great to have. "
That blue-collar work ethic might be most telling in explaining what does seem to grate on Stenhouse – a lack of recognition for the quiet breakthrough season he was enjoying before Sunday's exclamation point at Talladega.
Though the expiration date is fast approaching to be considered part of NASCAR's youth movement (Stenhouse turns 30 in October), there has been scant regard paid to his backstory (beyond Danica, of course) as the 2017 hype machine breathlessly kicked into gear to spin the yarns of Chase Elliott, Ryan Blaney and Kyle Larson.
How many knew that Talladega was the closest approximation of a hometown track for Stenhouse (a native of Olive Branch, Mississippi)?
How many know the full story of how this kid from a suburb of Memphis (not exactly a USAC hotbed) became an open-wheel star?
Maybe now the perceptions will change even as Stenhouse's actions remain constant.
As well-documented as Larson's rise has been, Stenhouse's isn't much different. He didn't bring wheelbarrows full of cash to reach NASCAR. It's more of an untold Cinderella story.
Tony Stewart (who calls Stenhouse "son") plucked him from the obscurity of driving dirt (in his father's sprint cars), and Jack Roush (with Smoke's blessing) then gave him a chance in stock cars.
There is no question that Roush and Stewart saw prodigious talent and raw speed in Stenhouse.
Perhaps they also saw an innate quality for managing the spotlight – while hardly worrying about being outside its glare.
XXX
He is Talladega's 11th first-time winner in Cup, but Stenhouse's victory on the 2.66-mile oval wasn't as capricious as others in the past (hello, Bobby Hillin Jr.).
Aside from a crash in the Daytona 500 and a lost weekend at Las Vegas Motor Speedway, Stenhouse consistently has been a top-10 performer.
If not for a late mistake at Atlanta Motor Speedway (where he qualified fourth and was headed for a top five) and subpar pit stops at Auto Club Speedway (where he lost more spots in the pits than he gained on track), Stenhouse might be ranked top 10 in points heading to Saturday night's race at Kansas Speedway – a 1.5-mile track that is in the playoffs and a good benchmark for title contenders.
"My confidence has been really high all year," he said. "We know what racetracks we need to work on. I think Kansas will be a good test for us. … We're continuing to strive to make our cars better, and I feel confident that guys back at the shop, (crew chief) Brian (Pattie) and everyone, there's not many teams that pay attention to the details I feel like that the 17 team does."
The influence of Pattie could play a key role in ensuring Roush Fenway Racing avoids a repeat of a precipitous decline in results last summer. As a crew chief for Juan Pablo Montoya in 2009, Pattie showed he knew how to leverage consistency to championship contention.
It might sound boring or clichéd in its simplicity but acknowledging the monotony of a title run also can be its foundation.
"Just focus, focus one week at a time, execute, and after the checkered flag falls on a Sunday, we'll regroup on Monday and start over," Pattie said Sunday. "Just try and not get ahead of ourselves.  That's just the biggest part.  Obviously we've got better people and better spots and the cars are faster.  That helps tremendously."
XXX
Talladega seemed more like a traffic jam than normal Sunday. Per usual, cars were lined up three abreast and 10 rows deep for much of the race.
What was unusual this time was how difficult it was to go anywhere.
"I thought it was super hard to pass," said runner-up Jamie McMurray, whose sublime aggression in the pack was more magnified because so many others were struggling with advancement. "I don't know how everybody else felt. Until the tires wore out and the cars started sliding around, it was just three wide, and there really wasn't anywhere to go.  I actually raced in about 30th for quite a bit of the race because there (were) no holes."
Dale Earnhardt Jr., who has struggled on plate tracks since last year after finishing third or better in all four races in 2015, said some tweaks to the engine have left cars stalling out.
"We just kind of get stuck side by side too easy so it's harder to make passes," he said. "It changed the way the draft worked and I really haven't liked it as well.
"It took a lot of the speed out of the cars as far as they create runs and maintain runs and how you put tougher passes and do things on the track. Now everybody is stuck side by side. If you not in the first or second row, you're really just kind of riding behind the guys nowhere to go. Because the cars don't create the runs like they used to."
Nearly half the top 10 finishers at Talladega also started in the top 10 (a number that might have been higher without the massive pileup with 20 to go). Qualifying tends to mean little at plate tracks, but as the opener in the second round of the playoffs in October, it would seem to behoove teams to focus on starting up front – or developing creative strategies to get there — if Sunday is a harbinger.
XXX
When two storied teams break triple-digit winless streaks in NASCAR's premier series, it makes a strong case for legitimate parity so far this season.
The downturn for Joe Gibbs Racing certainly has contributed to the diversity of eight winners in 10 races. But Richard Childress Racing and Roush Fenway Racing also have put themselves in position more often to end their skids.
XXX
Talladega's 80,000-seat grandstands were much closer to capacity than Richmond's 60,000-seat venue last week, prompting some Twitter grumbling among the NASCAR industry about why the media focus on empty instead of full.
Yeah! Darn media narratives! So let's just compare the 2017 crowd to … oh, wait.
Tracks don't provide attendance figures. Pity.
If you want to highlight the positive stories, then provide the numbers that help tell them.
XXX
Twice in the past seven races, Kyle Busch was leading when the final caution flag flew, and in another race, he had the strongest car until the final stage.
Will his fortunes change at Kansas, where he enters as the defending race winner and with four consecutive top fives at the 1.5-mile oval?
Hard to say. But you can count on at least one person to keep picking Busch until the No. 18 wins.
Dustin Long contributed to this report from Talladega.