CONCORD, N.C — On a warm day at Charlotte Motor Speedway, Travis Pastana received similar greetings from old friends and competitors.
"I'm glad you're back in the game!" yelled one burly Red Horse Racing crew member over the constant roar of the Camping World Truck Series garage Tuesday afternoon.
A few hours later, the action sports star would climb back into a NASCAR vehicle for the first time in two years.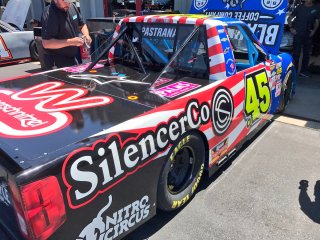 At 33, Pastrana plans to compete in the Sept. 30 Truck race at Las Vegas Motor Speedway, the same track he made his last start at in 2015. He'll be driving the No. 45 truck owned by Niece Motorsports that's also been driven by T.J. Bell this season.
Pastrana was in Charlotte for a one-day test despite being a very busy man. He has his popular Nitro Cirus stunt tour and is competing full-time in world rally for the first time since 2010 and leads the points. He also has a family with two daughters to raise.
So why dip back into NASCAR? Why spend six hours in May testing for a race in September?
Four years after his lone full-time Xfinity campaign with Roush Fenway Racing, Pastrana has an itch. A question that he needs to find the answer to.
"I've been able to figure most racing things out and be competitive," Pastrana told NBC Sports. "Everyday at some point, I go 'why couldn't I figure out NASCAR? What do I need to do?' I haven't had the time to do it right."
It helps that truck races are a viewing priority on TV for Pastrana's 3-year-old daughter.
"She'll watch an entire race," Pastrana said. "Which is shocking because she doesn't sit and watch anything. She's always kind of bouncing off the walls. She likes the Trucks, especially Matt Crafton because she knows Matt a little and (Crafton's daughter) Elladee is around her age. … We went down to Florida last year to see the finals and the truck race."
Pastrana showed spurts of potential in 2013 in the Xfinity Series. Driving a colorful No. 60 Ford for Roush, he earned a pole at Talladega and qualified on the front row three times. In 33 starts, he collected four top 10s.
After a career filled with various action sports championships, Pastrana had viewed NASCAR as the next mountain to conquer.
"NASCAR's been challenging because I've made a career and a living out of being able to take risks that no one else was willing to take," Pastrana said. "I never cared about motorcycle set up. I just go out there and I ride. Your body is the setup. Even in rally, the course has so many different corners and different jumps, you'll never have the perfect set up, so it comes down more to the driver.
"In NASCAR, it comes down to what you know about the truck. We've been working a lot, learning about the truck, learning about the cars. When I came into NASCAR, I didn't know a lot about NASCAR. I thought it was a cool sport. Now, since then, I've learned a lot more about the sport, not to say I'm going to be great by any means, but I feel like I've got a much bigger appreciation and understanding for what it takes."
Before his Xfinity tour, Pastrana had made a handful of K&N Pro Series starts. His competitors at the time included Chase Elliott, Ryan Blaney and Darrell Wallace Jr.
Now those twenty-something drivers are rising stars in the Xfinity and Cup Series. Unlike Pastrana, they were raised on and have mastered this discipline their entire lives.
"I know I wouldn't have made it (to Cup)," Pastrana admits. "With the time that I had, I know what it takes to get to the top of the sport. I was hoping that my other sports would translate better. They didn't. Ok, that means we're doing this seven days a week. Every minute of every day is thinking about NASCAR. Without a wife, kids, a business in Nitro Circus, that would have been an awesome challenge. But for me, at the point I was at in my life, I can race with my money and other people's money, but I don't have the time with my own equipment to do this. We're doing the rally championship. It's six rounds, so I can be 100 percent committed for those six rounds."
Two weeks ago, the Annapolis, Maryland, native used a viral video made with his friends and family to announce his intentions to compete in the Las Vegas race.
Come Tuesday, Niece Motorsports' small operation, along with some of Pastrana's friends and former Roush crew members, scrambled around their garage stall to prepare the truck for what could be Pastrana's only on-track action before September.
But as The Nitro Circus' schedule slows down, there may the opportunity for another race, possibly at Chicagoland.
"We're trying to drive as much as I can this year," Pastrana said. "I'm doing the first full rally championship since 2010. For me, I'm doing a lot more pavement stuff, lots of go-kart stuff. Just trying to figure this stuff out a little bit, every chance that I can to come out."
Optimism can't produce horsepower, though. At the end of the marathon test, the combined effort of Pastrana and Bell and their rag-tag team could only muster a top speed of 174.396 mph, the slowest of the session by six mph.
But unlike the other 19 teams present at the test, Pastrana was the only driver there not taking part in their "day job." He was just having fun, while studying up for the real test on Sept. 30.
"I'm not saying, 'hey, I'm coming back in full-time,' Pastrana said. "I'm racing one race, mostly to help my rally, but also to keep my foot in the door and say, 'look, eventually I'd like to figure this stuff out because I haven't figured it out and it bugs me.'"